State caught in crossfire with proposed stormwater control rules
Printer-friendly version
How far should Washington go to rein in the largest source of water pollution fouling Puget Sound and many other water bodies in the state?
Friday is the deadline for the public to weigh in on a preliminary proposal by the Washington Ecology Department that is drawing fire from environmentalists as being too lax and from builders as being potentially super-costly. A second, formal public comment period will start this fall.
At issue is stormwater, the pollution-laced runoff that streams off the developed landscape after rainstorms, carrying a foul stew of pesticides, toxic metals, fecal matter and other pollutants. Washington is the first state in the nation where a judicial ruling forced state regulators to require builders to employ a series of green-building techniques known as "low-impact development."
Now the Ecology Department has set out to determine just how much building methods will have to be adjusted to comply with the federal Clean Water Act, which the state administers. The ruling by the Washington Pollution Control Hearings Board requiring the changes says they must be employed "where feasible."
But what does that mean?
Does it require that almost every bit of rainwater be soaked up by sponge-like "rain gardens," porous pavement, vegetated roofs and other "green infrastructure" techniques?
Does it mean builders should just do the best they can, given the local terrain they're building on?
Or should developers have to go even further, mostly building up with multi-story construction instead of building out, so that a minimal amount of ground is covered, leaving intact most trees and other plants, along with native soil, to slurp up the stormwater?
Opinions vary. Ecology has advanced a tentative set of ideas based on the notion that the full-bore treatment isn't likely to work everywhere.
"We're saying here's what you have to meet – you have flexibility as to how to do it," said Bill Moore, head of Ecology's stormwater-cleanup efforts. "I don't want be in the position of dictating" building methods.
Even so, Moore said, the rules as proposed would in some places require builders to employ techniques such as porous pavement, or rain gardens, which are specially planted depressions, often positioned at the side of roads to catch the runoff before it can gurgle into a nearby waterway.
While such techniques are promising, they are not problem-free. For example, last year regulators, Seattle Public Utilities and residents of Ballard discovered that rain gardens can't be built just anywhere. Rain gardens constructed hurriedly using federal stimulus money ended up becoming small ponds instead of allowing the runoff to gradually soak into the ground as designed.
The reason? Soils in the area are "glacial till" – a type of ground that Moore compares to concrete that just isn't very easy for water to soak into. Other areas where it might not be advisable to try to get water to infiltrate into the ground include places where the underground water table already is high – the water could start flooding basement and crawl spaces – and steep hillside slopes where too much water might cause a landslide.
For those situations, the tentative rules contemplate what are colloquially referred to as "off-ramps" – situations where builders won't be held to as high a standard. Where, in other words, low-impact development just isn't feasible, in Ecology's opinion.
For environmentalists, the proposed regulations seem likely to allow far too many developments to exit the stormwater-cleanup highway.
"This proposal is a disappointment in its current form," said Bruce Wishart, lobbyist for the environmental group People for Puget Sound. "It needs a lot of work. It's a small step forward but the department (of Ecology) has really failed to take advantage of the opportunity that was presented."
Wishart said the rules should seek to maintain green spaces and minimize the amount of hard surfaces such as roofs and concrete that shed rainwater rapidly, "and Ecology has really dropped the ball in that area with this initial proposal."
"In addition, I would say the proposal is riddled with loopholes and it would be very difficult to enforce in its current form, so there needs to be some improvement in that area as well," Wishart said.
One of the harshest critics of Ecology's stormwater-cleanup efforts is Tom Holz, an engineer and planner, who charges that the regulations Ecology is advancing "will preserve no forest, will not limit hardened surfaces, and will not limit discharge of rainfall to surface waters. "
Builders are concerned by what they've seen so far, said Allison Butcher, public-affairs director for the Master Builders Association of King and Snohomish Counties, even though she said the group is generally supportive of the concept of low-impact development.
For one thing, "It really doesn't address cost, in any way," Butcher said. In some cases, she said, it might be technically "feasible" to employ rainwater-capture techniques – but it would be so expensive that development doesn't pencil out. Is that "feasible" for the developer?
"We're concerned about dramatically increased engineering costs," Butcher said.
Earlier drafts of Ecology's ideas, shared with a panel of stakeholders such as builders, environmentalists and local governments, provided an exemption for projects that are less than one acre in most of the local jurisdictions that will have to enforce the rules, Butcher noted. That exemption was gone when the current version of Ecology's thinking was shared with the public, Butcher noted.
"We're concerned about creating such a burden on such small projects," Butcher noted, adding that small municipalities may not have the requisite expertise on staff to pass judgment on whether building plans meet state requirements. That could entail extra costs for builders, taxpayers or both, she said.
As for environmentalists' call for a whole new way of doing development, Butcher responded: "That's too restrictive, too unrealistic, and doesn't recognize that our region is growing and we need to accommodate future growth. That would go entirely too far."
This initial 30-day round of public comment, which is not required under the law and Ecology considers informal, is to be followed by a more formal proposal in the fall that is legally required. Three months will be allowed for comment on that proposal, Moore said.
The proposal is at http://www.ecy.wa.gov/programs/wq/forms/lidspubcomments.html. Public comments are due by 5 p.m. Friday, June 17. That's today.
InvestigativeWest is a Seattle-based non-profit newsroom covering the Pacific Northwest. To learn more and support in-depth, independent coverage of the environment, public health, social issues and other topics, please go to www.invw.org.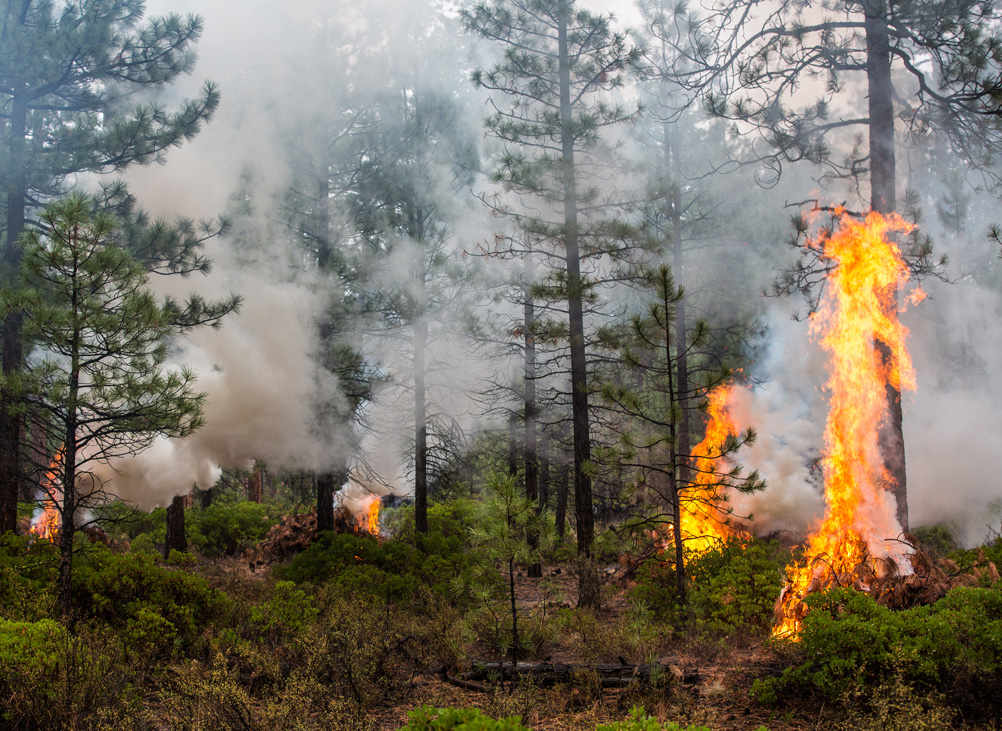 Forests and the Economy | May 2015
Environmentalists and the timber industry — once bitter adversaries — are working as allies on forest restoration. Collaborative forest thinning projects aim to fight megafires before they start — but money is scarce and tens of thousands of acres acres in Oregon now face an elevated risk of catastrophic fire. Ben DeJarnette reports for InvestigateWest.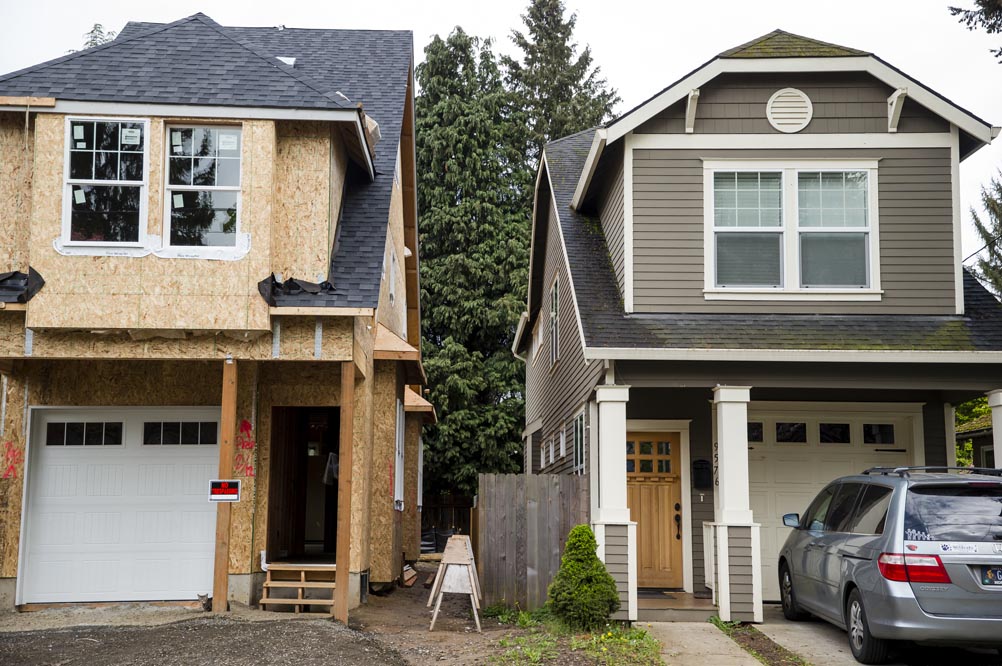 Equity | April 2015
Cash reigns in the Portland housing market. The city faces pressure from a new kind of speculation, as investors buy thousands of homes with cash and long-established protections for bank-financed homebuyers are ignored. Lee van der Voo and James Gordon report for InvestigateWest.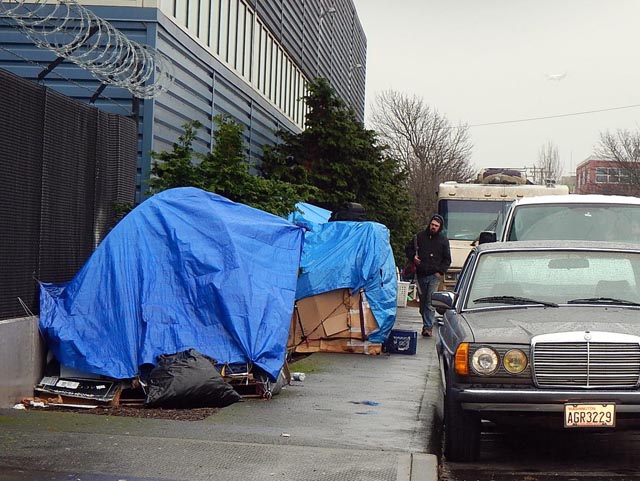 Wealth and Poverty | March 2015
March 2015 marks the anniversary of a bold promise: King County's 10-year plan to end homelessness. Now that the 10-year plan is ending and local homelessness is worse than ever, talk of ending homelessness is being replaced with less-lofty aspirations: making homelessness rare and brief when it does occur.
In collaboration with KUOW this week, we examine the roots of the plan, the challenges it faced, and where community and city leaders think we go from here.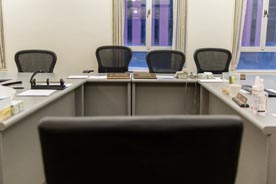 Equal Justice | December 2014
With grand jury reform elsewhere focused on eliminating racial bias and curbing police use of force, Oregon is an outlier: It is one of just 14 states that do not regularly record the citizen grand juries that charge people with felonies.
Almost five years after police killed an unarmed black man in Portland and the Multnomah Co. district attorney petitioned for that grand jury to be recorded, lawmakers in Salem are lining up behind a reform bill to mandate recording statewide, InvestigateWest has learned.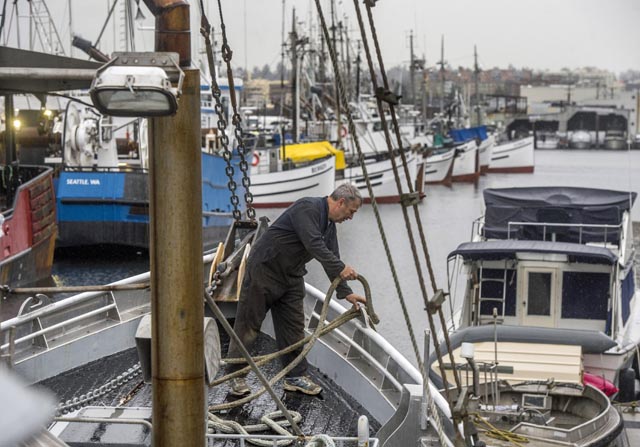 Seafood | December 2014
A struggle in Alaska over shrinking supplies of halibut is threatening the iconic centerpiece fish in favor of cheaper exports, fast-food fillets and fish sticks.
At risk is most of the frozen supply that sustains restaurants, food-service companies and retail stores nationwide, such as Costco and Whole Foods. Lee van der Voo investigates.
Photo: Peter Haley / The News Tribune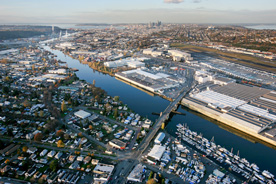 Environment | November 2014
It will take hundreds of millions of dollars to clean up the Duwamish River. But how clean is clean? And who decides?
Robert McClure looks at how lobbyists and community groups have squared off over the health of the waterway and its neighborhoods.
Photo: Paul Joseph Brown/ecosystemphoto.com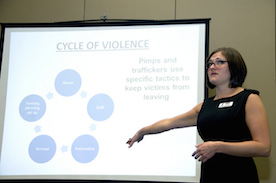 Trafficking | October 2014
Authorities say organized gangs increasingly are trafficking children for sex in the Northwest, and even cooperating with each other to stymie police.
Meanwhile in Portland, the U.S. Attorney's Office has become the third most prolific nationally in securing indictments for trafficking children and adults for sex.
Photo: Oregon DOT/Flickr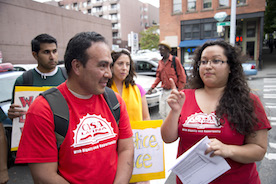 Minimum Wage | August 2014
"Everyone is aware that passing a $15 an hour minimum wage was historic," an advisor to Mayor Ed Murray and the Seattle City Council told InvestigateWest. "But if we cannot enforce that, we haven't accomplished much."
Based on a review of more than 20,000 wage theft complaints, hundreds of pages of reports and more than a dozen interviews, "Stolen Wages" shines a light on the dark world of pay violations in Seattle and across Washington.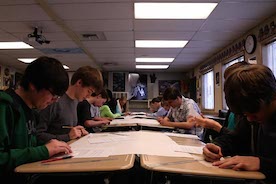 Infrastructure | May 2014
Portable, modular or relocatable classrooms — whatever you call them — are a necessity for cash-strapped schools.
But many portables become permanent fixtures, in place for decades at a time. Costly and insufficient, these aging structures burden the grid, frustrate teachers and administrators and compromise student health.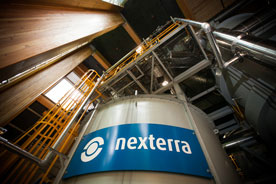 Environment | April 2014
Energizing our world with wood sounds so natural. And it has quickly become a multibillion-dollar industry as governments including British Columbia and the European Union turn to biomass to replace dirty old coal. Yet what we found when we dug into the coal-vs.-wood debate will surprise you.
Acknowledgements
In our work, we rely on the generosity of many others who make their services available for free or at a discount to nonprofits, including Tableau and the Texas A&M GeoServices Team.