Port of Seattle won't speed up cleanup of trucks' air pollution
Printer-friendly version
The Port of Seattle got a good look this week at who really likes the agency's multi-faceted plans to reduce port-related air pollution: Trucking companies, shipping companies, the national ports lobby, the longshoremen's union and a regional planning agency.
And the port's elected governing commission also heard who thinks the port is unforgivably laggardly in reducing pollution, especially from diesel-burning trucks that haul cargo out of the port into neighborhoods that register the highest rate of childhood hospitalizations for asthma in King County. Those critics include environmentalists, the Georgetown Community Council*, the Church Council of Greater Seattle, the Teamsters and three other unions.
"The Port of Seattle has taken timid first steps," Bang Nguyen of the Community Coalition for Environmental Justice told the Port Commission on Tuesday. "Act now to protect children."
But the port commissioners did not act. Nguyen and other activists urged the commission to accelerate plans to require that trucks picking up cargo meet the latest federal air-pollution regulations for diesel-fired vehicles. Instead, the commission will wait a year for recommendations from its staff.
Jim Tutton, vice president of the Washington Trucking Association, said the port's current plan to require 80 percent of the trucks to have the latest pollution-control systems by Dec. 31, 2015, is good enough. All the trucks must be compliant by Dec. 31, 2017.
"We greatly appreciate the way the Port of Seattle's clean truck program has been instituted," Tutton said. "The industry has been able to adopt the new requirements in a reasonable manner, allowing companies (and) their drivers to continue serving their customers without a disruption… Our compliments to the port."
The port is 3 ½ years into a 10-year plan to reduce air pollution from the trucks, ships that bring cargo and cruise passengers to docks around Elliott Bay, equipment used to unload the ships and other port-related sources of air pollution.
But after the Port Commission adopted that plan in January 2008, studies by the U.S. Environmental Protection Agency, the Puget Sound Clean Air Agency and the federal Agency for Toxic Substances and Disease Registry showed large air-pollution impacts in South Park and Georgetown. Those are the residential neighborhoods tucked cheek-by-jowl with the port and the spiderweb of highways that spans the neighborhoods south of Elliott Bay.
Activists say the current schedule to clean up the trucks is just too lax. But they lost in a 3-2 Port Commission vote last December, with Commissioners Rob Holland and John Creighton voting to clean up the trucks by 2013. Commissioners Bill Bryant, Tom Albro and Gael Tarleton voted no.
However, in January, commissioners on a 5-0 vote instructed port staffers to look into what might be done to clean up port-related air pollution sooner than currently planned, citing "an urgent need to address the public health risks of poor air quality caused by expanding container (ship) traffic, the continued strength of cruise ship visits, and the associated growth in port trucking..."
This week's meeting was to check in on progress on that effort. Activists were bitterly disappointed with the result.
"There's absolutely no plan to bring the truck fleet up to … compliance," said Paul Marvy, an activist with the Change To Win labor federation. "Hoping for government dollars for grants is not a solution."
Several activists including Nguyen brought up a recent collaborative reporting project by InvestigateWest and KCTS9 examining the air pollution problem in south Seattle, which Marvy said generated more than 300 e-mails to port officials by supporters. The stories, which ran on Crosscut.com and KCTSConnects, featured a five-year-old asthmatic girl who lives in Georgetown, Lettie Vela.
"The consequence of postponing action . . . will be more children like Lettie developing asthma," Nguyen told the Port Commission.
Nguyen referred to an informal survey done by his group, the Community Coalition for Environmental Justice, and Puget Sound Sage, an alliance of community, labor and religious organizations working on social justice issues. The groups surveyed 230 residents of South Park and Georgetown in 2009, mostly by knocking on residents' doors. Although the results are anecdotal because the survey wasn't set up to glean perfectly representative or statistically significant figures, majorities of respondents:
- Agreed with the statement that there are "a lot of truck exhaust fumes" in their neighborhood (52 percent);
- Believed that the port truck pollution affected their health and the health of others in the community (60 percent);
- Said that port-related truck traffic made it difficult to walk in their neighborhood (56 percent);
- Thought there were too many port trucks transiting their neighborhood (56 percent).
Port officials and their supporters point to studies showing the port trucks represent just 3 to 4 percent of maritime-related air pollution in Seattle and Tacoma, although they acknowledge those trucks have a disproportionate effect on the low-income communities near the Seattle port. Diesel soot is extremely toxic.
The port and its supporters point proudly to numerous elements of their multi-faceted clean air program, including an effort that awarded $5,000 to drivers of older and dirtier trucks, which were scrapped. The port also furnished a parking lot for truckers so they would not have to park their trucks on neighborhood streets.
The scrapping program got 280 old trucks off the road and installed exhaust retrofits to clean up emissions from 89 of the replacement vehicles, according to the Puget Sound Clean Air Agency. The parking lot away from residential streets accommodates about 125 trucks. Some 8,000 trucks are registered to do business at the port and port officials estimate that about 2,000 regularly work at the port.
Those and other items in the port's program – such as paying shipping companies to use cleaner fuel and efforts to clean up diesel-powered cargo-handling equipment – netted the port two recent awards, one from the American Association of Port Authorities and one from the Puget Sound Regional Council.
Port officials and their supporters say the awards show that the overall program to reduce air pollution is on the mark. Unlike other ports, Seattle acted before being forced to by environmental regulators or environmentalists' lawsuits.
Port supporters also point out that very little has been done, by comparison, to reduce air pollution from other sources, including a large number of diesel-burning vehicles that are doing business or passing through the neighborhoods in question, but that don't directly pick up cargo at the port., including delivery services, garbage trucks and school buses.
And they charge that the campaign by activists groups such as Change To Win blurs the line between a legitimate environmental problem and the desire of the activists to see drivers of the trucks unionized. Currently the drivers are independent operators, although in practice most work for a single trucking company.
Because the drivers make so little -- just $28,500 a year on average, according to one study by Marvy and other activists – they cannot afford to buy new, clean trucks that cost perhaps $100,000, the activists argue.
If the port required that drivers be employees of the trucking companies, the activists argue, the port could require the trucking companies to pay for newer and cleaner rigs. It's a solution that was tried at the Port of Los Angeles, which remains embroiled in litigation over the issue.
"It's created a lot of chaos in LA. It created a lot of uncertainty," said Jordan Royer, vice president for external affairs at the Pacific Merchant Shipping Association. "They're conflating the two things. … Those are two different discussions to have."
The labor faction backing the port is made up of people already working at the port – primarily the International Longshoreman and Warehouse Union, which is affiliated with the AFL-CIO.
By contrast, the unions affiliated with the activists' cause have few or no members employed in and around the port. They are the International Brotherhood of Teamsters, the Service Employees International Union, United Farm Workers of America and the United Food and Commercial Workers International Union. None is affiliated with the AFL-CIO.
A former official of the longshoremen's union, Harold Ugles, was among those lining up to back the port this week.
"Only in Seattle does an industry that is a leader on green ports get criticized for not doing enough," Ugles told the Port Commission. "But keep up the good work because there's always room for improvement."
On the Port Commission, the strongest voice for quicker action came from Commissioner Rob Holland. But even he stepped gingerly this week in trying to nudge a faster cleanup.
"What we definitely want to do is come up with a solution that is working with the industry . . . hand in hand," Holland said.
An official from the Puget Sound Clean Air Agency, which has given its blessing to the port's current cleanup schedule, diplomatically emphasized the need to do more.
"We've achieved a lot. What we need to do is look forward and ask … what can we do to move forward?" said Andrew Green, director of air quality programs at the air agency. "Reducing these emissions does save lives."
+++
*We heard from Georgetown Community Council Chair Patty Foley after publication. She says she was not trying to be critical. See her comment below and a full text of her comments.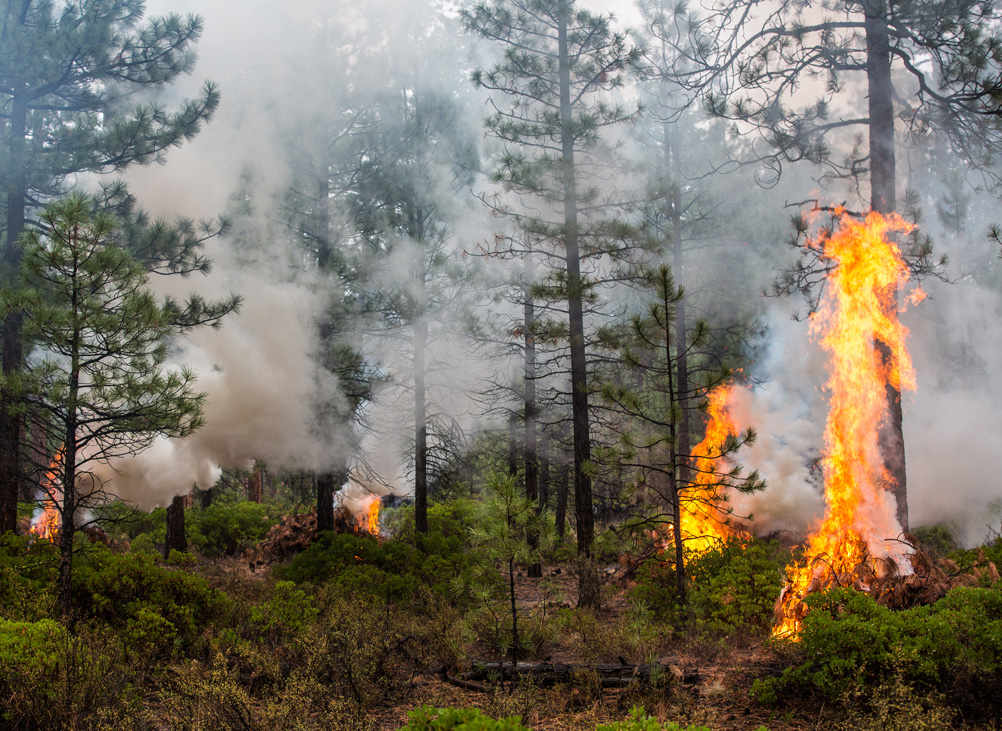 Forests and the Economy | May 2015
Environmentalists and the timber industry — once bitter adversaries — are working as allies on forest restoration. Collaborative forest thinning projects aim to fight megafires before they start — but money is scarce and tens of thousands of acres acres in Oregon now face an elevated risk of catastrophic fire. Ben DeJarnette reports for InvestigateWest.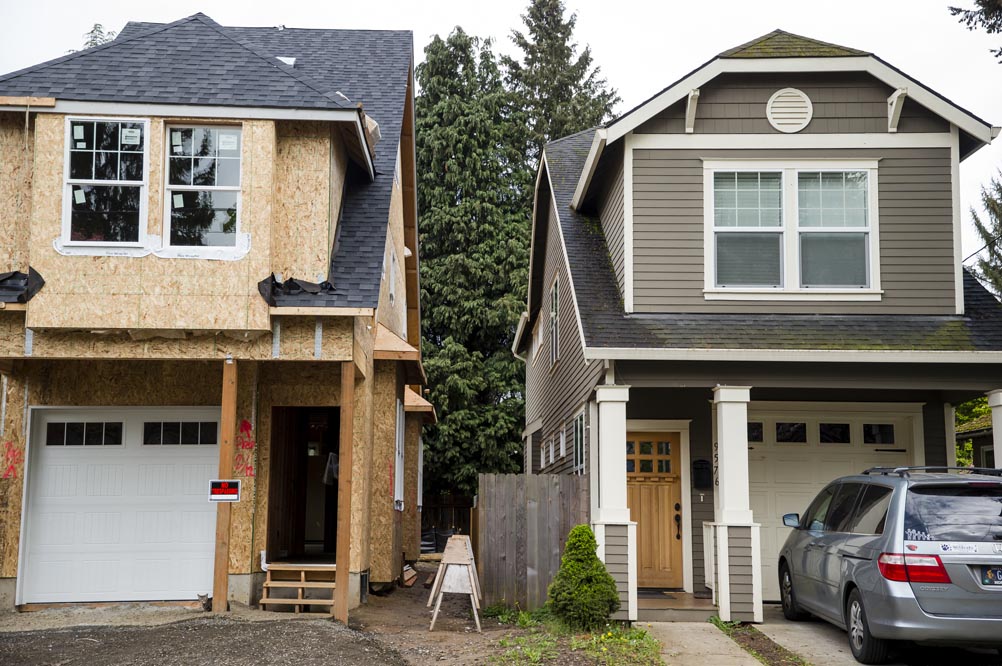 Equity | April 2015
Cash reigns in the Portland housing market. The city faces pressure from a new kind of speculation, as investors buy thousands of homes with cash and long-established protections for bank-financed homebuyers are ignored. Lee van der Voo and James Gordon report for InvestigateWest.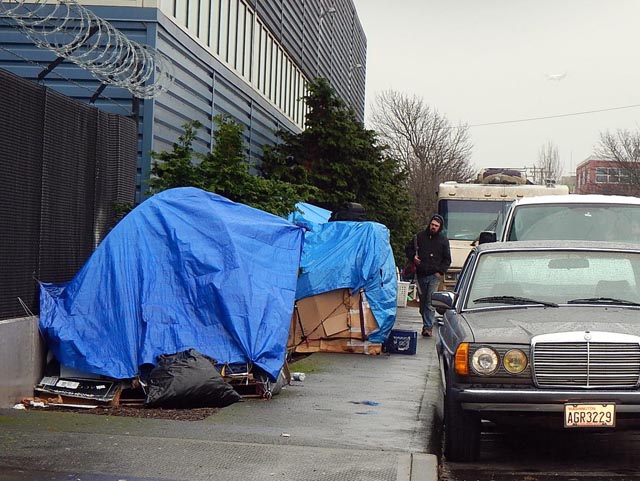 Wealth and Poverty | March 2015
March 2015 marks the anniversary of a bold promise: King County's 10-year plan to end homelessness. Now that the 10-year plan is ending and local homelessness is worse than ever, talk of ending homelessness is being replaced with less-lofty aspirations: making homelessness rare and brief when it does occur.
In collaboration with KUOW this week, we examine the roots of the plan, the challenges it faced, and where community and city leaders think we go from here.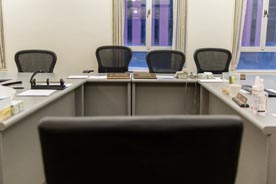 Equal Justice | December 2014
With grand jury reform elsewhere focused on eliminating racial bias and curbing police use of force, Oregon is an outlier: It is one of just 14 states that do not regularly record the citizen grand juries that charge people with felonies.
Almost five years after police killed an unarmed black man in Portland and the Multnomah Co. district attorney petitioned for that grand jury to be recorded, lawmakers in Salem are lining up behind a reform bill to mandate recording statewide, InvestigateWest has learned.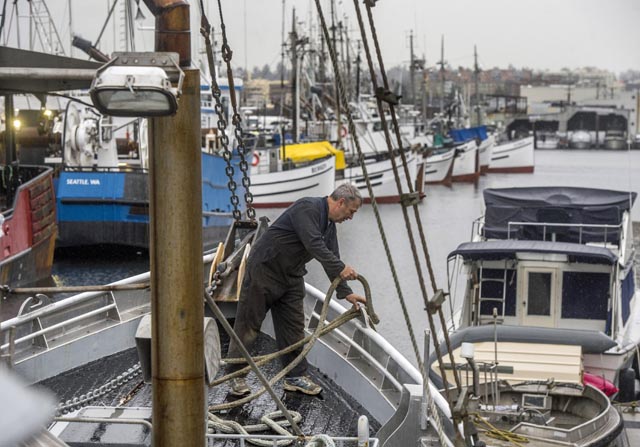 Seafood | December 2014
A struggle in Alaska over shrinking supplies of halibut is threatening the iconic centerpiece fish in favor of cheaper exports, fast-food fillets and fish sticks.
At risk is most of the frozen supply that sustains restaurants, food-service companies and retail stores nationwide, such as Costco and Whole Foods. Lee van der Voo investigates.
Photo: Peter Haley / The News Tribune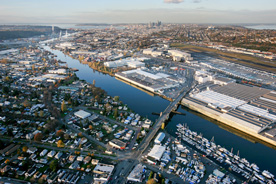 Environment | November 2014
It will take hundreds of millions of dollars to clean up the Duwamish River. But how clean is clean? And who decides?
Robert McClure looks at how lobbyists and community groups have squared off over the health of the waterway and its neighborhoods.
Photo: Paul Joseph Brown/ecosystemphoto.com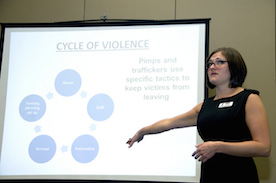 Trafficking | October 2014
Authorities say organized gangs increasingly are trafficking children for sex in the Northwest, and even cooperating with each other to stymie police.
Meanwhile in Portland, the U.S. Attorney's Office has become the third most prolific nationally in securing indictments for trafficking children and adults for sex.
Photo: Oregon DOT/Flickr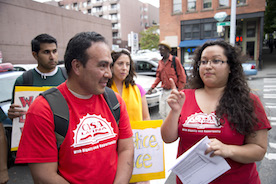 Minimum Wage | August 2014
"Everyone is aware that passing a $15 an hour minimum wage was historic," an advisor to Mayor Ed Murray and the Seattle City Council told InvestigateWest. "But if we cannot enforce that, we haven't accomplished much."
Based on a review of more than 20,000 wage theft complaints, hundreds of pages of reports and more than a dozen interviews, "Stolen Wages" shines a light on the dark world of pay violations in Seattle and across Washington.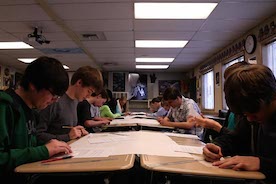 Infrastructure | May 2014
Portable, modular or relocatable classrooms — whatever you call them — are a necessity for cash-strapped schools.
But many portables become permanent fixtures, in place for decades at a time. Costly and insufficient, these aging structures burden the grid, frustrate teachers and administrators and compromise student health.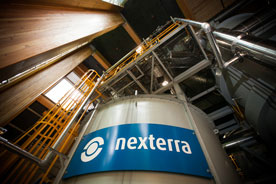 Environment | April 2014
Energizing our world with wood sounds so natural. And it has quickly become a multibillion-dollar industry as governments including British Columbia and the European Union turn to biomass to replace dirty old coal. Yet what we found when we dug into the coal-vs.-wood debate will surprise you.
Acknowledgements
In our work, we rely on the generosity of many others who make their services available for free or at a discount to nonprofits, including Tableau and the Texas A&M GeoServices Team.