College announces changes in sexual assault policies
Printer-friendly version
The sexual assault expert hired by Reed College last year has submitted his resignation with the elite private college still embroiled in turmoil over its sexual assault policies, a set of disciplinary procedures that the college itself recently determined were partially out of compliance with federal law.
With Reed faculty joining their voices to a mounting student campaign for change, the college has already made changes in its polices to meet federal legal requirements. Kevin Myers, director of strategic communications for
Reed, said additional policy changes are on the way. Some of those changes were announced to students Wednesday.
The sometimes fierce debate on campus has caused clashes between students and administrators, provoked alumni, spurred graffiti and flyers on campus, and prompted guerilla theater in the college dining room. Though the college hired a sexual assault expert last year, in part to help navigate reforms underway since August 31, the expert, Pete Meagher, has told the college he is leaving May 31, with changes still pending.
Fifty-eight percent of Reed College students signed a petition urging policy reform, presented to the college president, board of trustees and faculty and student governments April 22. Faculty also submitted a petition, saying the college may be inadvertently harming sexual assault victims through its policies, and some student victims and advocates think Reed is violating federal law.
That latter charge was at least partially confirmed by a recent review of college policies by Reed's attorneys, according to Myers. Myers said the review showed Reed is out of compliance with federal laws in one specific, but significant way. The result is that the college will change the confidentiality policies that apply to its process of adjudicating sexual assaults on campus. The college previously required strict confidentiality about such cases, called Honor Cases.
Myers said a review of Reed's compliance with three federal laws -- the Family Educational Rights and Privacy Act, which prohibits improper disclosure of personal information from education records; the Clery Act, which requires colleges to disclose information about crime and security policies; and Title IX, which guarantees equal access to education for men and women -- "revealed that since 2009, Reed has been out of compliance in one narrow, but not insignificant, provision of these laws. An educational institution may not prohibit either the accuser or the accused in a college disciplinary case involving a sex offense from 'redisclosure' of the outcome of the case."
Students charging or charged with sexual assault at Reed will now be permitted to disclose to anyone the identity of other parties to a campus case, along with the violations sustained in the proceeding and the sanctioned imposed. The change at Reed followed an April 4 letter released by Vice President Joe Biden urging colleges that receive federal funding to comply with the laws in response to national attention to the issue of sexual assault on campus.
"I'm glad the schools are listening to the vice president finally, since it seems they weren't hearing and responding to concerns before then," said Jessica Mindlin, national director of training and technical assitance at the Portland office of the Victims Rights Law Center, who has followed the debate at Reed.
Secrecy surrounding Reed's method of adjudicating sexual assault have been at the heart of pressure to change, along with the college's reliance on an all-student Judicial Board to probe the crimes, conduct interviews and recommend sanctions.
A June 2010 article by InvestigateWest in The Oregonian disclosed that three students who reported rape to the college were discouraged from calling police, instead routed to the Judicial Board and a process that required such strict confidentiality one student was unsure she could tell her mother about it. The students said the process had the effect of cutting them off from support after reporting rape at Reed, and all interviewed reported being dissatisfied with the outcome.
The article was produced in collaboration with a national investigation into campus assault by the Center for Public Integrity in Washington, D.C., which found that students deemed "responsible" for sexual assault on campuses across the nation often faced little or no consequence for their acts, while their victims' lives were frequently left in turmoil. Often, victims left school while the alleged attackers graduated, the Center's and InvestigateWest's investigation found.
Reed College President Colin Diver convened a committee charged with reviewing sexual assault policies following the article, and the college has since made changes, including creating protocols for dorms, boosting training and education and hiring Meagher, a nationally recognized expert in the field of sexual assault and intimate-partner violence. Yet slow efforts to reform policies, underway since August 31, have lately prompted student protest and increasing pressure for action.
In a statement, Meagher called his time at Reed "personally and professionally challenging," though he said his resignation is not tied to the controversy surrounding the college's current practices on sexual assault, and expressed admiration for, Diver, Director of Community Safety Gary Granger and others, "who work so diligently on such challenging issues."
As Associate Dean of Students, Meagher served on Diver's Ad Hoc Committee on Sexual Assault, which released its recommendations April 26 amid a flurry of campus activity after eight months of inquiry on the issue.
The petitions from students and faculty hastened the committee's findings, following the public resignation of a student Isabel Manley from the Judicial Board Feb. 11. Manley's criticism of the Reed's effort to reform sexual assault policies gave way to a volley of letters and articles in the student newspaper The Quest, prompted guerilla theater performances by a feminist student union group and spurred creation of the Students for Sexual Assault Support Services (SSASS), which distributed the petition calling for change.
SSASS collected 847 signatures in 100 hours, and quickly became a presence at Student Senate and other campus meetings. Its members and petition signers called for an end to the college's policy of routing sexual assault cases to the Judicial Board, instead calling for board with specialized training in sexual assault. SSASS also asked the college to create new positions for a dean of sexual assault prevention and a trained sexual assault staff person for the Women's Center, and to release the names of persons found guilty of sexual assault by the Judicial Board.
Approximately 50 faculty members signed their own petition supporting the students in their call for reform, and also expressed concern about a lack of confidentiality and due process for students accused of assault.
The Ad Hoc Committee on Sexual Assault, in its findings, supported many of the same changes called for by SSASS and faculty, including a review of the college's compliance with federal law, related policy reforms and the hiring of a staff person to focus on campus prevention and response to assault. They also recommended removing sexual assault cases from the jurisdiction from the student Judicial Board to a board of trained student service professionals.
"This has been the biggest social movement that Reed has seen in at least the last 20 years," said student body president Nora McConnell-Johnson. "That means things are pretty heated on campus currently, but that's mostly because so many people care so deeply about this issue."
Edited by Rita Hibbard
InvestigateWest is a nonprofit investigative journalism center covering the Pacific Northwest. For information on how you can support independent investigative reporting for the common good, go to invw.org.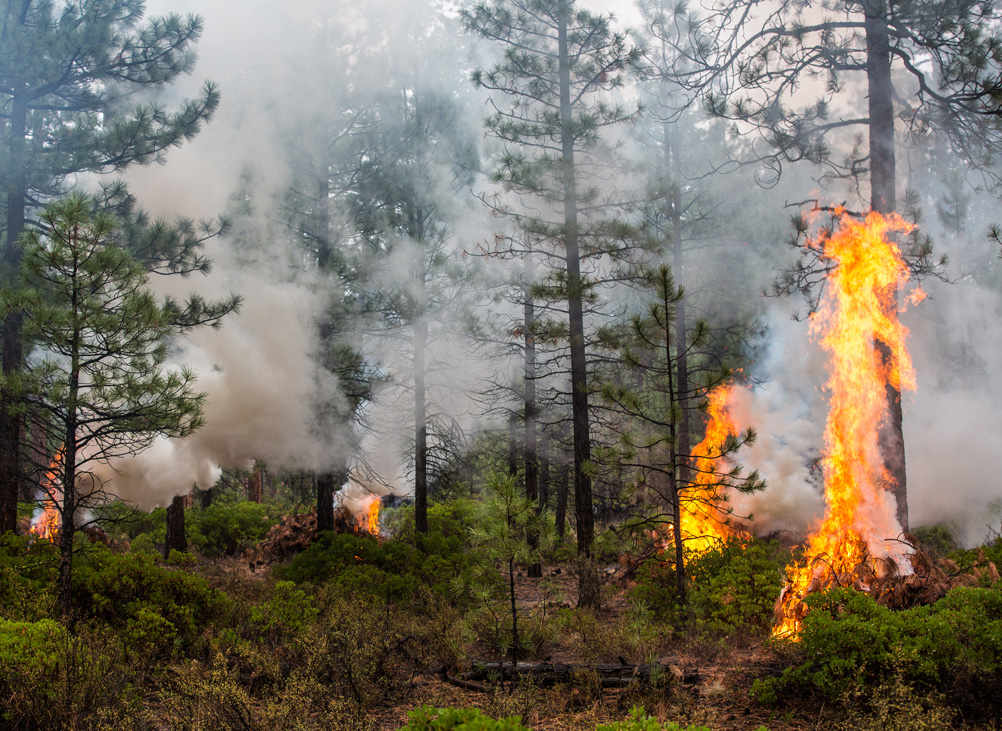 Forests and the Economy | May 2015
Environmentalists and the timber industry — once bitter adversaries — are working as allies on forest restoration. Collaborative forest thinning projects aim to fight megafires before they start — but money is scarce and tens of thousands of acres acres in Oregon now face an elevated risk of catastrophic fire. Ben DeJarnette reports for InvestigateWest.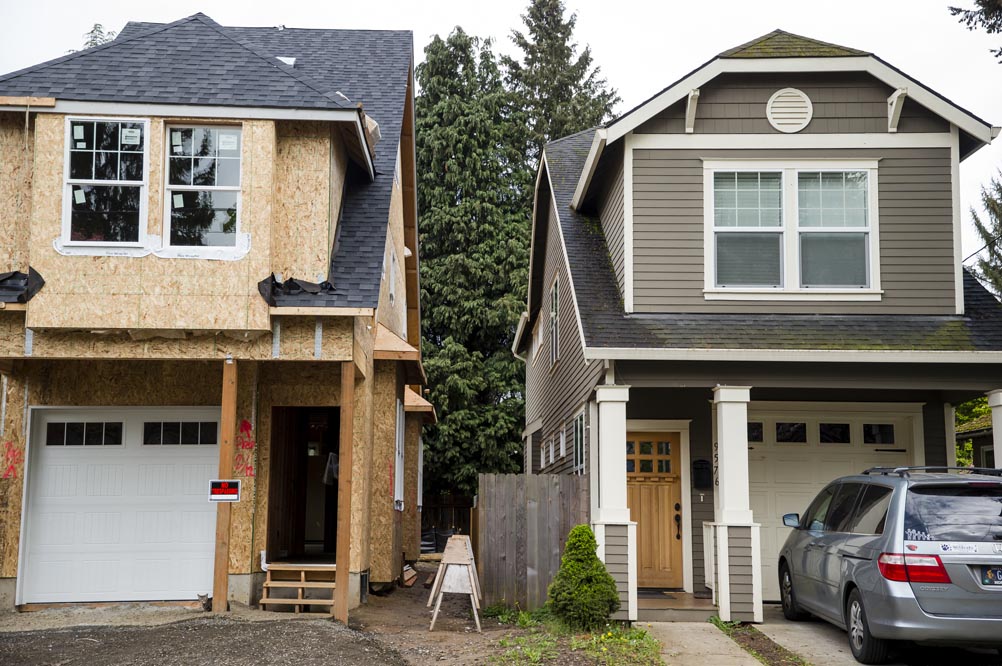 Equity | April 2015
Cash reigns in the Portland housing market. The city faces pressure from a new kind of speculation, as investors buy thousands of homes with cash and long-established protections for bank-financed homebuyers are ignored. Lee van der Voo and James Gordon report for InvestigateWest.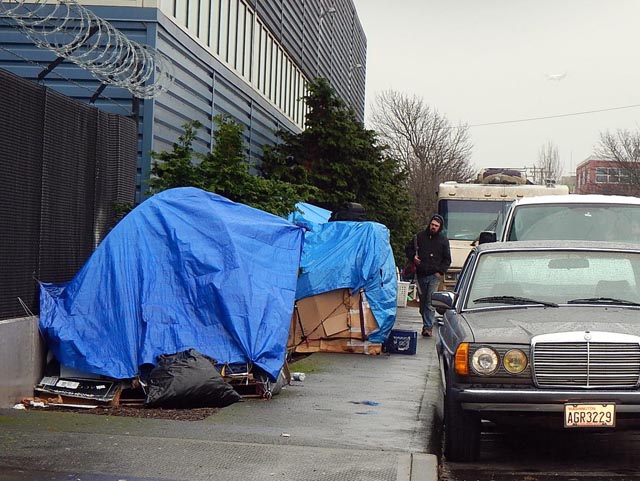 Wealth and Poverty | March 2015
March 2015 marks the anniversary of a bold promise: King County's 10-year plan to end homelessness. Now that the 10-year plan is ending and local homelessness is worse than ever, talk of ending homelessness is being replaced with less-lofty aspirations: making homelessness rare and brief when it does occur.
In collaboration with KUOW this week, we examine the roots of the plan, the challenges it faced, and where community and city leaders think we go from here.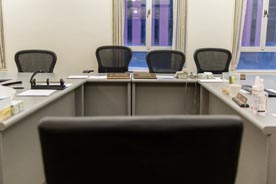 Equal Justice | December 2014
With grand jury reform elsewhere focused on eliminating racial bias and curbing police use of force, Oregon is an outlier: It is one of just 14 states that do not regularly record the citizen grand juries that charge people with felonies.
Almost five years after police killed an unarmed black man in Portland and the Multnomah Co. district attorney petitioned for that grand jury to be recorded, lawmakers in Salem are lining up behind a reform bill to mandate recording statewide, InvestigateWest has learned.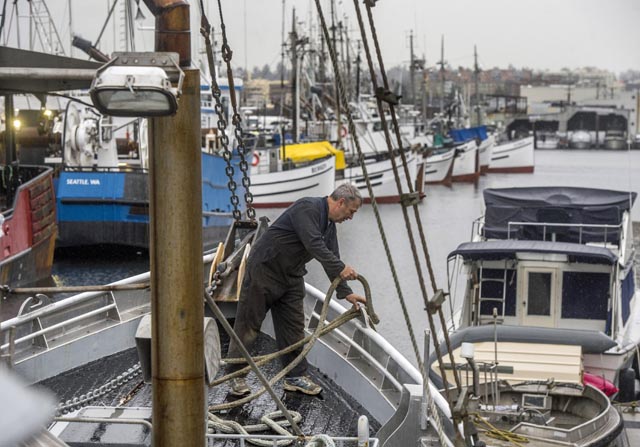 Seafood | December 2014
A struggle in Alaska over shrinking supplies of halibut is threatening the iconic centerpiece fish in favor of cheaper exports, fast-food fillets and fish sticks.
At risk is most of the frozen supply that sustains restaurants, food-service companies and retail stores nationwide, such as Costco and Whole Foods. Lee van der Voo investigates.
Photo: Peter Haley / The News Tribune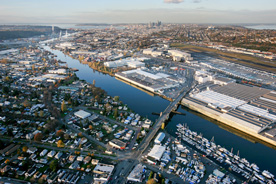 Environment | November 2014
It will take hundreds of millions of dollars to clean up the Duwamish River. But how clean is clean? And who decides?
Robert McClure looks at how lobbyists and community groups have squared off over the health of the waterway and its neighborhoods.
Photo: Paul Joseph Brown/ecosystemphoto.com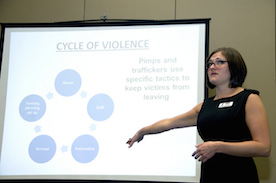 Trafficking | October 2014
Authorities say organized gangs increasingly are trafficking children for sex in the Northwest, and even cooperating with each other to stymie police.
Meanwhile in Portland, the U.S. Attorney's Office has become the third most prolific nationally in securing indictments for trafficking children and adults for sex.
Photo: Oregon DOT/Flickr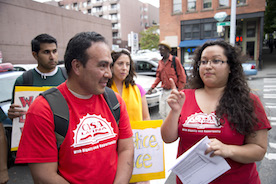 Minimum Wage | August 2014
"Everyone is aware that passing a $15 an hour minimum wage was historic," an advisor to Mayor Ed Murray and the Seattle City Council told InvestigateWest. "But if we cannot enforce that, we haven't accomplished much."
Based on a review of more than 20,000 wage theft complaints, hundreds of pages of reports and more than a dozen interviews, "Stolen Wages" shines a light on the dark world of pay violations in Seattle and across Washington.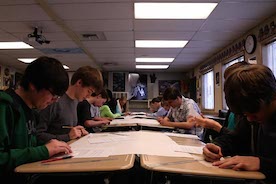 Infrastructure | May 2014
Portable, modular or relocatable classrooms — whatever you call them — are a necessity for cash-strapped schools.
But many portables become permanent fixtures, in place for decades at a time. Costly and insufficient, these aging structures burden the grid, frustrate teachers and administrators and compromise student health.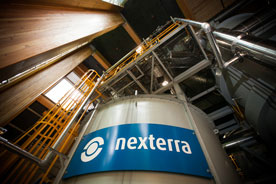 Environment | April 2014
Energizing our world with wood sounds so natural. And it has quickly become a multibillion-dollar industry as governments including British Columbia and the European Union turn to biomass to replace dirty old coal. Yet what we found when we dug into the coal-vs.-wood debate will surprise you.
Acknowledgements
In our work, we rely on the generosity of many others who make their services available for free or at a discount to nonprofits, including Tableau and the Texas A&M GeoServices Team.