Obama's supposed transparency again belied by hush-hush press conference rules at EPA
Printer-friendly version
Osha Gray Davidson's post on the Society of Environmental Journalists' listserv was at least one funny thing that could be written about the very unfunny way U.S. Environmental Protection Agency squelched open and honest communication with the public today:
"My Administration is committed to creating an unprecedented level of openness in Government. We will work together to ensure the public trust and establish a system of transparency, public participation, and collaboration. Openness will strengthen our democracy and promote efficiency and effectiveness in Government."


-- Senior administration official.
The quote, of course, is from President Obama, who issued the seemingly sweeping statement of support for government transparency shortly after taking office. As we've pointed out before, though, at least one agency is clearly failing to live up to this mandate: The U.S. EPA.
Today the agency, for the second time in three months, held a news conference on a major announcement and ordered reporters not to reveal the names of EPA officials addressing the public through the news media.
What is the meaning of this? Who are they afraid of?
The first incident happened when U.S. EPA Administrator Lisa Jackson held a news conference upon the release of the Obama administration's proposed annual budget in early February. Reporters who phoned in, their phones on mute so they could not object, were told that any EPA assistant administrators or others who spoke were "on background," meaning reporters were free to quote these officials, but not to identify them.Journalists were told if they stayed on the call or at the news conference they were agreeing to these rules. Is this what democracy looks like?
Today's story line varies only slightly. It involves the EPA's outlining its plans to regulate coal ash, a toxic byproduct of coal burning that caused a 1.1-billion-gallon spill into tributaries of the Tennessee River in December. Today journalists were told the following in a news advisory sent out, oh, maybe an hour or so before the briefing started:
Administrator Jackson may be quoted by name, on the record, for the entire press call. In addition to the administrator, EPA officials will be on hand to answer press questions on background only. If you use or publish answers from these officials, they may be quoted as senior EPA officials.
This kind of horse hockey has been par for the course at some agencies in D.C. for some time, such as the State Department and the White House. But EPA, from the time it was founded up in the early '70s until the administration of George W. Bush, remained quite open. Which is as it should be. We're talking about the air we all breathe and the water we all drink, after all.
Now, I should acknowledge that I do a lot of volunteer work for SEJ and one of those jobs is as the board of directors' liaison to SEJ's Freedom of Information Task Force. So maybe I'm more sensitive than some other journos.
But lots of plain old SEJ members -- and probably non-member journos -- also found this to be a bewildering turn of events, particularly coming from an agency like EPA that for so long, once upon a time, prided itself on openness.
And I can't imagine that most citizens think it's a good idea for high-ranking officials who were nominated by the president and confirmed by Congress to be able to hide behind a cloak of anonymity at a public press conference.
(To add insult to injury here, the EPA after the first press confererence posted a video of the entire session, for all to see. In other words, the agency revealed to the public information that it had previously ordered journalists not to reveal. After today's news conference, the agency issued a press release quoting by name one of the agency officials it had forbidden journalists to use in stories.)
Here's what I wrote to EPA Press Secretary Adora Andy just as the news conerence was getting under way:
Adora -- I'm Robert McClure with InvestigateWest in Seattle. We met at a clean-energy event here a few months ago. I also serve as the Society of Environmental Journalists Board of Directors liaison to SEJ's FOI Task Force. I understand that you are about to start a press conference on coal ash in which you are asking that everyone briefing journalists, except Administrator Jackson, be on background. Coal ash is a subject of great interest to SEJ members and their readers, viewers and listeners.
SEJ's internal procedures require for me to consult with several others, not all of whom are available on short notice, to produce an official SEJ position. So I cannot object on behalf of SEJ. But I can tell you that I personally object, and that my discussions with the Task Force and SEJ President Christy George would lead me to believe that they, too, will object.
I urge you to allow the lower-ranking EPA officials to be quoted by name. Failing that, please ask Administrator Jackson to answer the questions herself. There is no need for this charade in a truly open and transparent government, which the Obama administration has said is its goal.
I was right. SEJ followed up later today with a formal complaint about this matter of anonymous sources at press conferences meant to inform the public. I'll stop here for today. But if this keeps happening, I'll be keeping you informed.
-- Robert McClure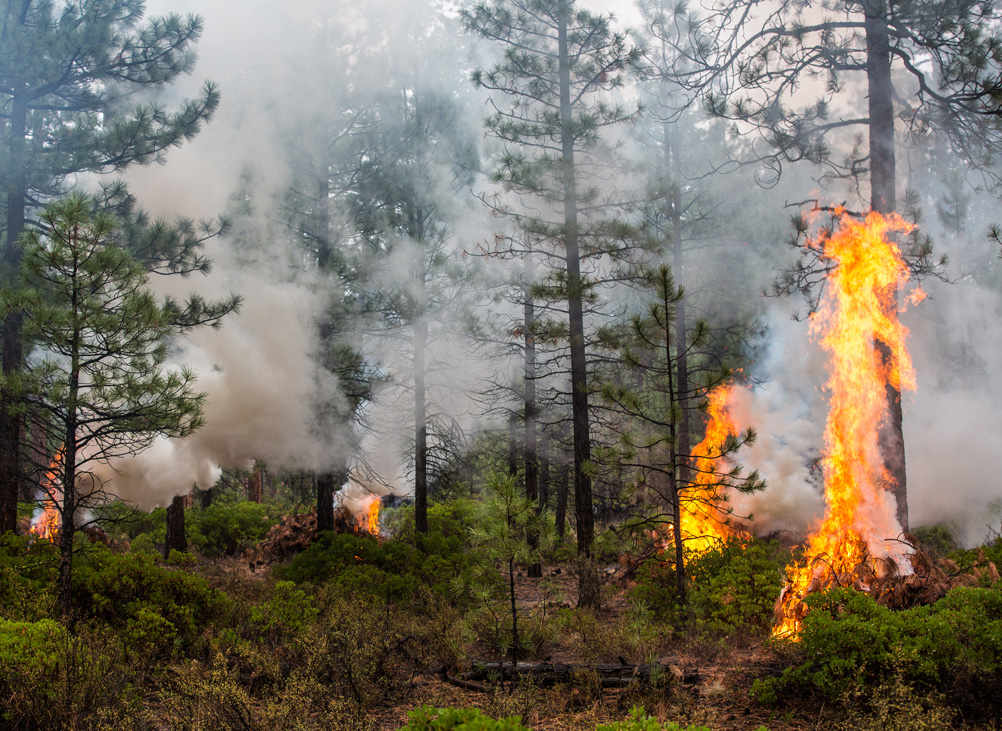 Forests and the Economy | May 2015
Environmentalists and the timber industry — once bitter adversaries — are working as allies on forest restoration. Collaborative forest thinning projects aim to fight megafires before they start — but money is scarce and tens of thousands of acres acres in Oregon now face an elevated risk of catastrophic fire. Ben DeJarnette reports for InvestigateWest.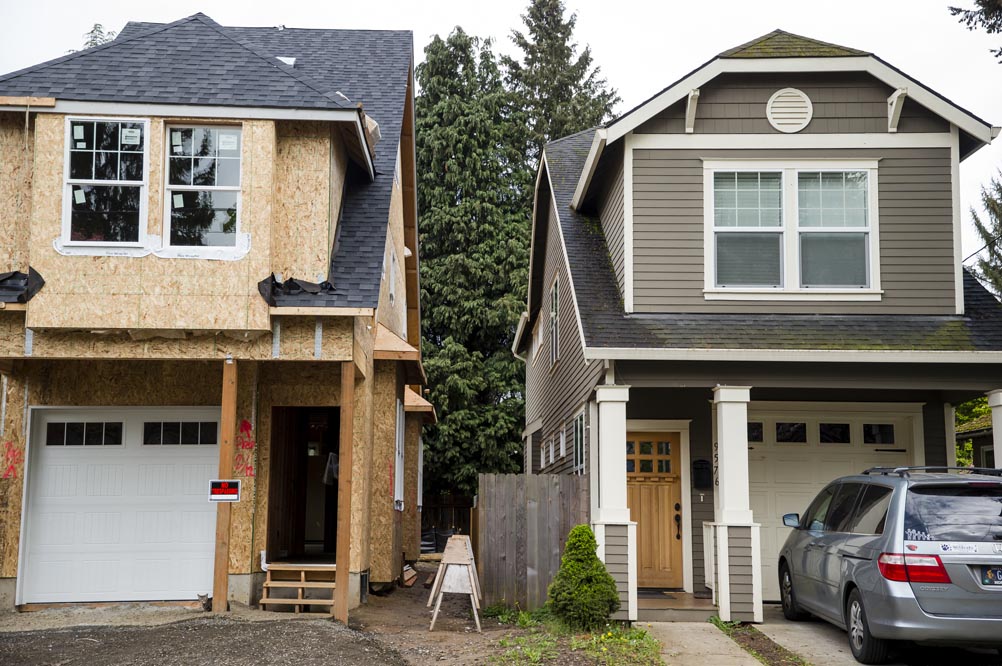 Equity | April 2015
Cash reigns in the Portland housing market. The city faces pressure from a new kind of speculation, as investors buy thousands of homes with cash and long-established protections for bank-financed homebuyers are ignored. Lee van der Voo and James Gordon report for InvestigateWest.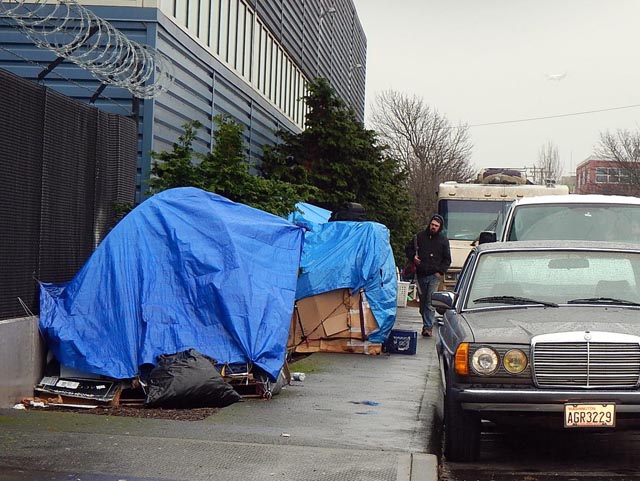 Wealth and Poverty | March 2015
March 2015 marks the anniversary of a bold promise: King County's 10-year plan to end homelessness. Now that the 10-year plan is ending and local homelessness is worse than ever, talk of ending homelessness is being replaced with less-lofty aspirations: making homelessness rare and brief when it does occur.
In collaboration with KUOW this week, we examine the roots of the plan, the challenges it faced, and where community and city leaders think we go from here.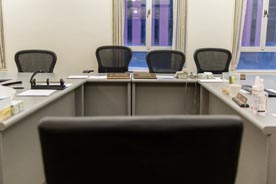 Equal Justice | December 2014
With grand jury reform elsewhere focused on eliminating racial bias and curbing police use of force, Oregon is an outlier: It is one of just 14 states that do not regularly record the citizen grand juries that charge people with felonies.
Almost five years after police killed an unarmed black man in Portland and the Multnomah Co. district attorney petitioned for that grand jury to be recorded, lawmakers in Salem are lining up behind a reform bill to mandate recording statewide, InvestigateWest has learned.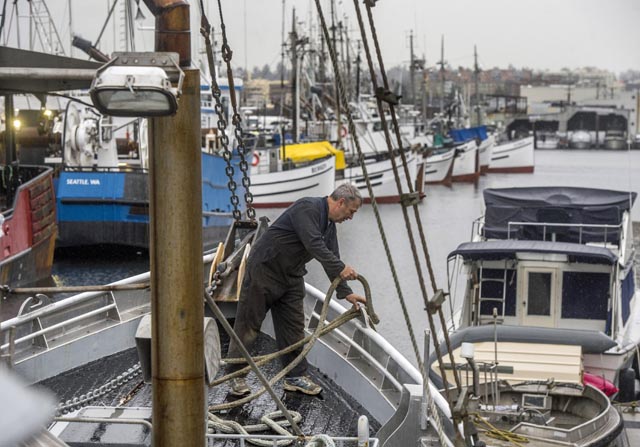 Seafood | December 2014
A struggle in Alaska over shrinking supplies of halibut is threatening the iconic centerpiece fish in favor of cheaper exports, fast-food fillets and fish sticks.
At risk is most of the frozen supply that sustains restaurants, food-service companies and retail stores nationwide, such as Costco and Whole Foods. Lee van der Voo investigates.
Photo: Peter Haley / The News Tribune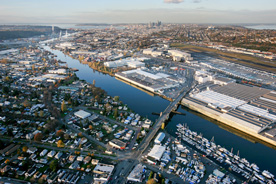 Environment | November 2014
It will take hundreds of millions of dollars to clean up the Duwamish River. But how clean is clean? And who decides?
Robert McClure looks at how lobbyists and community groups have squared off over the health of the waterway and its neighborhoods.
Photo: Paul Joseph Brown/ecosystemphoto.com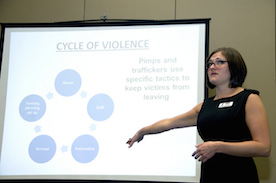 Trafficking | October 2014
Authorities say organized gangs increasingly are trafficking children for sex in the Northwest, and even cooperating with each other to stymie police.
Meanwhile in Portland, the U.S. Attorney's Office has become the third most prolific nationally in securing indictments for trafficking children and adults for sex.
Photo: Oregon DOT/Flickr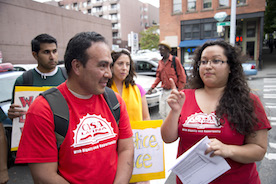 Minimum Wage | August 2014
"Everyone is aware that passing a $15 an hour minimum wage was historic," an advisor to Mayor Ed Murray and the Seattle City Council told InvestigateWest. "But if we cannot enforce that, we haven't accomplished much."
Based on a review of more than 20,000 wage theft complaints, hundreds of pages of reports and more than a dozen interviews, "Stolen Wages" shines a light on the dark world of pay violations in Seattle and across Washington.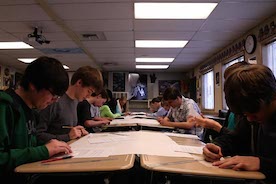 Infrastructure | May 2014
Portable, modular or relocatable classrooms — whatever you call them — are a necessity for cash-strapped schools.
But many portables become permanent fixtures, in place for decades at a time. Costly and insufficient, these aging structures burden the grid, frustrate teachers and administrators and compromise student health.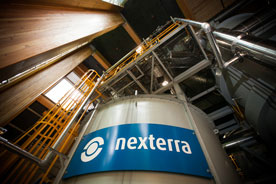 Environment | April 2014
Energizing our world with wood sounds so natural. And it has quickly become a multibillion-dollar industry as governments including British Columbia and the European Union turn to biomass to replace dirty old coal. Yet what we found when we dug into the coal-vs.-wood debate will surprise you.
Acknowledgements
In our work, we rely on the generosity of many others who make their services available for free or at a discount to nonprofits, including Tableau and the Texas A&M GeoServices Team.