Environmental effects of proposed Cherry Point coal plan debated
Printer-friendly version
By Raymond Flores and Andrew Donaldson
Western Washington University
The tiny nub of forested land poking into the sheltered Strait of Georgia represents a diverse aquatic environment surrounding potentially hazardous, but economically healthy, industry. Rural Cherry Point, west of Ferndale, is the new epicenter in a raging debate over global commerce.
The state aquatic reserve at Cherry Point, established in 2000, engulfs three industrial wharfs and could be home to a fourth if the proposed Gateway Pacific Terminal is built. A new dock, trestle, commodity storage area and conveyor belts would mean development on 350 acres of the 1,200-acre project site.
The Cherry Point Aquatic Reserve Management Plan was adopted in 2010 by the Department of Natural Resources to protect and restore marine habitat, aquatic vegetation and water quality around what was the state's largest herring stock – one that is now struggling, worrying conservationists. Aquatic reserve lands are set aside for their environmental, educational or scientific interest, according to the management plan.
The management plan was put into effect for the protection of valuable aquatic lands, but recognizes historical use of aquatic zones for industry and commerce. The Cherry Point Aquatic Reserve makes up 227 of the 2.6 million acres included in the Washington State Aquatic Reserve Program.
Cherry Point, an unicorporated area zoned for high-impact industrial use, has been the home of the BP and ConocoPhillips oil refineries, as well as the Alcoa Intalco Works aluminum smelter, for decades.
SSA Marine spokesman Craig Cole said Cherry Point is attractive to the company because it is a naturally occurring deepwater port that doesn't require dredging to accommodate the deep drafts of a new generation of larger cargo ships that would be used at the terminal. According to the state's management plan, Cherry Point is a desirable location for an exporting facility because of the naturally occurring deep-water contours.
While the aquatic reserve was designed to incorporate industrial uses, local, regional and national environmental organizations have raised concerns about the terminal's proposed wharf, which is just under five-eighths of a mile long and would connect to the shore by a trestle just under a quarter-mile long. The project's proponents pitch it as a bulk transport facility that would handle many different kinds of cargo. But so far the only contract for export SSA Marine has signed has been for coal bound for Asia.
Fred Felleman, northwest consultant for environmental advocacy group Friends of the Earth, said there would be environmental costs of developing and operating a shipping terminal capable of exporting 54 million metric tons of goods per year, of which 48 million could be coal, according to the Joint Aquatic Resources Permit Application prepared by the U.S. Army Corps of Engineers.
Concerns about herring
The Pacific herring population at Cherry Point is one reason the proposed terminal should be stopped, Felleman said. Pacific herring has been identified by the Washington Department of Fish and Wildlife as a species of concern, meaning there are worries about its survival. The Cherry Point herring population has been in decline since the 1970s and is still declining, according to a 2004 study by Dr. Wayne Landis, director of the Institute of Environmental Toxicology at Western Washington University's Huxley College of the Environment.
The factors influencing herring populations at Cherry Point are complex. Scientists have not been able to establish a root cause of the decline, but attribute population levels to nine factors: overfishing, climate change, industrial sites, wastewater, surface water runoff, construction, salmon hatcheries, invasive species and exposure to contaminants outside the Cherry Point area. Herring are an important food source for Pacific salmon, many wild Northwest species of which have been protected as threatened or endangered under the federal Endangered Species Act, and for orcas. Washington state's orcas have been protected as an endangered species since 2005.
On average, herring live for nine years, but at Cherry Point the older generation has disappeared, Landis said. Landis and colleague Peter Bryant of Western Washington University released a study of Cherry Point herring in 2010 that shows a disappearance of herring above the age of three beginning in the late 1990s.
"Fish grow their entire lifespan. As they get larger they produce more eggs," Landis said. "So the older fish are contributing disproportionately to the population compared to the younger fish."
Landis' study attributes this decline in the age structure and population to three main factors: climate change, exposure to contaminants and disease.
According to the studies on herring, a weather pattern called the Pacific Decadal Oscillation (PDO), a mild El Nino-like climate pattern that lasts for 20 to 30 years, has the biggest effect on population levels. Combined with nearby Canadian fisheries and local industry, the weather pattern has contributed to the low population and age-structure collapse, according to Landis' study.
Eelgrass essential to herring survival
Eelgrass is identified in the management plan as a plant that provides food, habitat and shelter for a variety of organisms and is a known spawning ground for herring. The pier that SSA Marine is proposing to construct is identified as a potential threat to Cherry Point ecological processes, according to the management plan. Construction of a new pier would diminish the sunlight available to the eelgrass, diminishing spawning grounds for herring, which would affect juvenile salmon and disrupt migration avenues for other species, according to the management plan.
Bob Watters, senior vice president of SSA Marine, said exhaustive studies have been conducted that show the herring and eelgrass would not be affected by the terminal.
According to the Joint Aquatic Resources Permit Application, there are no eelgrass communities in the designated project area.
Coal dust problematic at other piers
Environmentalists said they are also worried about coal dust affecting the Cherry Point environment. A 1999 study by Ryan Johnson and R.M. Bustin of the University of British Columbia on coal dispersal in marine environments says there was a doubling in the amount of coal particles around a coal terminal in Robert's Bank, B.C., about 20 miles from Cherry Point, from 1977 to 1999. In that time period, coal particles went from an average concentration of 1.80 percent to 3.60 percent around the terminal, the study found. Water in the direct vicinity of coal-loading terminals had a concentration of more than 10 percent. According to the study, this distribution of coal particles could have a direct effect on plants and animals in the area.
SSA spokesman Cole said comparisons to other coal terminals, such as the one at Robert's Bank, are improper because the Gateway Terminal would be more sophisticated. Cole said mitigation of coal dust at newly constructed terminals is more effective at preventing the spread of coal dust. Advancements in building standards and technology, including covered conveyors, will be utilized in construction and operation of the terminal, Cole said.
Raymond Flores and Andrew Donaldson are seniors majoring in environmental journalism at Western Washington University.
This story is part of a package produced by the students in the Journalism 450 class at Western Washington University. They were primarily edited by WWU Professor Carolyn Nielsen. InvestigateWest co-founder and senior environmental correspondent Robert McClure advised the students when they were partway through the reporting process, and helped prepare the final stories for publication. View the remaining elements of the package here.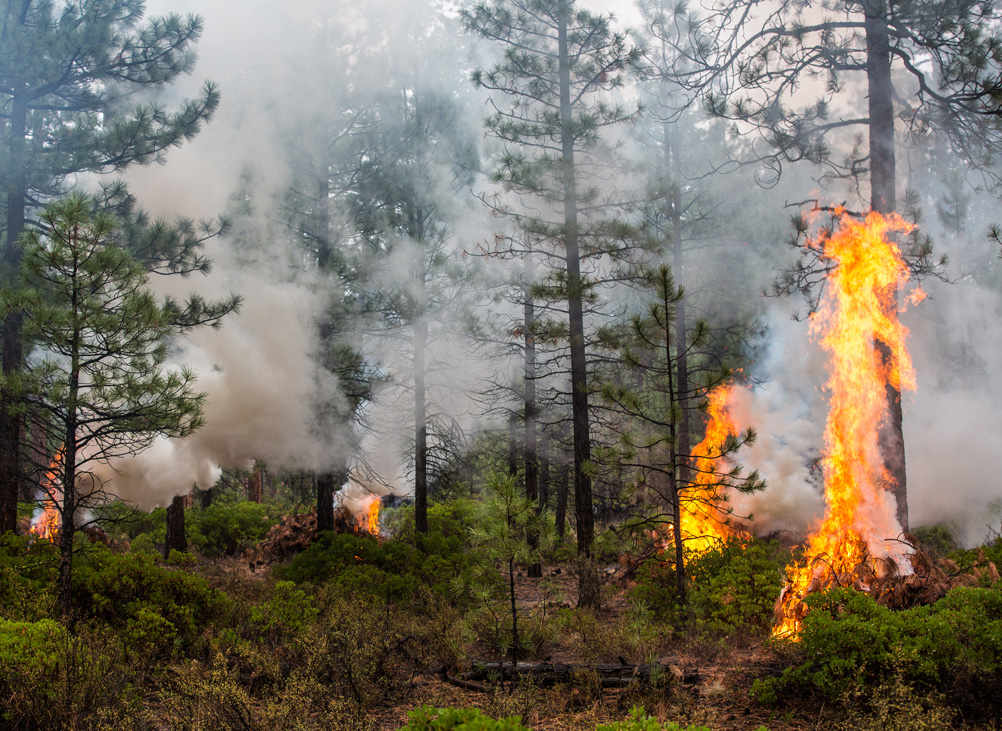 Forests and the Economy | May 2015
Environmentalists and the timber industry — once bitter adversaries — are working as allies on forest restoration. Collaborative forest thinning projects aim to fight megafires before they start — but money is scarce and tens of thousands of acres acres in Oregon now face an elevated risk of catastrophic fire. Ben DeJarnette reports for InvestigateWest.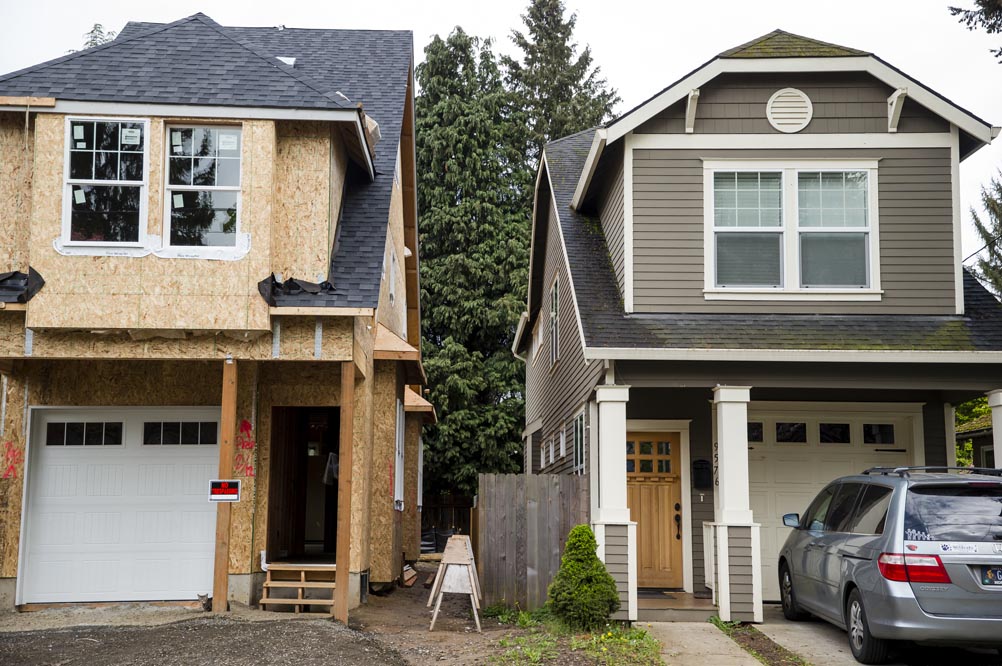 Equity | April 2015
Cash reigns in the Portland housing market. The city faces pressure from a new kind of speculation, as investors buy thousands of homes with cash and long-established protections for bank-financed homebuyers are ignored. Lee van der Voo and James Gordon report for InvestigateWest.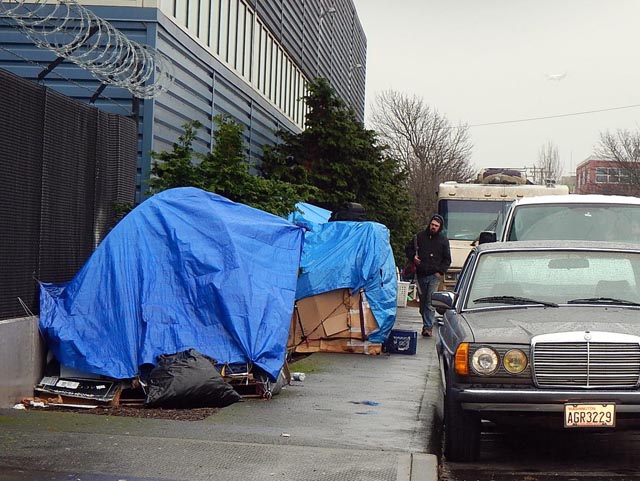 Wealth and Poverty | March 2015
March 2015 marks the anniversary of a bold promise: King County's 10-year plan to end homelessness. Now that the 10-year plan is ending and local homelessness is worse than ever, talk of ending homelessness is being replaced with less-lofty aspirations: making homelessness rare and brief when it does occur.
In collaboration with KUOW this week, we examine the roots of the plan, the challenges it faced, and where community and city leaders think we go from here.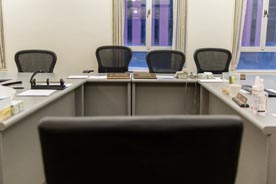 Equal Justice | December 2014
With grand jury reform elsewhere focused on eliminating racial bias and curbing police use of force, Oregon is an outlier: It is one of just 14 states that do not regularly record the citizen grand juries that charge people with felonies.
Almost five years after police killed an unarmed black man in Portland and the Multnomah Co. district attorney petitioned for that grand jury to be recorded, lawmakers in Salem are lining up behind a reform bill to mandate recording statewide, InvestigateWest has learned.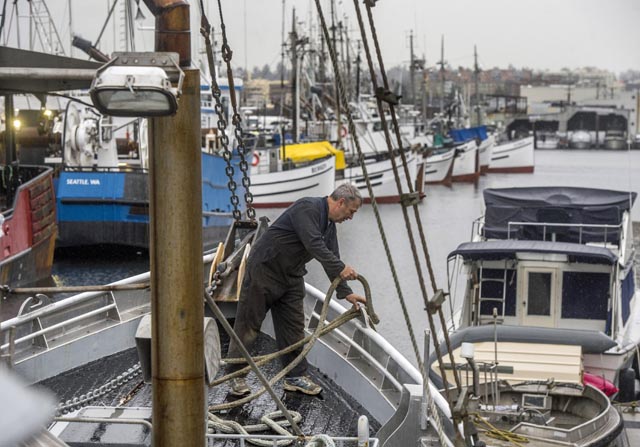 Seafood | December 2014
A struggle in Alaska over shrinking supplies of halibut is threatening the iconic centerpiece fish in favor of cheaper exports, fast-food fillets and fish sticks.
At risk is most of the frozen supply that sustains restaurants, food-service companies and retail stores nationwide, such as Costco and Whole Foods. Lee van der Voo investigates.
Photo: Peter Haley / The News Tribune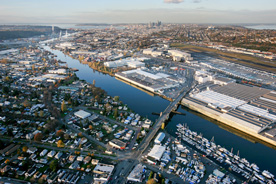 Environment | November 2014
It will take hundreds of millions of dollars to clean up the Duwamish River. But how clean is clean? And who decides?
Robert McClure looks at how lobbyists and community groups have squared off over the health of the waterway and its neighborhoods.
Photo: Paul Joseph Brown/ecosystemphoto.com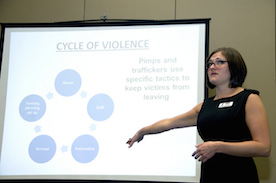 Trafficking | October 2014
Authorities say organized gangs increasingly are trafficking children for sex in the Northwest, and even cooperating with each other to stymie police.
Meanwhile in Portland, the U.S. Attorney's Office has become the third most prolific nationally in securing indictments for trafficking children and adults for sex.
Photo: Oregon DOT/Flickr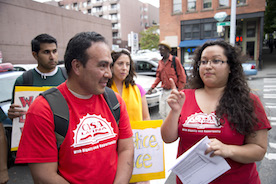 Minimum Wage | August 2014
"Everyone is aware that passing a $15 an hour minimum wage was historic," an advisor to Mayor Ed Murray and the Seattle City Council told InvestigateWest. "But if we cannot enforce that, we haven't accomplished much."
Based on a review of more than 20,000 wage theft complaints, hundreds of pages of reports and more than a dozen interviews, "Stolen Wages" shines a light on the dark world of pay violations in Seattle and across Washington.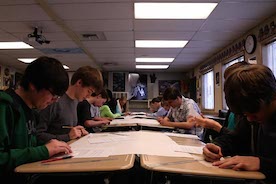 Infrastructure | May 2014
Portable, modular or relocatable classrooms — whatever you call them — are a necessity for cash-strapped schools.
But many portables become permanent fixtures, in place for decades at a time. Costly and insufficient, these aging structures burden the grid, frustrate teachers and administrators and compromise student health.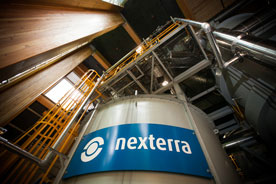 Environment | April 2014
Energizing our world with wood sounds so natural. And it has quickly become a multibillion-dollar industry as governments including British Columbia and the European Union turn to biomass to replace dirty old coal. Yet what we found when we dug into the coal-vs.-wood debate will surprise you.
Acknowledgements
In our work, we rely on the generosity of many others who make their services available for free or at a discount to nonprofits, including Tableau and the Texas A&M GeoServices Team.