Europe and Canada set more controls on workplace chemo
Printer-friendly version
'Contamination is everywhere,' expert warns
By Carol Smith
Read the whole package here.
In the United States, there's a lot of discussion about the difficulties of requiring hospitals and clinics to prove they are not contaminating their workers with toxic drugs.
But some other countries are already doing that.
In Holland, health care workers can choose to be monitored for exposure and work areas must be tested for contamination. Germany, Austria and Belgium also have aggressive safety programs regulating chemo agents. The United Kingdom and France impose strict regulation on veterinary practices handling chemo. In Canada, British Columbian hospitals do monthly safety inspections and a major union there is preparing to track nurses' health histories to link exposures to disease.
"Contamination is everywhere, even at the best organized facilities," said Paul Sessink, a chemist and toxicologist who has performed monitoring in about 300 hospitals around the world. European countries are moving to make worker safety regulations stronger, he said, while the U.S. appears almost exclusively focused on patient safety.
In British Columbia, the death of nurse Sally Giles in 1992 resulted in a set of extensive regulations governing everything from the mixing of chemo, to how it is delivered, and disposed of, said Pam Piddocke, health and safety officer for the British Columbia Nurses Union, which fought for and won the regulations. Giles was an emergency room nurse who routinely mixed and delivered chemo to patients. She died less than a year after being diagnosed in her 40s with cancer of the bile duct that she, and the union that represented her in a coroner's inquest into her death, believed was linked to her exposure.
Regulations that emerged from that case require monthly "preventive inspections" to determine that workers are following guidelines and equipment is working properly, Piddocke said.
In the U.S., however, neither environmental monitoring, nor exposure tracking is mandated. And neither is routinely taking place.
Yet U.S. studies have shown if it were done, it would likely show that most workplaces where chemo is being handled have some degree of contamination.
Sessink
A new study by U.S. Centers for Disease Control, the largest of its kind to date, has found continued evidence of contamination and exposure at three major health care institutions, according to Tom Connor, a research biologist with the National Institute for Occupational Safety and Health, and one of the principal authors of the study. Once surfaces are exposed to the drugs, they can remain contaminated for months. The study found pharmacies were more often contaminated than oncology nursing stations. One of the chemo drugs showed up in the urine of two pharmacists.
The study looked at 70 exposed workers at three hospitals, including the University of Maryland, the University of North Carolina and the University of Texas, MD Anderson. Results showed that voluntary guidelines in place since 2004 are not enough to protect workers, Connor said.
The study results, which have been submitted for publication to the Journal of Occupational and Environmental Medicine, were first presented at the 2009 mid-year meeting of the American Society of Health System Pharmacists in Las Vegas.
The federal Occupational Safety and Health Administration is charged with protecting workers but has no specific standard for protecting workers from exposure to toxic drugs in the health care industry. The agency has issued fewer and fewer regulations since the 1990s, said Janice Camp, a senior lecturer in the Occupational and Environmental Health Sciences Department at the University of Washington.
"The health care industry is notoriously bad for being compliant," she said. "You hear the same sort of arguments: 'Oh, it's so expensive, it's too hard, the workers won't do it. It's too hard to put ventilation in pharmacies because buildings were never designed for that,' " she said. "It's the same stuff we heard from heavy industry years ago."
U.S. Sen. Patty Murray, Chair of the Employment and Workplace Safety Subcommittee, said worker safety law hasn't been updated since it was passed in 1970s, hindering the agency's ability to keep up with new hazards in the workplace..
"In fact, far from modernizing OSHA, a slew of restrictions, requirements, and administrative burdens, not to mention funding limitations, have been placed on OSHA over the past 40 years," she said.
The few standards that have emerged in recent decades have resulted because a rare cancer or disease was linked to a specific group of workers and a single source of exposures. That's how the standards for asbestos, which is linked to mesothelioma, and silica, linked to silicosis, were born. Strong labor advocacy or catastrophic situations have also pushed standards forward in the past.
Absent those factors, it's nearly impossible to get new safety rules enacted, said Jeanne Stellman, an expert in occupational and environmental health. In 2008, Stellman, who is currently professor at SUNY-Downstate Medical Center, told the President's Cancer Panel, "It's no coincidence that the decrease in carcinogen-control regulations, studies and government publications corresponds to the shrinkage of the United States' industrial workforce and their representation by trade unions."
Washington state, which has its own OSHA plan administered by the Department of Labor & Industries, does not do many inspections of health care workplaces, said John Furman, occupational nurse consultant for L&I.
To assess whether its approach with health care institutions was working, L&I did a "programmed inspection" that targeted a large number of health care employers a few years ago. It found no major compliance problems in the health care sector, said Furman.
However, in 2006, the agency did investigate a safety complaint brought by an employee of an outpatient oncology clinic in Centralia and issued citations that were disputed in court, records obtained by InvestigateWest indicate. The clinic corrected venting in a chemo mixing area and was fined for not having gowns available that protected against liquid aerosols and splashes. The inspections also included a co-owned clinic in Aberdeen.That investigation was precipitated by a worker complaint, not a routine inspection, Furman said.
That investigation was precipitated by a worker complaint, not a routine inspection, Furman said.
Safety advocates, however, point out that many workers remain unaware of their potential exposures and doubt whether all dangerous situations are being brought to the attention of regulatory agencies.
That's the value of standards, said Stellman. She and others suggest mandating controlling the process that would result in exposure, and to verify it's working. This is a requirement, for example, in American industrial labs that handle hazardous chemicals, she said.
"We are a nation of laws," she said. "We have an income tax system – we don't say, here are some guidelines, pay what you want. We don't have suggested traffic laws."
---
Read more about this story.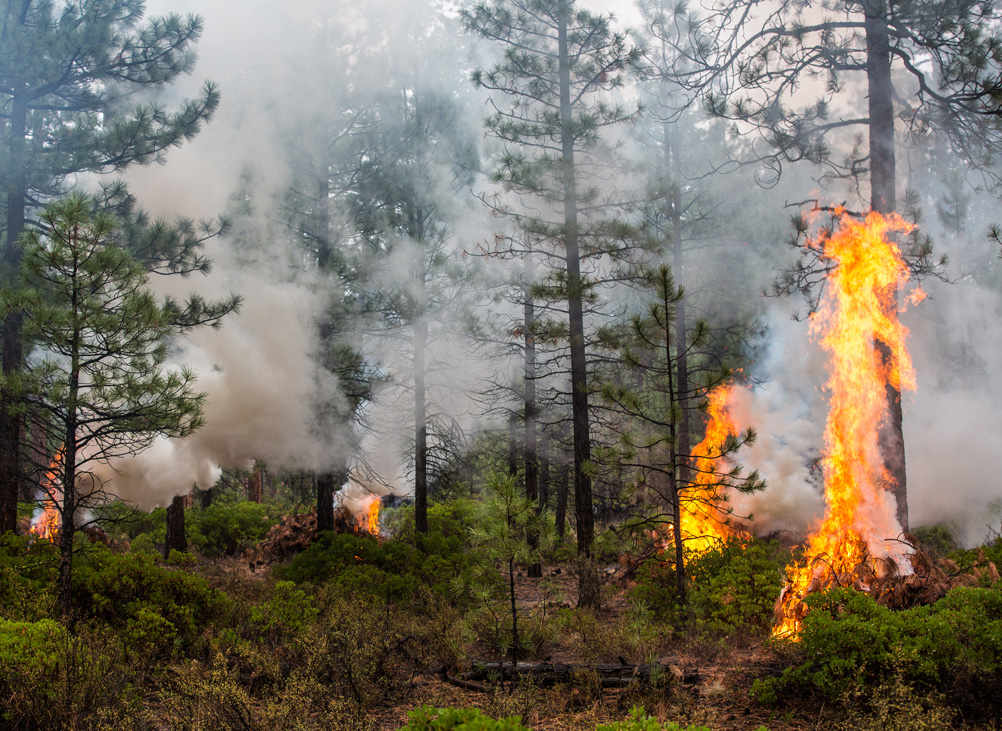 Forests and the Economy | May 2015
Environmentalists and the timber industry — once bitter adversaries — are working as allies on forest restoration. Collaborative forest thinning projects aim to fight megafires before they start — but money is scarce and tens of thousands of acres acres in Oregon now face an elevated risk of catastrophic fire. Ben DeJarnette reports for InvestigateWest.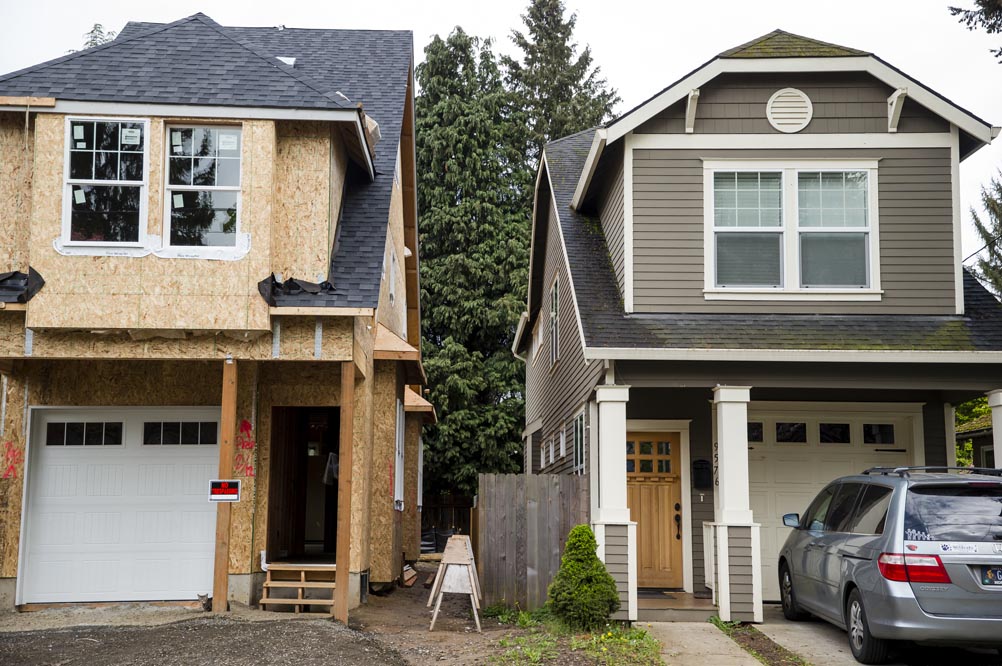 Equity | April 2015
Cash reigns in the Portland housing market. The city faces pressure from a new kind of speculation, as investors buy thousands of homes with cash and long-established protections for bank-financed homebuyers are ignored. Lee van der Voo and James Gordon report for InvestigateWest.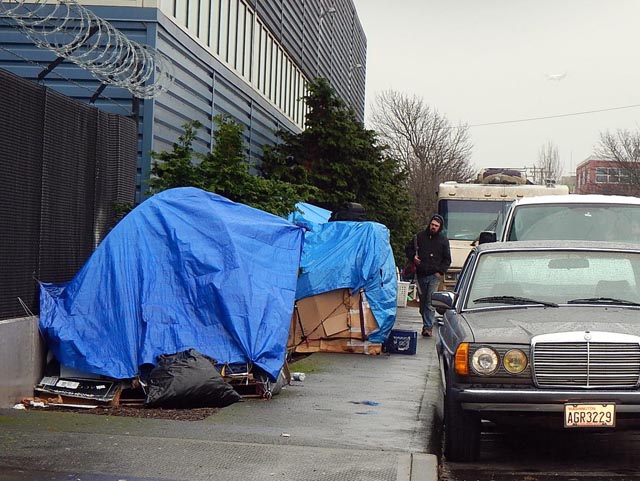 Wealth and Poverty | March 2015
March 2015 marks the anniversary of a bold promise: King County's 10-year plan to end homelessness. Now that the 10-year plan is ending and local homelessness is worse than ever, talk of ending homelessness is being replaced with less-lofty aspirations: making homelessness rare and brief when it does occur.
In collaboration with KUOW this week, we examine the roots of the plan, the challenges it faced, and where community and city leaders think we go from here.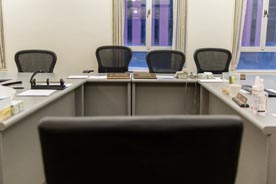 Equal Justice | December 2014
With grand jury reform elsewhere focused on eliminating racial bias and curbing police use of force, Oregon is an outlier: It is one of just 14 states that do not regularly record the citizen grand juries that charge people with felonies.
Almost five years after police killed an unarmed black man in Portland and the Multnomah Co. district attorney petitioned for that grand jury to be recorded, lawmakers in Salem are lining up behind a reform bill to mandate recording statewide, InvestigateWest has learned.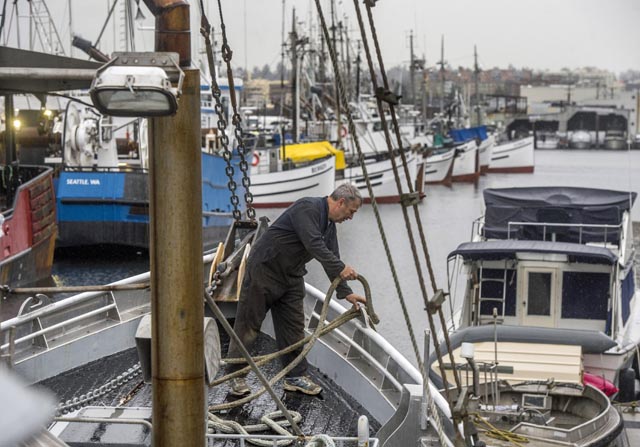 Seafood | December 2014
A struggle in Alaska over shrinking supplies of halibut is threatening the iconic centerpiece fish in favor of cheaper exports, fast-food fillets and fish sticks.
At risk is most of the frozen supply that sustains restaurants, food-service companies and retail stores nationwide, such as Costco and Whole Foods. Lee van der Voo investigates.
Photo: Peter Haley / The News Tribune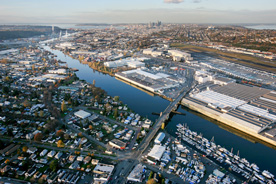 Environment | November 2014
It will take hundreds of millions of dollars to clean up the Duwamish River. But how clean is clean? And who decides?
Robert McClure looks at how lobbyists and community groups have squared off over the health of the waterway and its neighborhoods.
Photo: Paul Joseph Brown/ecosystemphoto.com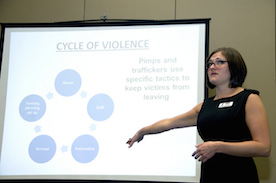 Trafficking | October 2014
Authorities say organized gangs increasingly are trafficking children for sex in the Northwest, and even cooperating with each other to stymie police.
Meanwhile in Portland, the U.S. Attorney's Office has become the third most prolific nationally in securing indictments for trafficking children and adults for sex.
Photo: Oregon DOT/Flickr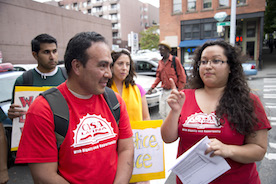 Minimum Wage | August 2014
"Everyone is aware that passing a $15 an hour minimum wage was historic," an advisor to Mayor Ed Murray and the Seattle City Council told InvestigateWest. "But if we cannot enforce that, we haven't accomplished much."
Based on a review of more than 20,000 wage theft complaints, hundreds of pages of reports and more than a dozen interviews, "Stolen Wages" shines a light on the dark world of pay violations in Seattle and across Washington.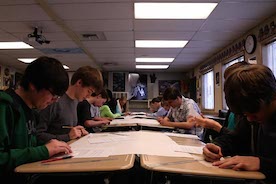 Infrastructure | May 2014
Portable, modular or relocatable classrooms — whatever you call them — are a necessity for cash-strapped schools.
But many portables become permanent fixtures, in place for decades at a time. Costly and insufficient, these aging structures burden the grid, frustrate teachers and administrators and compromise student health.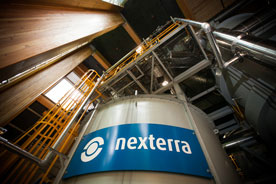 Environment | April 2014
Energizing our world with wood sounds so natural. And it has quickly become a multibillion-dollar industry as governments including British Columbia and the European Union turn to biomass to replace dirty old coal. Yet what we found when we dug into the coal-vs.-wood debate will surprise you.
Acknowledgements
In our work, we rely on the generosity of many others who make their services available for free or at a discount to nonprofits, including Tableau and the Texas A&M GeoServices Team.