What Does the Future Hold for Oregon's Family-Owned Forests?
Printer-friendly version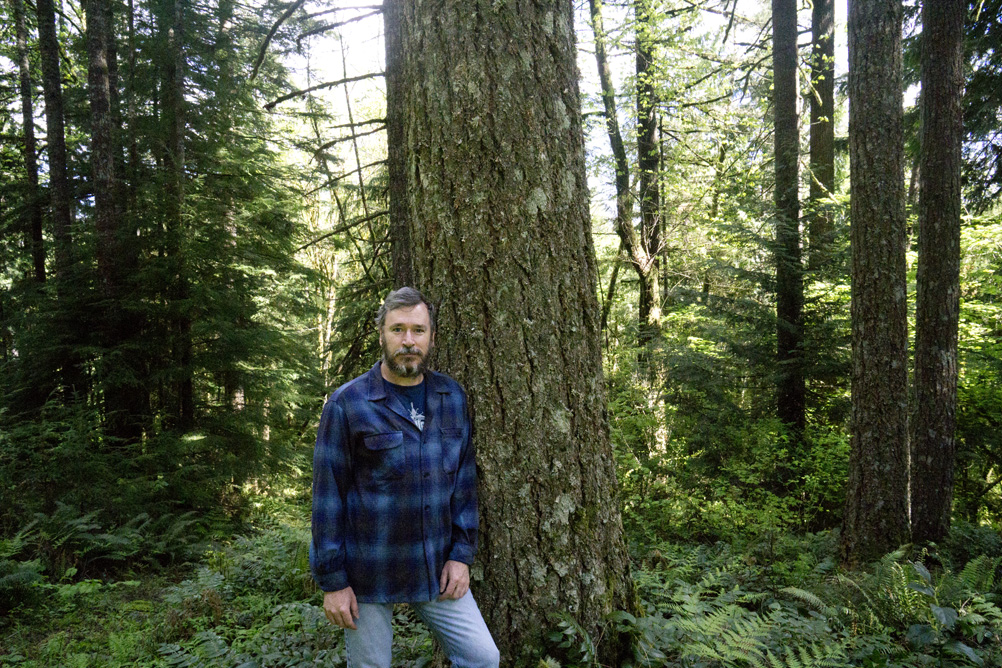 Family forest landowners like Cary Renzema hold almost half of Oregon's private forestland. Photo: Ben DeJarnette
Cary Renzema interrupts a stroll around his 50-acre forest to point out tiny purple petals peeking out from the forest floor.
"Beautiful little orchids," Renzema says. "Once you start looking, there are hundreds of those things around here."
For 13 years Renzema has studied this forest's quirks and charms, explored its groves of cedar trees and patches of vine maple and wild rose about 25 miles west of Portland. Today, though, those sights are bittersweet. As part of a divorce settlement, he may have to log this second-growth forest, leaving thousands of stumps where trees have stood for three generations.
"It just hurts my heart thinking about what's going to happen," he says. "I've invested so much time and energy into this, and now I'm basically watching it all get destroyed."
Oregon classifies Renzema and roughly 65,000 other people and companies as small forest landowners. Together they own almost half of Oregon's private forests, a protective arboretum around the state's farms and suburbs. But development is gnawing away. Over four decades, despite Oregon's growth-management laws, about one out of every 20 acres of small-acreage private forest has been converted to low-density housing development. By comparison, state-owned, federal and even private industrial forests have remained relatively untouched.
For Renzema, it's divorce. But all sorts of economic forces conspire to pressure private owners to cut their trees or sell their land. Elderly owners offload timber to pay medical bills. Children inherit forestland and prefer a quick payday to the responsibilities of timber ownership. Several years ago, a plot of family forestland along the twisting gravel road to Renzema's property changed hands when the owners passed away. Soon most of the trees disappeared. Today a new home stands in their place. And now more lots are being subdivided nearby on land owned by a timber company.
"Death, disease, and divorce," Renzema says. "Three things that kill forests."
Small forest landowners, by Oregon's classification, own from 10 to 5,000 acres. Most, like Renzema, own fewer than 100 acres. Each one has a different story.
Forests and rivers
West from Bend, east from Portland or south from Eugene, family forest landowners nestle between the valleys where people live and the long mountain ranges where most trees are federal property or owned by industrial-scale timber companies that often clearcut their forests. Located low in watersheds, many family forests have bigger streams than their upslope counterparts. These are the forests Oregonians are most likely see when they are out driving around the countryside.
And right now, that's a bad place to be.
The Oregon Board of Forestry plans to propose new rules next month increasing the protective buffer of timber around forest streams that shelter salmon, steelhead and bull trout, species of fish protected under federal environmental law.
The Forestry Board last revamped its rules on streamside timber harvest in 1994. Those rules focused on protecting fish in the largest streams. Many of the federal protections came into effect later, as new science increasingly has shown that small and medium-sized streams also benefit from shade trees that keep water from getting so hot that it sickens or kills the fish. Plus, streamside forests filter out silt, pesticides and other pollutants from rainwater runoff, among other benefits.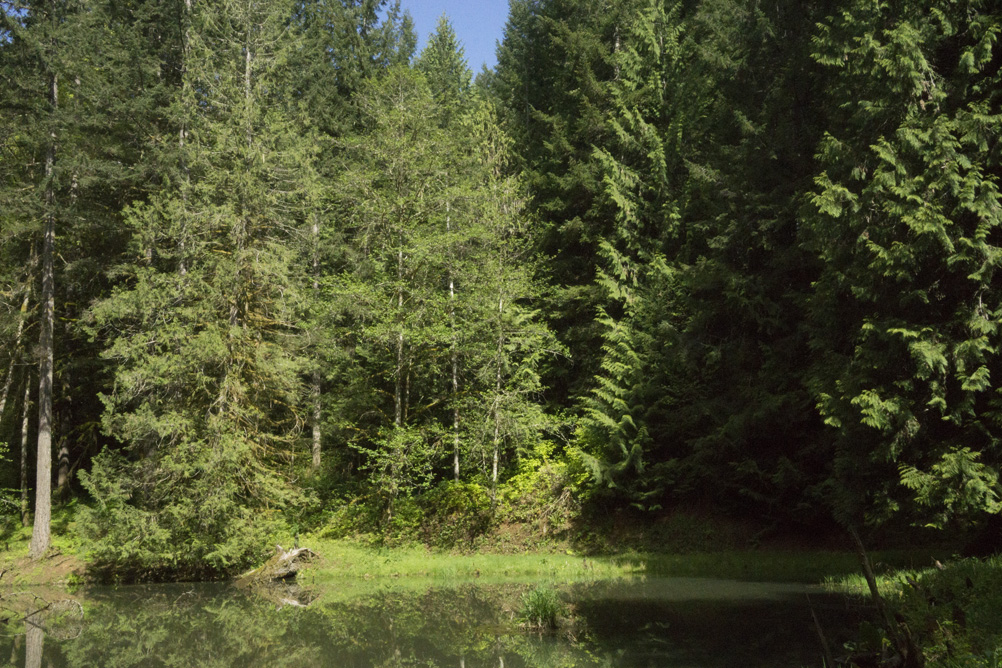 A family-owned forest outside Portland. Photo: Ben DeJarnette
Oregon's rules about how many trees need to be left beside streams are considerably less stringent than requirements in California and Washington.
"In Oregon we haven't done the heavy lift yet to get us up to something that is not completely laughable in terms of meeting water quality standards and protecting salmon," says Mary Scurlock of the Oregon Stream Protection Coalition.
Federal agencies said much the same as early as 1998, criticizing Oregon's regulations for failing to protect small- and medium-sized streams, among other deficiencies. A 2009 lawsuit by Portland-based Northwest Environmental Advocates ultimately led to a formal ruling last year by the U.S. Environmental Protection Agency and the National Marine Fisheries Service that Oregon's rules on logging are inadequate.
It was officially called the "Riparian Function and Stream Temperature" study, but scientists and policy wonks quickly shortened that to "RipStream study." This 2002-2011 research effort looked at water quality – especially temperature – at 33 timber harvest sites, 15 in state forests and 18 on private land, all in the Coast Range.

Too-warm waters are a widely known cause of the decline of salmon, steelhead and bull trout.

Measuring temperatures in streams both before timbering operations and afterward, researchers documented that larger streamside tree buffers keep streams cool and help to preserve fish habitat.

Scientists took water temperature measurements for two years before and five years after timber harvests. Result: Streams running through clearcut private lands were 10 times more likely to violate state rules that protect cold water than streams in the less-heavily-harvested state lands.

Industry representatives argue that the RipStream study is misguided, while acknowledging that it shows temperature "can temporarily increase by a minor amount" after clearcuts. The state's logging rules allow clearcuts. But its environmental water quality standards say logging can't raise stream temperatures more than a smidgen.

"There's obviously the issue that what's going on right now doesn't meet that criterion," said Susan Watkins, the McMinnville-area tree farmer who serves as the acting chair of the state's officially appointed Committee For Family Forestlands. "We have that evidence. Is violation of that rule enough to warrant a big intrusion into private lands?"
The agencies told Oregon it would have to do better by imperiled fish. The Forestry Board is scheduled to take a first step in that direction June 3, telling staffers how to propose to update the state's 18-year-old regulations. The public will have a chance to comment after the board proposes a draft rule in September.
The Oregon Department of Forestry is forthright about the tough decisions on the table for how to treat family forest landowners in the new rules.
"There is a concern because of their location lower in the watershed," says Peter Daugherty, head of the Forestry Department division in charge of private forests. "There is a concern that there will be a differential effect on family forest landowners."
State environmental agencies have yet to take a position on the looming rules. It's clear, though, that the Forestry Department has been focused on reaches of streams where protected salmon, steelhead and bull trout live.
Environmental groups whose litigation originally forced the Forestry Board's action disapprove of the current course, arguing that the state doesn't have a decent handle on where exactly fish live. They are lobbying for the Forestry Board to protect any waters where fish live and smaller upstream reaches as well. They warn that a narrow focus on where protected fish live won't pass legal muster — a threat of more lawsuits to come, in other words.
Protecting family forests
But what if it's about more than fish?
That's the message of the state's Committee for Family Forestlands, a panel of small forest landowners appointed to advise the Forestry Board: If new environmental regulations drive family forest landowners to sell, it could speed the development of land on the urban perimeter that shelters wildlife and provides clean drinking water and aesthetic beauty.
"There's more public awareness of the benefits that flow to the public from natural resource lands," says Susan Watkins, a McMinville-area forest owner and acting chair of the Family Forestry Committee.
She adds, pointedly: "And there's a strong desire to preserve and enhance those benefits without paying for it."
Watkins argues that the current regulations are working well for the small forest owners she represents. Her side cites increases in the number of coho salmon coming out of the western Oregon mountains in recent years.
But the National Marine Fisheries Service says the explanation for higher coho salmon numbers is more complex: especially good ocean conditions have temporarily boosted the population. When marine conditions turn again, salmon numbers will fall, federal marine scientists say.
That makes it all the more important to fix issues like Oregon's timber-harvesting regulations now, says Will Stelle, regional administrator for the Fisheries Service. Just as timber supports many communities, the fishing industry does, too, and the government has to find a balance as it protects fish, Stelle says.
"It's got lots of ramifications for those local communities and the fishing communities down the coast. So it is really important to get this right," Stelle told Jefferson Public Radio for this story. "We are optimistic that this is a doable thing. Because it's been done elsewhere."
Oregon was once a bellwether state when it came to preserving forests and farms in the West. The state's groundbreaking 1973 growth-management laws allow very little development outside urban growth boundaries. Those laws have worked — to a point. Forests have been converted to other uses half as fast in Oregon as in neighboring Washington in recent decades, according to the Oregon Forestry Department. One reason is that in many places, 80 acres of forest are required to build just one house. But there are exceptions and state officials have documented a creeping exurban style of development eating at the forest's fringes.
From 1974 to 2009, 191,000 acres of forest — about 2 percent of privately owned forest — were converted to some other use in Oregon, almost always low-density residential, according to an analysis of satellite imagery by the Forestry Department to detect land-use changes.
Holding the line at 2 percent over 35 years counts as success, state officials say. But if you focus on the small forest landowners, the picture is somewhat more serious: 6 percent of their lands have been developed.
Today some 515,000 additional acres of forest lie inside the urban growth boundaries or on other developable land, according to the Forestry Department — all prime pickings to be converted into something other than forest.
Even more significantly, 1.9 million acres of family forestland sit within a mile of urban growth boundaries, according to the Forestry Department. All of that could be eligible for development if the growth boundaries are expanded as allowed by the growth-management laws, and that represents about 18 percent of private forests in Oregon.
"There's economic pressure here," says Dan Postrel, spokesman for the Forestry Department. "A lot of these, if they are in developable areas, may be worth more monetarily" if they are developed.
Resignedly, he says: "They become a shopping center or a subdivision or whatever."
Dwellings built in farm and forest zones, 2008 – 2013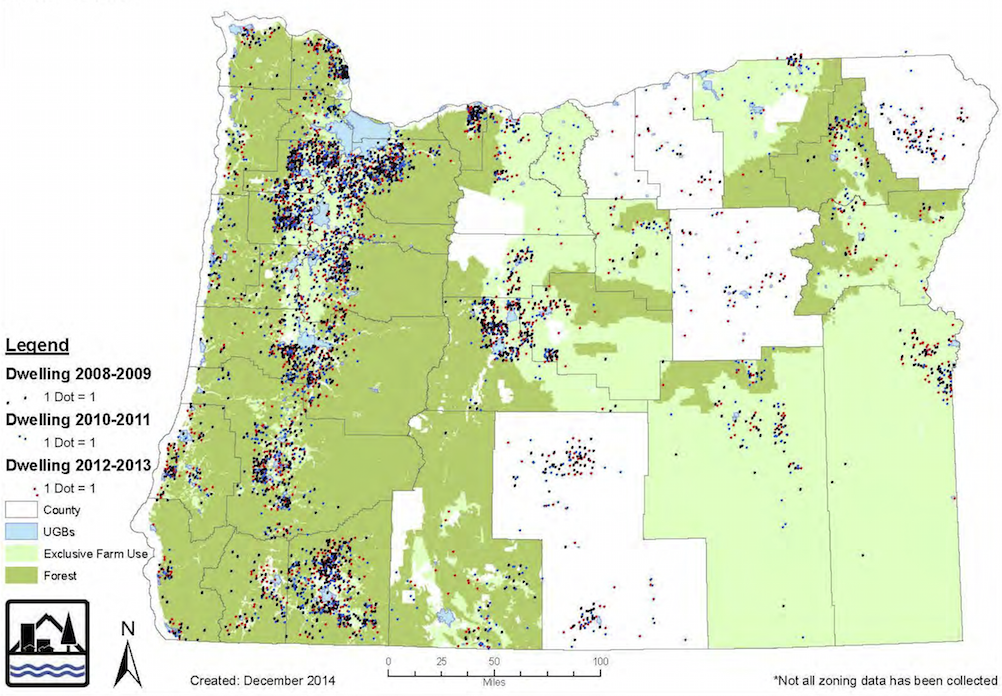 Source: Department of Land Conservation and Development

In February, the Department of Land Conservation and Development reported that large areas of industrial forestland have been sold in recent years. "There is growing pressure to divide and convert forest to other, developed land uses, as forest landowners seek current as well as long term returns," according to the agency report. Not only that, more small forest landowners are harvesting timber than in the past, the department said.
Postrel asks: "How can we make it an equation that keeps them (forest acres) in forest use rather than the economic weight being toward development?"
Breaking the logjam with new ideas
From several corners, innovative projects aim to tip the incentives toward small forest landowners keeping their timberland instead of selling it. Two under consideration now try to reframe the decision facing family forest owners from a choice between environmental stewardship and profitable activity, to solutions that do both at once.
In Washington County, where Cary Renzema lives, and next-door Columbia County, a pilot carbon-credit program known as the Forest Health-Human Health Initiative, would help family forest landowners hold onto their land without cutting the trees. The initiative wants to ultimately offer forest owners cash in exchange for agreeing to store extra carbon in their trees to help fight climate change.
"The younger generation has a different perspective, a different lifestyle," says David Ford of L&C Carbon, a backer of the pilot project. "How do we attract them so they are interested in owning and managing forestland into the future?"
A 2005 survey of Oregon family forest landowners by the Oregon Forest Resources Institute found just six percent of surveyed owners were younger than 45. "How do we get the younger generation invested?" Ford asks. "To me, carbon is part of that." (See our related story for more on the carbon-credit project.)
For now, family forest landowners have more immediate concerns — the rulemaking the Board of Forestry will launch next month.
Early in the current legislative session, then-Gov. John Kitzhaber proposed $45 million in loans and grants to working farms and forests. Loan guarantees were to be used to acquire land to protect it from being converted to other uses. A revolving loan fund would have helped eligible working farms and forests that took steps to provide ecological benefits. And outright grants would have supported projects considered especially important to conservation.
While not a direct response to the Forestry Board's move to tighten logging rules, the package had the potential to take out some of the sting for forest owners. It was part of a much larger initiative that was scaled down after Kitzhaber left office.
Now a bill in the state Senate, SB 204, the proposal declares an "emergency" regarding the loss of working farms and forests and sets up a two-year study commission to look at threats to those lands, including conversion to other uses.
Gov. Kate Brown's budget includes a $13 million version of Kitzhaber's $45 million initiative. It would set up a Clean Water Fund to assist small forest landowners and farmers taking steps to protect streams.
Brown's chief environmental adviser, Richard Whitman, appeared before the Board of Forestry in March and offered a glimpse of Brown's early thinking on the matter: "If there is a path forward here," he told the board, "it's going to have to be a path where the … burden's going to have to be shared in some way between the landowning community and the greater public."
"Exactly how that's done, I don't know," he said. Whitman confirmed last week that the governor's office continues to support both the Forestry Board's completion of the legally required rulemaking on streamside logging and the Working Farms and Forests legislation.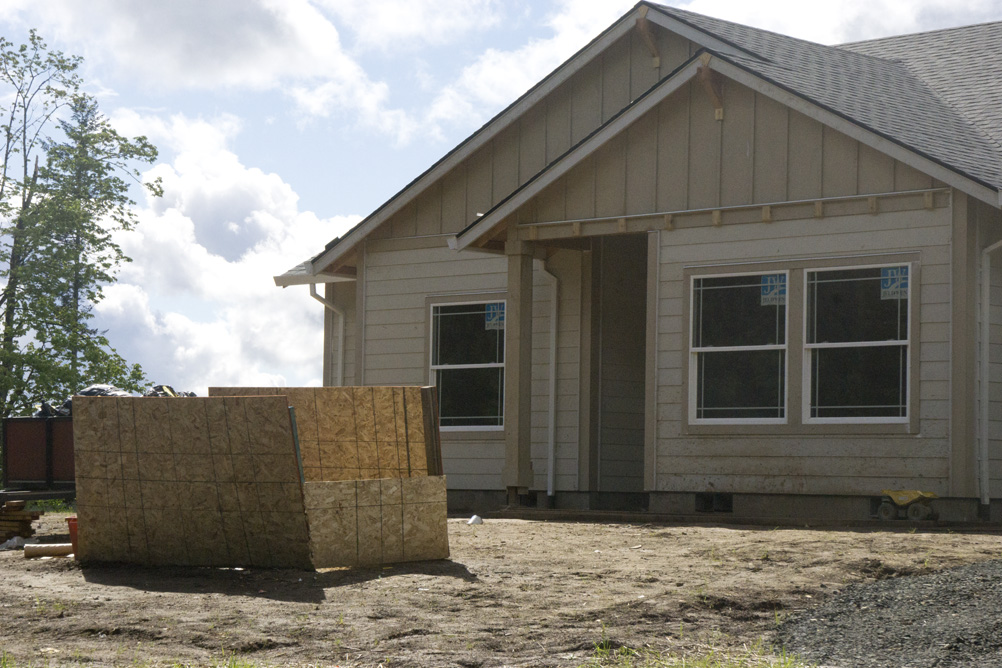 A newly built house stands where a family-owned forest used to. The land was sold when the former owners died. Photo: Ben DeJarnette
Jim James, executive director of the Oregon Small Woodlands Association, which represents about 3,000 family forest landowners, says of the proposed bill:
"I just don't see much in it for family forest landowners."
As a group, the landowners represented by James manage their land with a light touch compared to industrial timber companies. Small forest landowners own 44 percent of Oregon forestland, but on average cut just 15 percent of timber produced.
That makes sense, says James. "You have to remember," he says of family forest landowners, "their timber is their 401(K). Their timber is their savings account. It's what they save for a rainy day."
Given that, the state needs to proceed with caution in tightening regulations, argues Watkins, the McMinnville-area tree farmer who chairs the state's Committee for Family Forestlands. If Oregon doesn't, it could risk losing even more of the family forests that Oregonians cherish.
For such owners, she says, "There's a strong emotional incentive. In many cases there's a strong family legacy incentive. But in order to pass off the land to the next generation, forestry has to work economically."
Liam Moriarty of Jefferson Public Radio contributed to this report.
More from this Project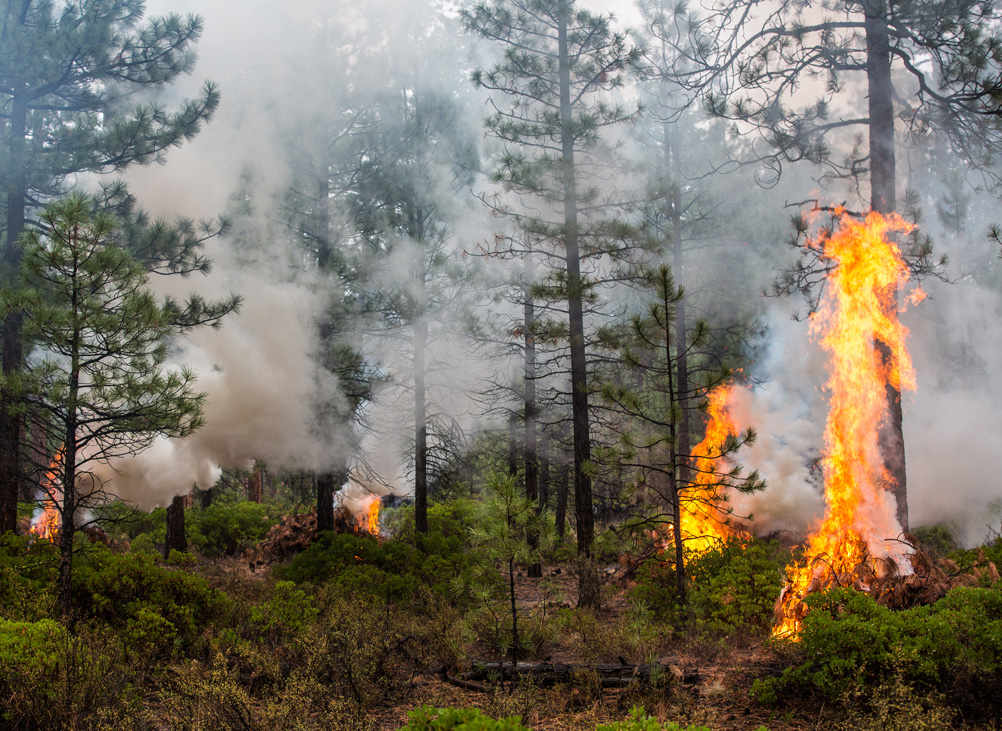 Forests and the Economy | May 2015
Environmentalists and the timber industry — once bitter adversaries — are working as allies on forest restoration. Collaborative forest thinning projects aim to fight megafires before they start — but money is scarce and tens of thousands of acres acres in Oregon now face an elevated risk of catastrophic fire. Ben DeJarnette reports for InvestigateWest.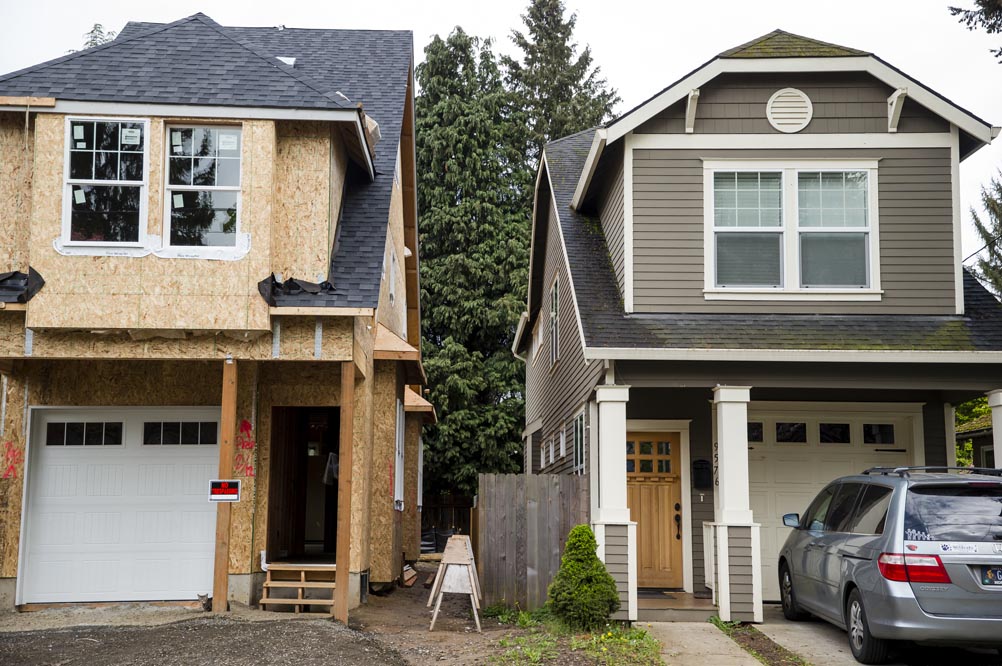 Equity | April 2015
Cash reigns in the Portland housing market. The city faces pressure from a new kind of speculation, as investors buy thousands of homes with cash and long-established protections for bank-financed homebuyers are ignored. Lee van der Voo and James Gordon report for InvestigateWest.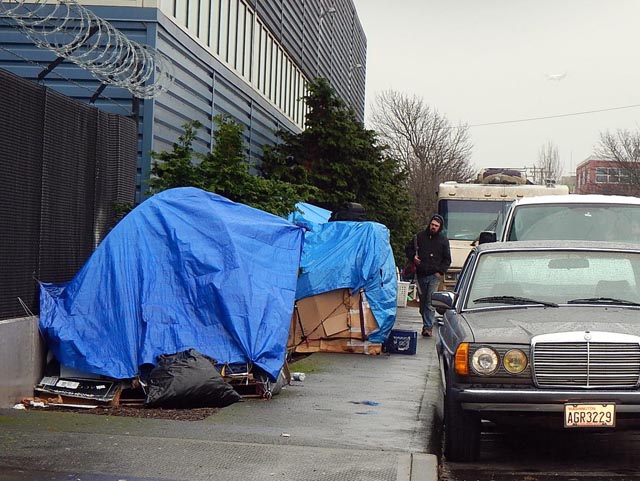 Wealth and Poverty | March 2015
March 2015 marks the anniversary of a bold promise: King County's 10-year plan to end homelessness. Now that the 10-year plan is ending and local homelessness is worse than ever, talk of ending homelessness is being replaced with less-lofty aspirations: making homelessness rare and brief when it does occur.
In collaboration with KUOW this week, we examine the roots of the plan, the challenges it faced, and where community and city leaders think we go from here.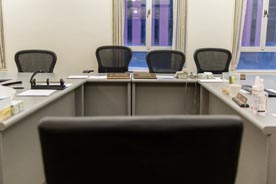 Equal Justice | December 2014
With grand jury reform elsewhere focused on eliminating racial bias and curbing police use of force, Oregon is an outlier: It is one of just 14 states that do not regularly record the citizen grand juries that charge people with felonies.
Almost five years after police killed an unarmed black man in Portland and the Multnomah Co. district attorney petitioned for that grand jury to be recorded, lawmakers in Salem are lining up behind a reform bill to mandate recording statewide, InvestigateWest has learned.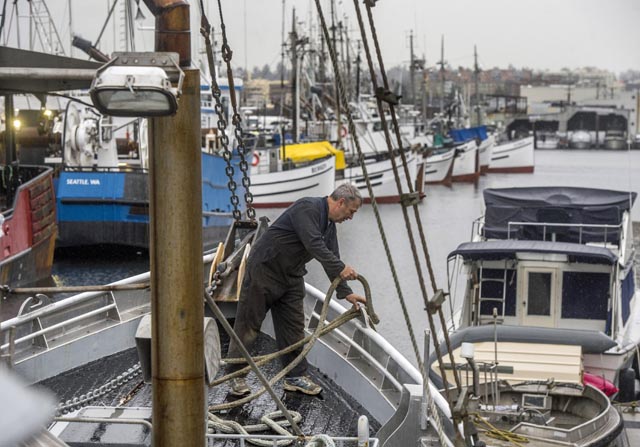 Seafood | December 2014
A struggle in Alaska over shrinking supplies of halibut is threatening the iconic centerpiece fish in favor of cheaper exports, fast-food fillets and fish sticks.
At risk is most of the frozen supply that sustains restaurants, food-service companies and retail stores nationwide, such as Costco and Whole Foods. Lee van der Voo investigates.
Photo: Peter Haley / The News Tribune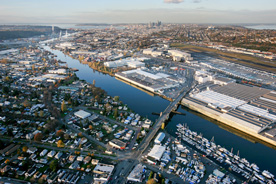 Environment | November 2014
It will take hundreds of millions of dollars to clean up the Duwamish River. But how clean is clean? And who decides?
Robert McClure looks at how lobbyists and community groups have squared off over the health of the waterway and its neighborhoods.
Photo: Paul Joseph Brown/ecosystemphoto.com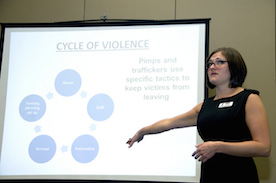 Trafficking | October 2014
Authorities say organized gangs increasingly are trafficking children for sex in the Northwest, and even cooperating with each other to stymie police.
Meanwhile in Portland, the U.S. Attorney's Office has become the third most prolific nationally in securing indictments for trafficking children and adults for sex.
Photo: Oregon DOT/Flickr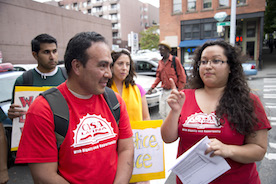 Minimum Wage | August 2014
"Everyone is aware that passing a $15 an hour minimum wage was historic," an advisor to Mayor Ed Murray and the Seattle City Council told InvestigateWest. "But if we cannot enforce that, we haven't accomplished much."
Based on a review of more than 20,000 wage theft complaints, hundreds of pages of reports and more than a dozen interviews, "Stolen Wages" shines a light on the dark world of pay violations in Seattle and across Washington.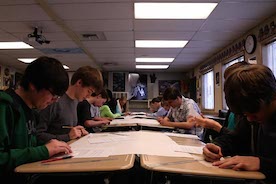 Infrastructure | May 2014
Portable, modular or relocatable classrooms — whatever you call them — are a necessity for cash-strapped schools.
But many portables become permanent fixtures, in place for decades at a time. Costly and insufficient, these aging structures burden the grid, frustrate teachers and administrators and compromise student health.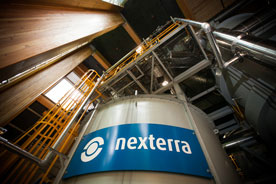 Environment | April 2014
Energizing our world with wood sounds so natural. And it has quickly become a multibillion-dollar industry as governments including British Columbia and the European Union turn to biomass to replace dirty old coal. Yet what we found when we dug into the coal-vs.-wood debate will surprise you.
Acknowledgements
In our work, we rely on the generosity of many others who make their services available for free or at a discount to nonprofits, including Tableau and the Texas A&M GeoServices Team.