Spoils of the sea elude many in an Alaska antipoverty plan
Printer-friendly version
"You eat from one bowl," said Ivan M. Ivan, 67, a tribal leader in Akiak, quoting the Yup'ik Eskimo cultural adage about sharing resources, in good times and bad. "That didn't happen."
Credit: Jim Wilson/The New York Times
AKIAK, Alaska — The humble pollock, great cash fish of the north, conquered the world through the flaky bland hegemony of a fish stick. At more than $1 billion a year, there is no bigger fishery for human consumption on the planet.
But pollock was also meant to be a savior, part of a Washington-backed antipoverty plan aimed at residents here on Alaska's mostly undeveloped west coast. A generation ago, organizers envisioned federally guaranteed shares of the pollock catch that would create a rising tide of funds to lift up poor, isolated villages where jobs and hope are scarce.
Pollock did succeed, wildly. The dollars that flowed into the Community Development Quota Program, as the catch-share system was called, created a hydra-headed nonprofit money machine. Six nonprofit groups arose on the Bering Sea shore, and they have invested mightily in ships, real estate and processing plants. Over two decades, the groups amassed a combined net worth of $785 million.
But the results on the ground, in rural community and economic development, have been deeply uneven, and nonexistent for many people who still gaze out to the blinking lights of the factory ships and wonder what happened.
"You eat from one bowl," said Ivan M. Ivan, 67, chief of the native community here in Akiak, quoting the Yup'ik Eskimo cultural adage about shared resources. "That didn't happen."
Collectively, the groups created tens of thousands of jobs and scholarships in one of the poorest regions of the nation. But critics say that community development, over time, got lost in a push toward institutional sustainability — and in some cases lavish salaries for leaders. Deregulation became self-regulation with a board of overseers appointed by the groups themselves the only real watchdog in recent years.
This was a social engineering experiment that had not yet existed.
Dick Tremaine, an economist whom Alaska consulted in the 1990s
Meanwhile, a lopsided division of spoils among the groups has festered into a conflict that some Alaskans fear could unravel the catch-share project itself, which has done much good, they say, despite its flaws. In 2011, according to the most recent figures, one group with a small population got nearly 22 times more revenue per resident than another, larger group, based on allocation formulas locked in by Congress in 2006.
The fate of places like Akiak, a village of 350 people about 400 miles west of Anchorage, was dictated by a political compromise two decades ago, when a line was drawn 50 miles from the Bering Sea. Villages inside the line got pollock money. Akiak's rutted dirt roads and 80 percent unemployment rate, residents said, bespeak its outsider status, 20 miles from that border.
Residents of Napaskiak, by contrast, a village of similar size 24 miles away, get scholarships, free firewood, free tax assistance and subsidized boat motors, all courtesy of the local catch-share group, the Coastal Villages Region Fund, which also buys halibut and herring from local fishermen.
The rules were hard but necessary, said Dick Tremaine, an economist who was a consultant to the state in the early 1990s. "This was a social engineering experiment that had not yet existed," he said.
But even communities within the line have seen uneven development.
The federal health clinic in the village of Teller, for example, in Alaska's northwest corner, went months without toilets last year after its septic system failed. Doctors and patients used five-gallon buckets instead, then stacked them in the street. Worse still, there were often not enough buckets to go around. Cardboard boxes, lined with plastic bags, then had to suffice.
Teller is not unique: 10 of 15 villages dotting the tundra along the Bering Sea outside of Nome — all within the catch-share system — do not have complete sewer service or running water.
"I can understand how C.D.Q.'s, in the early years, focused on the development of businesses," said Ed Backus, vice president for fisheries at Ecotrust, an economic development group in Portland, Ore., that works in Alaska, referring to the Community Development Quota Program. "But over time as those revenue streams really bulked up, which they have, I think it's important to remember the main mission of C.D.Q.'s is to really improve life in the villages."
Spokesmen for the nonprofit groups agreed that not every village has seen the same benefits.
Part of the problem is geography, said Simon Kinneen, vice president and chief operating officer of the Norton Sound Economic Development Corporation, which covers the northern corner of the catch-share region, including Teller. "Developing fisheries and economies in our member communities that do not have reasonable access to commercially viable fish species is difficult at best," he said in an e-mail.
A spokesman for the Coastal Villages Region Fund, Dawson Hoover, conceded that much more work should be done.
Under that guise, Coastal Villages, the largest of the groups by population, with about 9,300 residents, began an effort last year to get Congress to change how pollock and other fish are apportioned in western Alaska — to a formula based on population.
The shift would greatly increase Coastal's clout and income, and the effort is creating sharp conflict with other groups that could get less.
"The groups with the largest amount of people receive less fish per person," Mr. Hoover said. "It's just not fair."
Many native subsistence fishermen, meanwhile, say the pollock trawlers inadvertently catch too many salmon. Dozens were cited by state game wardens last summer — and faced emotional legal proceedings this spring — for setting their nets on the Kuskokwim River in violation of an emergency fishing ban.
Joe Garnie, a former mayor of Teller, and a board member of the Norton Sound group, said fairness depends on where you look. Imagine what might happen, he said, if a lack of plumbing had led to similar unsanitary conditions in a clinic in, say, Detroit. "In 15 minutes there would be a federal investigation," he said. "Why isn't there one here?"
Part of the answer to Mr. Garnie's question, is that the program grew up without a yardstick, according to people who were involved in its early years. And as each nonprofit group went its way, one-size-fits all measurements no longer applied.
There is no doubt that guaranteed pollock shares created a new empire.
Coastal Villages became a vertically integrated seafood company. The Aleutian Pribilof Island Community Development Association, another catch-share group, developed a separate economic plan for each village. In Norton Sound, benefits were delivered mostly in the form of community grants and scholarships, sending hundreds of Alaskans to college every year and helping villages operate.
Federal rules are loose, requiring only that the groups spend 80 percent of their money in fisheries. And in 2006, Congress stepped back even further, allowing the groups to regulate themselves, with reviews from Washington every decade. But in the first 10-year review, even the self-regulating catch-share oversight board in Alaska said the data measuring changes in poverty and quality of life in the villages was not meaningful.
But there is no doubt that guaranteed pollock shares — later extended to include, crab, pacific cod, halibut and other fish — created a new empire. Coastal Villages now owns an entire fishing fleet based in Seattle and Alaska. The Bristol Bay group owns half of the seafood giant Ocean Beauty. The Glacier Fish Company, based in Seattle, is partly owned by fish-quota groups. Four groups also invested in publicly traded securities, totaling $134 million in 2011, or 28.8 percent of their net assets. Salaries for top executives, meanwhile, have ranged in recent years from $69,503 to $832,367.
The oversight board said in a recent report that in its first 19 years, the program distributed $521 million in wages, training and benefits. But the region's troubles drag on. Of 65 communities within the 50-mile boundary, including Teller, 38 are still listed as "distressed" at the Denali Commission, a federal agency that focuses on Alaska's remote communities.
Joel Neimeyer, co-chairman of the Denali Commission, said it would be impossible for one program to solve Alaska's rural problems. The process of giving people training for jobs, for example can, in a perverse way, create a brain drain that leaves communities ever more locked in struggle. People leave and get a taste of the outside world. "A lot of them just never go back," Mr. Neimeyer said.
This article was written in cooperation with The New York Times. A version appeared in print on June 19, 2013, on page A1 of the national edition.
InvestigateWest is grateful for the financial support for this piece by the Fund for Investigative Journalism.
A Trilogy of Fish Stories
by Lee van der Voo
by Lee van der Voo
by Lee van der Voo
Acknowledgements
InvestigateWest would like to thank the Fund for Investigative Journalism and its publication partners, without whose support this story would not have been told.
In Partnership With: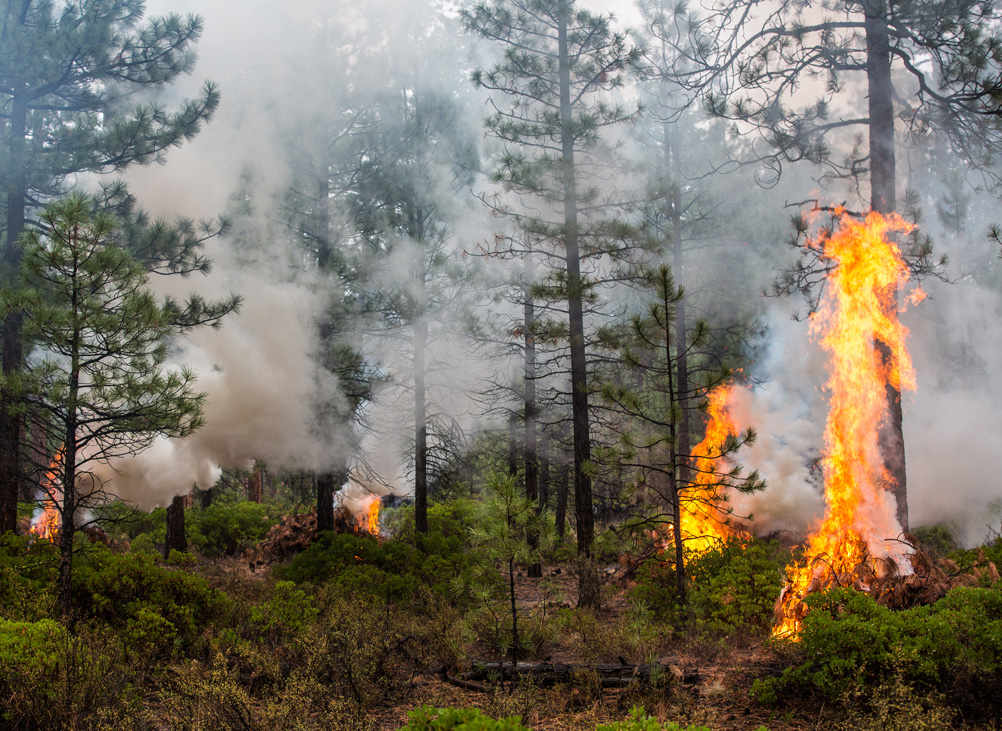 Forests and the Economy | May 2015
Environmentalists and the timber industry — once bitter adversaries — are working as allies on forest restoration. Collaborative forest thinning projects aim to fight megafires before they start — but money is scarce and tens of thousands of acres acres in Oregon now face an elevated risk of catastrophic fire. Ben DeJarnette reports for InvestigateWest.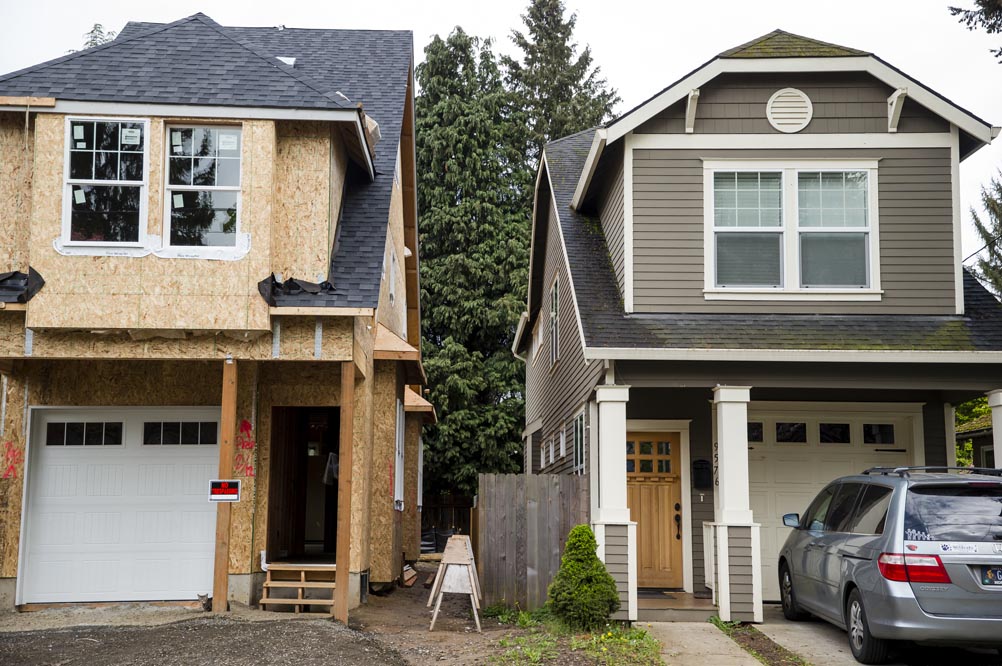 Equity | April 2015
Cash reigns in the Portland housing market. The city faces pressure from a new kind of speculation, as investors buy thousands of homes with cash and long-established protections for bank-financed homebuyers are ignored. Lee van der Voo and James Gordon report for InvestigateWest.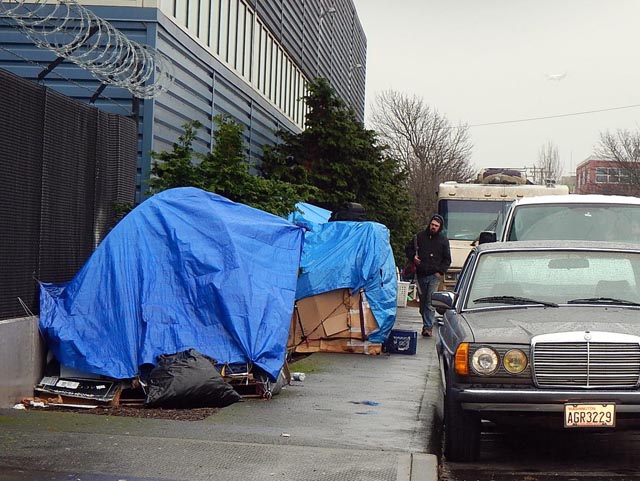 Wealth and Poverty | March 2015
March 2015 marks the anniversary of a bold promise: King County's 10-year plan to end homelessness. Now that the 10-year plan is ending and local homelessness is worse than ever, talk of ending homelessness is being replaced with less-lofty aspirations: making homelessness rare and brief when it does occur.
In collaboration with KUOW this week, we examine the roots of the plan, the challenges it faced, and where community and city leaders think we go from here.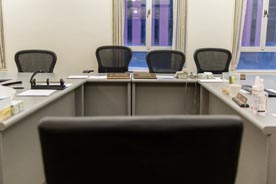 Equal Justice | December 2014
With grand jury reform elsewhere focused on eliminating racial bias and curbing police use of force, Oregon is an outlier: It is one of just 14 states that do not regularly record the citizen grand juries that charge people with felonies.
Almost five years after police killed an unarmed black man in Portland and the Multnomah Co. district attorney petitioned for that grand jury to be recorded, lawmakers in Salem are lining up behind a reform bill to mandate recording statewide, InvestigateWest has learned.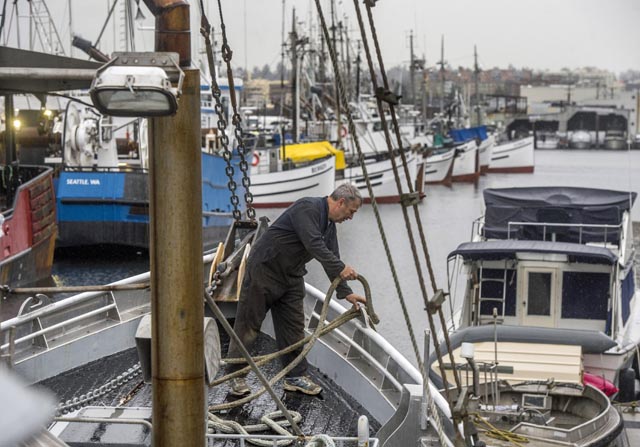 Seafood | December 2014
A struggle in Alaska over shrinking supplies of halibut is threatening the iconic centerpiece fish in favor of cheaper exports, fast-food fillets and fish sticks.
At risk is most of the frozen supply that sustains restaurants, food-service companies and retail stores nationwide, such as Costco and Whole Foods. Lee van der Voo investigates.
Photo: Peter Haley / The News Tribune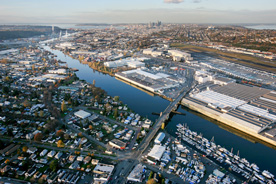 Environment | November 2014
It will take hundreds of millions of dollars to clean up the Duwamish River. But how clean is clean? And who decides?
Robert McClure looks at how lobbyists and community groups have squared off over the health of the waterway and its neighborhoods.
Photo: Paul Joseph Brown/ecosystemphoto.com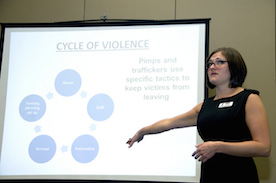 Trafficking | October 2014
Authorities say organized gangs increasingly are trafficking children for sex in the Northwest, and even cooperating with each other to stymie police.
Meanwhile in Portland, the U.S. Attorney's Office has become the third most prolific nationally in securing indictments for trafficking children and adults for sex.
Photo: Oregon DOT/Flickr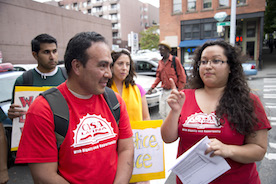 Minimum Wage | August 2014
"Everyone is aware that passing a $15 an hour minimum wage was historic," an advisor to Mayor Ed Murray and the Seattle City Council told InvestigateWest. "But if we cannot enforce that, we haven't accomplished much."
Based on a review of more than 20,000 wage theft complaints, hundreds of pages of reports and more than a dozen interviews, "Stolen Wages" shines a light on the dark world of pay violations in Seattle and across Washington.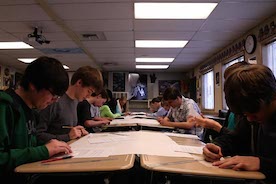 Infrastructure | May 2014
Portable, modular or relocatable classrooms — whatever you call them — are a necessity for cash-strapped schools.
But many portables become permanent fixtures, in place for decades at a time. Costly and insufficient, these aging structures burden the grid, frustrate teachers and administrators and compromise student health.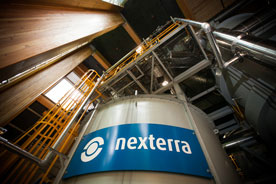 Environment | April 2014
Energizing our world with wood sounds so natural. And it has quickly become a multibillion-dollar industry as governments including British Columbia and the European Union turn to biomass to replace dirty old coal. Yet what we found when we dug into the coal-vs.-wood debate will surprise you.
Acknowledgements
In our work, we rely on the generosity of many others who make their services available for free or at a discount to nonprofits, including Tableau and the Texas A&M GeoServices Team.