Sketchy Claims Inflate B.C.'s Wood Energy Exports
Printer-friendly version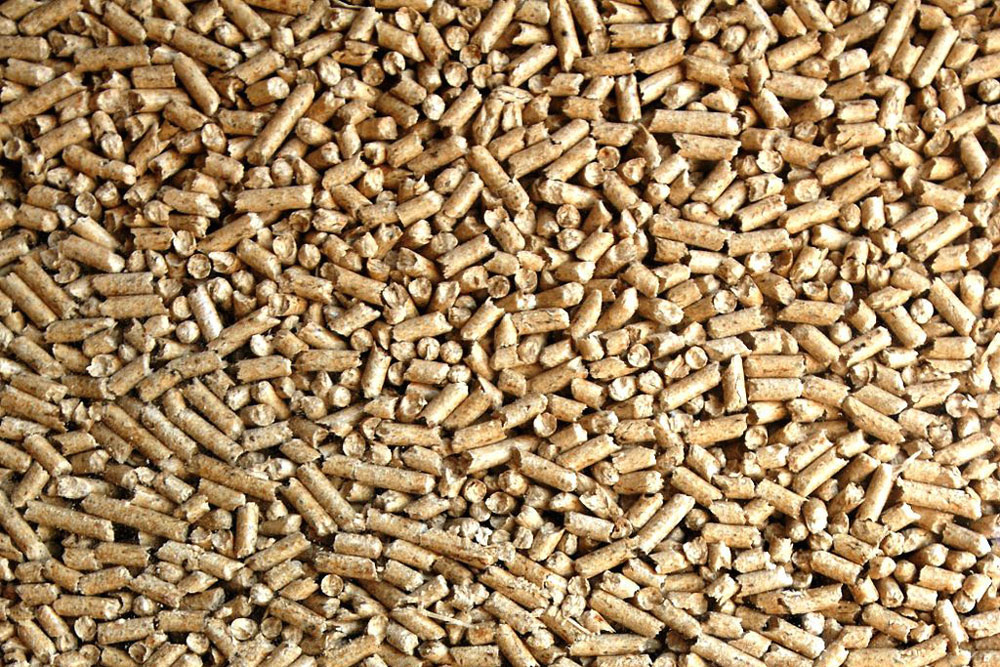 Industry advocates say B.C. could become the "Saudi Arabia of Biomass" -- but that probably won't be good for the global climate.
Photo: Böhringer Friedrich/Wikimedia.
Eight words in a 927-page document. That's all it took to launch a European policy with big implications for B.C. That policy counts burning wood to produce energy as equivalent, climate-wise, to solar and wind power. This despite the fact that burning wood releases the very same greenhouse gasses as any fossil fuel; the same gasses that are turning oceans acidic and melting the polar ice caps. Here are the eight words: "The emission factor for biomass shall be zero."
Not, you will note, "are zero." No: "shall be zero." Behind that starkly declarative pronouncement lay months of tense international negotiations over the climate-change implications of burning biomass, or any kind of plant matter: wood, agricultural wastes, or crops grown for burning. In the end, the winning argument was that biomass regrows, recapturing the carbon released when it was burned, and therefore must be OK for the climate.
Editor's Note
As the world searches for alternatives to climate-altering fossil fuels, the prospect of "grow-your-own" clean energy from plants — so-called biomass fuel — is tantalizing.

But this joint Tyee/InvestigateWest investigation reveals that once you clear away the smoke, there are real problems with the carbon-neutral claims being made for this "green" energy.

Read more about the project here.

As the second report in this series found, however, that argument was based on politics, not science. In fact, there are multiple factors at work in determining whether wood and other biomass lives up to its green billing. Nonetheless, the brief sentence has ignited a whole new industry in B.C. in the last decade, shipping boatloads of pelletized wood waste to Europe. There, Canada's woody biomass is a sought-after commodity to be burned in power plants that put juice on the continental grid.
The export of B.C. pellets generates sales of more than $200 million a year. The fuel's "zero-carbon" status, while fictitious as a matter of physics, helps the province's Euro-customers get closer to their Kyoto commitments for greenhouse gas emission reductions. What's not to love?
The trouble with this romance lies in the fact that while plants do regrow, capturing carbon back out of the air as they do, it takes decades for today's emissions to be safely sequestered in the future's trees. Meanwhile, the carbon released from burning biomass has the same climate-change impact as carbon from oil, coal or natural gas. Except that more wood has to be burned to meet a given energy demand than a fossil fuel. On a CO2 per kilowatt basis, wood fuel actually releases nearly half again as much carbon pollution than coal.
Which poses the question: is British Columbia a Saudi Arabia of clean bio-fuel? Or a participant in a global carbon-kiting scheme, claiming climate credit today for carbon that won't be locked safely away for decades?
Global vendors
The pellets the Europeans are burning are thumb-sized extruded chunks of ground-up wood pressed together into fuel -- a miniature wood-based equivalent of the familiar backyard barbeque briquet. Global production of these pellets increased tenfold between 2000 and 2012. At the same time, while other Canadian forest-product exports have been falling, the country has become one of the world's largest suppliers of fuel pellets.
And even though the sea voyage from British Columbia to Europe is three times as long as from eastern Canada, the province contributes four-fifths of Canada's pellet exports. According to the B.C. Ministry of Forests, roughly seven per cent of the biomass removed from B.C. forests ends up as fuel, with about 1.7 million tonnes of that turned into pellets for export annually. In 2012, about 60 per cent of B.C.'s pellet exports, some 795,000 tonnes, went to the United Kingdom, followed by about 250,000 tonnes to the Netherlands and 100,000 to Japan.
Critics point out however that the greenhouse gases actually going up Europe's smokestacks haven't declined at all as a result of switching from coal to wood fuel. They may even have increased, since it takes more wood than coal to generate the same amount of power.
'Environmental disaster'
"Those [EU biomass] policies opened the door for an environmental disaster," warns Nicholas Mainville, a Greenpeace campaigner and lead author of a report critical of Canada's foray into biomass energy. "The biomass industry and the boom for pellets actually increases the bad practices."
The industry responds that it's only transforming what used to be a waste product into something useful. Much of B.C.'s pellet production comes from wood mill wastes, industry notes. For years, the same stuff was incinerated in "beehive burners" that caused serious local air pollution in addition to releasing greenhouse gases. Other piles of it were buried in landfills, which is worse: there wood decomposes into methane, a greenhouse gas 21 times more potent than carbon dioxide over a century's time. (Nowadays, though, most landfills capture this gas or at least neutralize it before releasing it.)
Unless these mill wastes are made into pellets, "you obviously can't do anything with it other than burn it or bury it," said Gordon Murray, executive director of the Revelstoke-based Wood Pellet Association of Canada.
A major point of contention between critics and industry is the extent to which any of those pellets come from whole trees cut just for fuel. Burning sawdust from lumber mills that would otherwise decompose and release gases that harm the climate anyway is one thing. But studies strongly suggest that generating power by burning whole trees that would otherwise, even dead, lock up carbon for decades to come in a forest, releases more carbon, sooner, than if they were left standing.
Industry strategist and public-relations consultant Cam McAlpine counters that, "Nobody's going out and cutting saw logs for this. We're not going out and actually cutting anything down."
Pressure to cut, baby, cut
That may be so now. But many environmentalists fear that if Europe persists in its zero-emission biomass fiction, the pressure to harvest whole trees for fuel will become irresistible. By their reckoning, Europe will soon need five times as much wood-based energy than now to "balance" its Kyoto carbon books. The U.K.'s largest plant burns up to seven million tonnes of woody fuel annually, more than four times Canada's total current exports. The European Biomass Association projects the EU will consume 50 million to 80 million tonnes per year by 2020, up to a 10-fold increase over 2008.
"The scale here is huge," said Debbie Hammel of the Natural Resources Defense Council, another international environmental group that opposes woody biofuel. "We're talking about a huge increase in the amount of pellets that would need to go to the EU for these very large utilities to have enough to meet their renewable energy needs." And, she adds, "in reality, [they] are not reducing their carbon."
Europe is sending mixed signals about its biomass-fueled future plans. Britain's RWE power last summer abruptly cancelled what had been billed as the world's biggest coal-to-biomass conversion, with a promised 70 per cent decrease in greenhouse gas emissions. The company cited difficulty in finding investors in the project, and in meeting air-pollution limits.
Also last year, the European Parliament revisited the question of biomass fuels nominal carbon-neutrality. While it didn't reach a decision, a leaked document suggested it was preparing to, "put in place less strict sustainability criteria for biomass…. The criteria would not account for…the loss of forests as 'carbon sinks' which remove carbon from the air."
Back in Vancouver, at least one company is looking the other way for additional biomass sales. RCI Capital, its CEO John Park told The Tyee recently, signed a Memorandum of Understanding last November with a Chinese Biomass Energy Association for the investment of up to a billion dollars in B.C. pellet production for shipment to China's power utilities.
Others are asking, if Europe can get close to half its electricity from wood, why isn't more B.C. waste wood used here, instead of being transported around the globe?
In fact, B.C. already boasts North America's largest wood-fueled power plant: a privately owned facility has been generating 66 MW of electricity — enough to supply about 52,800 homes — for the last 16 years in Williams Lake.
But one who would like to see more home-grown biomass generation is UBC professor Michael Brauer. An expert in the effect of air pollutants on human health, he worked in Denmark and the Netherlands before coming to B.C. Now he doesn't see the sense of sending Canadian wood waste there.
"Many of the European countries and Scandinavia say they're going renewable, so they need a renewable energy supply and can't do it themselves. So they import pellets from Canada or the U.S.," Brauer said. "Why don't we use them here? It's perverse that we're sending them over on diesel-powered ships for Sweden to call itself green."
Even more perverse is this: as things stand, British Columbians can't be sure whether the energy they, or Europeans, are getting from B.C. biomass is really 'green' at all. If British Columbians want to be certain their biomass bonanza is climate friendly, the province needs to review its policies.
Researcher and frequent Tyee contributor Ben Parfitt, in a 2010 study for the David Suzuki Foundation, urged that the province act to minimize the amount of wood diverted to biofuel as "unsuitable" for lumber, and suggested that plantations dedicated to trees grown for fuel be considered.
At a minimum, the province needs to ensure that when any trees are burned as "zero-carbon" fuel, replacement seedlings immediately start recapturing carbon from the atmosphere. And, that the "credit" for that capture isn't "cashed" before it actually occurs.
Until then, British Columbia is a central player in what amounts to an international carbon-kiting scheme, claiming credit for carbon capture decades before it's occurred, while hawking a product that actually spews more greenhouse gases than the fuels it replaces.
Read the first article in this series: "Are Climate Claims for Burning Renewable Trees a Smokescreen?"
Olivia Henry contributed to this report, which was supported by the Fund of Investigative Journalism and a Tyee Fellowship for Investigative Reporting. The Tyee award is funded by Tyee readers to pursue a major journalism project in the public interest for British Columbians.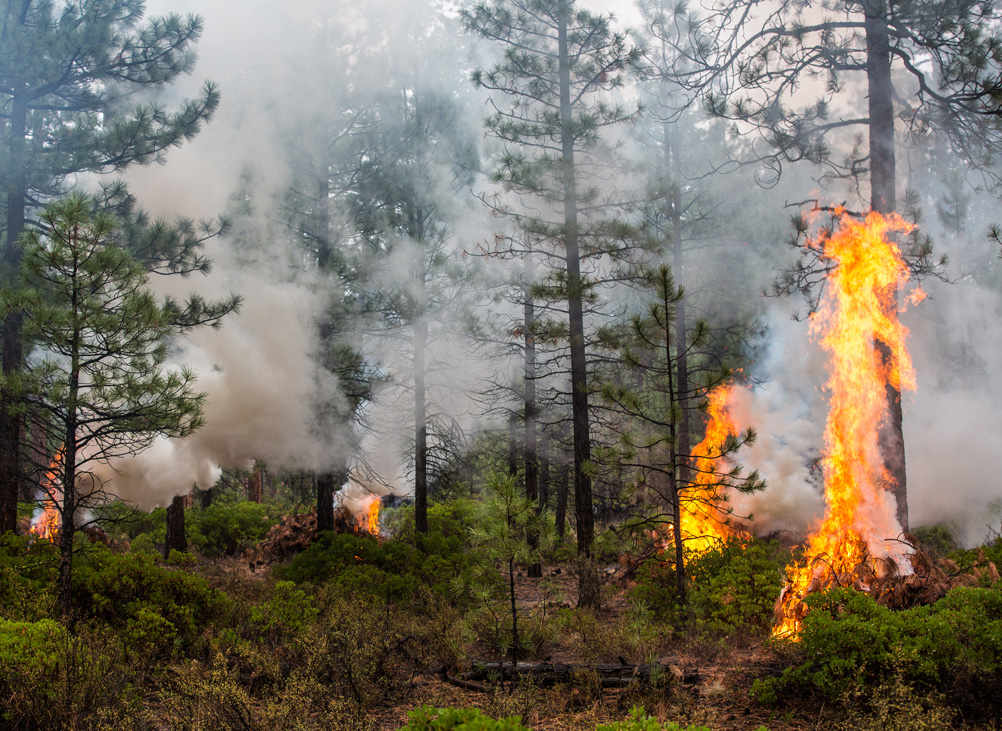 Forests and the Economy | May 2015
Environmentalists and the timber industry — once bitter adversaries — are working as allies on forest restoration. Collaborative forest thinning projects aim to fight megafires before they start — but money is scarce and tens of thousands of acres acres in Oregon now face an elevated risk of catastrophic fire. Ben DeJarnette reports for InvestigateWest.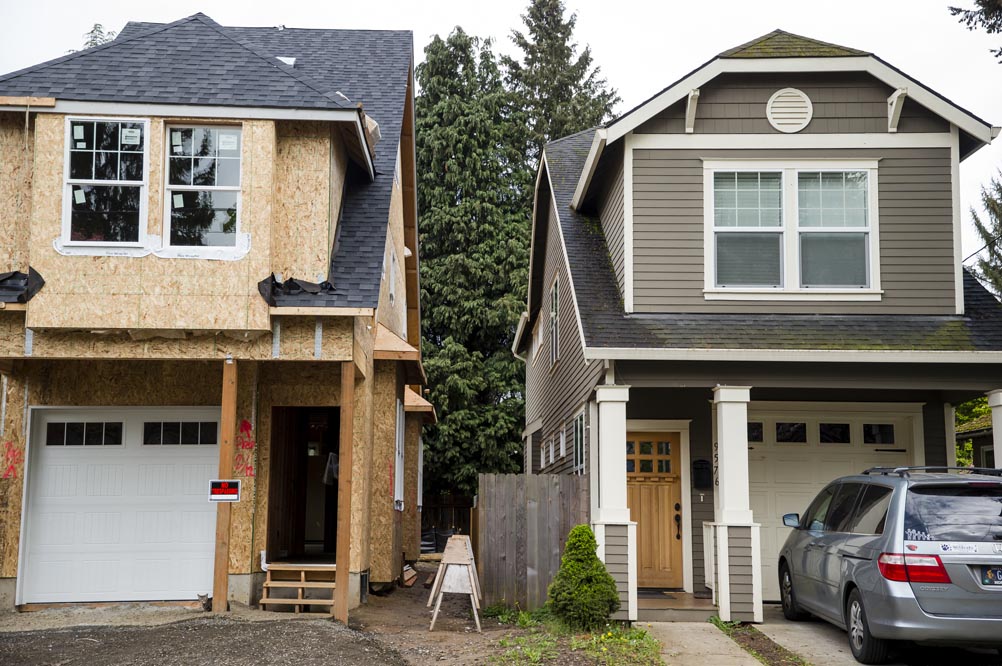 Equity | April 2015
Cash reigns in the Portland housing market. The city faces pressure from a new kind of speculation, as investors buy thousands of homes with cash and long-established protections for bank-financed homebuyers are ignored. Lee van der Voo and James Gordon report for InvestigateWest.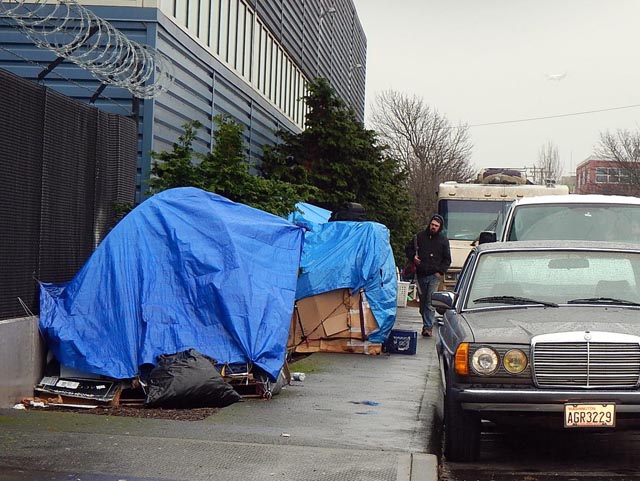 Wealth and Poverty | March 2015
March 2015 marks the anniversary of a bold promise: King County's 10-year plan to end homelessness. Now that the 10-year plan is ending and local homelessness is worse than ever, talk of ending homelessness is being replaced with less-lofty aspirations: making homelessness rare and brief when it does occur.
In collaboration with KUOW this week, we examine the roots of the plan, the challenges it faced, and where community and city leaders think we go from here.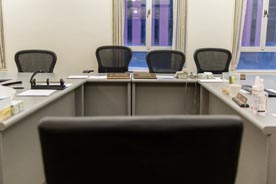 Equal Justice | December 2014
With grand jury reform elsewhere focused on eliminating racial bias and curbing police use of force, Oregon is an outlier: It is one of just 14 states that do not regularly record the citizen grand juries that charge people with felonies.
Almost five years after police killed an unarmed black man in Portland and the Multnomah Co. district attorney petitioned for that grand jury to be recorded, lawmakers in Salem are lining up behind a reform bill to mandate recording statewide, InvestigateWest has learned.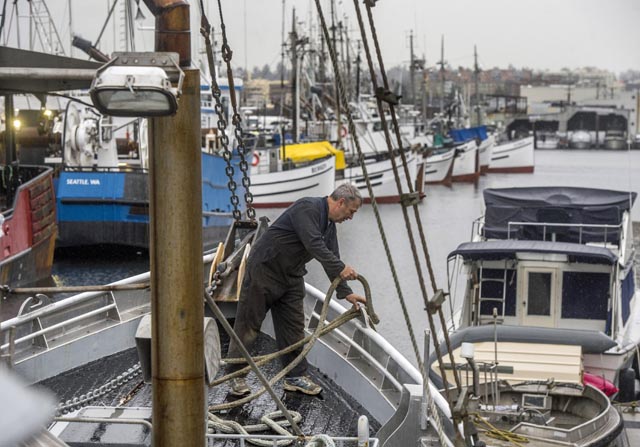 Seafood | December 2014
A struggle in Alaska over shrinking supplies of halibut is threatening the iconic centerpiece fish in favor of cheaper exports, fast-food fillets and fish sticks.
At risk is most of the frozen supply that sustains restaurants, food-service companies and retail stores nationwide, such as Costco and Whole Foods. Lee van der Voo investigates.
Photo: Peter Haley / The News Tribune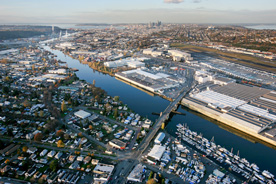 Environment | November 2014
It will take hundreds of millions of dollars to clean up the Duwamish River. But how clean is clean? And who decides?
Robert McClure looks at how lobbyists and community groups have squared off over the health of the waterway and its neighborhoods.
Photo: Paul Joseph Brown/ecosystemphoto.com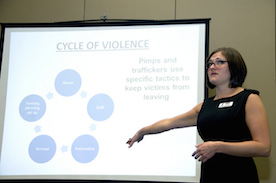 Trafficking | October 2014
Authorities say organized gangs increasingly are trafficking children for sex in the Northwest, and even cooperating with each other to stymie police.
Meanwhile in Portland, the U.S. Attorney's Office has become the third most prolific nationally in securing indictments for trafficking children and adults for sex.
Photo: Oregon DOT/Flickr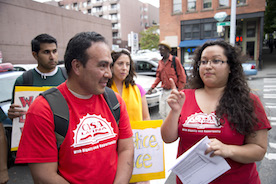 Minimum Wage | August 2014
"Everyone is aware that passing a $15 an hour minimum wage was historic," an advisor to Mayor Ed Murray and the Seattle City Council told InvestigateWest. "But if we cannot enforce that, we haven't accomplished much."
Based on a review of more than 20,000 wage theft complaints, hundreds of pages of reports and more than a dozen interviews, "Stolen Wages" shines a light on the dark world of pay violations in Seattle and across Washington.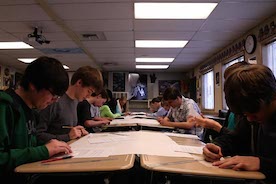 Infrastructure | May 2014
Portable, modular or relocatable classrooms — whatever you call them — are a necessity for cash-strapped schools.
But many portables become permanent fixtures, in place for decades at a time. Costly and insufficient, these aging structures burden the grid, frustrate teachers and administrators and compromise student health.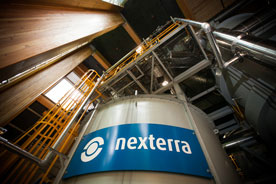 Environment | April 2014
Energizing our world with wood sounds so natural. And it has quickly become a multibillion-dollar industry as governments including British Columbia and the European Union turn to biomass to replace dirty old coal. Yet what we found when we dug into the coal-vs.-wood debate will surprise you.
Acknowledgements
In our work, we rely on the generosity of many others who make their services available for free or at a discount to nonprofits, including Tableau and the Texas A&M GeoServices Team.