Shell refinery No. 2 in NW clean-air fines; others include LaFarge, other manufacturers
Printer-friendly version
Related:
By Robert McClure
The list of facilities that have ended up on the wrong side of Clean Air Act enforcement efforts in the Pacific Northwest is a long one. Dozens of firms are classified as "high priority violators," often because the potential for affecting public health is high. Following are snapshots of a few of the Northwest facilities regulated under the Clean Air Act. A full listing of enforcement actions is available through the U.S. Environmental Protection Agency's Environmental Compliance History Online database.
Shell Oil: Shell's refinery has escaped the intense publicity directed at its neighboring refinery in Anacortes, Wash., Tesoro, where a massive blast killed seven workers in 2010. But Shell's fines for environmental infractions actually outstrip Tesoro's, with Shell's $291,000 in fines in five years numbering it as the No. 2-most-fined Clean Air Act violator in the Northwest. Shell also faced 16 notices of violation and 15 formal enforcement actions in that period. EPA has classified the Shell refinery as a "high priority violator" at least since the end of 2008, the ECHO database shows. The EPA data indicates the agency stepped in several times when state efforts did not work – which is the way the system is supposed to work. Jody Barnett, external affairs coordinator at the Shell refinery, did not return three telephone messages requesting comment .
LaFarge North America: This cement plant on the south side of Seattle showed repeated violations of emissions limits for soot and sulfur dioxide from 2006 to 2010. Early in 2010 the company agreed to pay a $5 million penalty to the federal government and 13 states covering transgressions at 13 of its cement plants. The $218,300 in fines in the last five years as a result of problems at the Seattle plant ranks the facility as sixth-most-fined among Northwest Clean Air Act violators; its 75 citations rank it third in the Northwest for violations. The plant on the west side of the Duwamish River has been less active since the heart of the operation, a cement kiln, was mothballed just over a year ago because of market conditions and regulatory concerns, the West Seattle Herald reported. Jonathan Hall, manager of the plant, told InvestigateWest LaFarge should get credit for settling the case, even as other cement companies continue to argue with regulators: "LaFarge was early to the table in this issue. … We argued what we thought was the fair position and in the end we settled on something in between" what the company wanted and what EPA sought.
Jeld-Wen, Oregon: Jeld-Wen's wood window and door manufacturing plant on the north side of Klamath Falls, Oregon, is classified by EPA as a "High Priority Violator." According to records maintained by EPA and Oregon's Department of Environmental Quality, the plant has racked up six formal enforcement actions in the past five years. The company is contesting two further citations, which is why Jeld-Wen has the dubious distinction of being the only Oregon firm currently on EPA's enforcement "Watch List" for companies regulated under the Clean Air Act. However, Oregon DEQ Environmental Law Specialist Jenny Root noted in an email that there is no "ongoing violation" of air pollution limits as far as the agency is aware. The most serious unresolved allegation is that Jeld-Wen failed to discover and fix a malfunctioning smokestack monitor at the Klamath Falls plant in 2008. The alleged oversight meant excess particulate emissions spewed from a boiler at a wood drying kiln on 116 days before the issue was addressed. Pollution from fine particulates is a serious problem in the Klamath Falls area. It is why the American Lung Association gave Klamath County an "F" grade for dirty air in its 2011 State of the Air report. But the Jeld-Wen story also illustrates how industrial pollution plays a relatively small role in fouling the region's air compared to other sources. According to a 2009 Oregon DEQ emissions inventory, Jeld-Wen accounted for 2 percent of the particulate pollution in Klamath County on a bad winter day. Wood stoves and outdoor burning were the primary causes of unhealthy air in the basin, together accounting for 75 percent of the problem. With the acquiescence of the government, Jeld-Wen redirected some of the fines it has been ordered to pay. To mitigate a citation lodged in 2007, the company contributed $11,600 to the Klamath Falls school district to retrofit school buses with filters that reduce diesel and other particulate emissions. In 2010 and 2011, Jeld-Wen contributed a combined $8,320 to the South Central Economic Development District woodstove rebate program to fund incentives for individuals to remove old, inefficient woodstoves and upgrade to EPA-certified heating alternatives.
Jeld-Wen, Washington: This facility on the Yakama Indian Reservation reduced its toxic emissions over the last decade but still ran afoul of regulators and became the fifth-most-fined Clean Air Act violator in the region at $212,500 for failing to obtain proper permits to modify the facility, EPA and court records indicate. The company settled the allegations in March of this year in a consent decree filed in federal court in southern Oregon that also handled allegations about Jeld-Wen plants in Iowa, West Virginia and North Carolina.
Chemco: This Ferndale, Wash., manufacturer of fire-retardant chemicals used to treat wood got into trouble because of a consultant's error, which the firm reported to the Northwest Clean Air Agency, said CEO Fred Amundson. It was a pretty big mistake: The firm reported it was emitting less than 500 pounds per year of methanol, when the total was more like 126,000 pounds per year. Chemco's report of the discrepancy put it into the category of a "major source" of air pollution, sparking a case that saw the firm and its consultant's insurance company pay fines totaling $247,000, Amundson said. "I guess we didn't notice earlier because no one took the time and trouble to double check the calculations we paid the consultant company to do," Amundson said. Mark Buford, assistant director of the Clean Air Agency, said the fact that a consultant made the error doesn't help a company like Chemco when it comes time to pay the penalties: "They needed to be in the major source program. There needed to be a review of their emissions. There needed to be a lot of things to make sure their emissions were per the applicable regulations."
U.S. Oil & Refining Co.: With 61 notices of violation from the Puget Sound Clean Air Agency in the last five years and 22 formal enforcement actions, in addition to fines of $51,750, this Tacoma, Wash., refinery comes in 18th among the top 20 Northwest facilities paying Clean Air Act fines in the last five years. But Marcia Nielsen, U.S. Oil's manager of administrative services, said these data from the EPA's Environmental Compliance History Online database need context to be understood fully. For one thing, she said, "The oil refining industry is one of the most highly regulated industries, by local, state and federal agencies. This means that you cannot logically compare one company to another in the database because the standards applied to those companies are vastly different." Also, U.S. Oil is the only one of five Washington refineries that is under the regulation of the Puget Sound Clean Air Agency. The agency's policies hold that even if a problem is self-reported to the agency by the company, a notice of violation is issued. For the same reason, the facility's status in the database as a "high priority violator," or HPV, also doesn't mean much, Nielsen said in a statement prepared for this story: "Due to the fact that U.S. Oil is required under (Puget Sound Clean Air Agency) to self report several times a year, and each self report results in a (notice of violation) there will likely never be a time when the HPV status will be removed. HPV status as reflected in ECHO does not mean that U.S. Oil has significant compliance issues; to the contrary … U.S. Oil has an exemplary compliance record and performs better than EPA's benchmark for a model facility."
Plum Creek: The Seattle-based company's fiberboard plant in Columbia Falls, Mont., has not violated the Clean Air Act, according to the EPA's enforcement database. But it does come up in an EPA risk-screening tool looking like it might be dangerous to nearby residents because of releases of formaldehyde. However, large reductions in the use of formaldehyde at the plant in recent years mean that the chemical is no longer in the air at concentrations higher than in air unaffected by the plant, said Plum Creek spokeswoman Kathy Budinick. The company spent $9.5 million in 2008 on improvements that remove more than 90 percent of formaldehyde from air emissions. And the system, designed by PPC Biofilter of Texas, uses microorganisms to do the job rather than using natural gas or another fossil fuel, Budinick said.
Berry Plastics: The manufacturer of plastic bags is permitted to emit soot, dust, sulfur dioxide, hydrochloric acid and volatile organic compounds at its plant in Kent, Wash., near Seattle. It is a subsidiary of Pliant Corp., a Delaware corporation, and was formerly known as Huntsman Packaging. Three Clean Air Act fines issued in July 2010 by the Puget Sound Clean Air Agency put the company at third-most-fined in the region, although the fine was later reduced by about $200,000. The company has been classified as a "high priority violator" by EPA, and an agency database says the company has been out of compliance for nine of the last 12 quarters, although the violations have been addressed. The company in 2010 also settled an EPA charge that it failed to report toxic glycol ethers to the agency's Toxics Release Inventory, agreeing to pay $46,060 for violating the federal Emergency Planning and Community Right-to-Know Act, the EPA said. Efforts to reach Berry for comment were unsuccessful.
Northwest News Network's Tom Banse and InvestigateWest's Lisa Stiffler contributed to this report.
Please help support in-depth news reporting by InvestigateWest, N3/Northwest News Network and the news site EarthFix.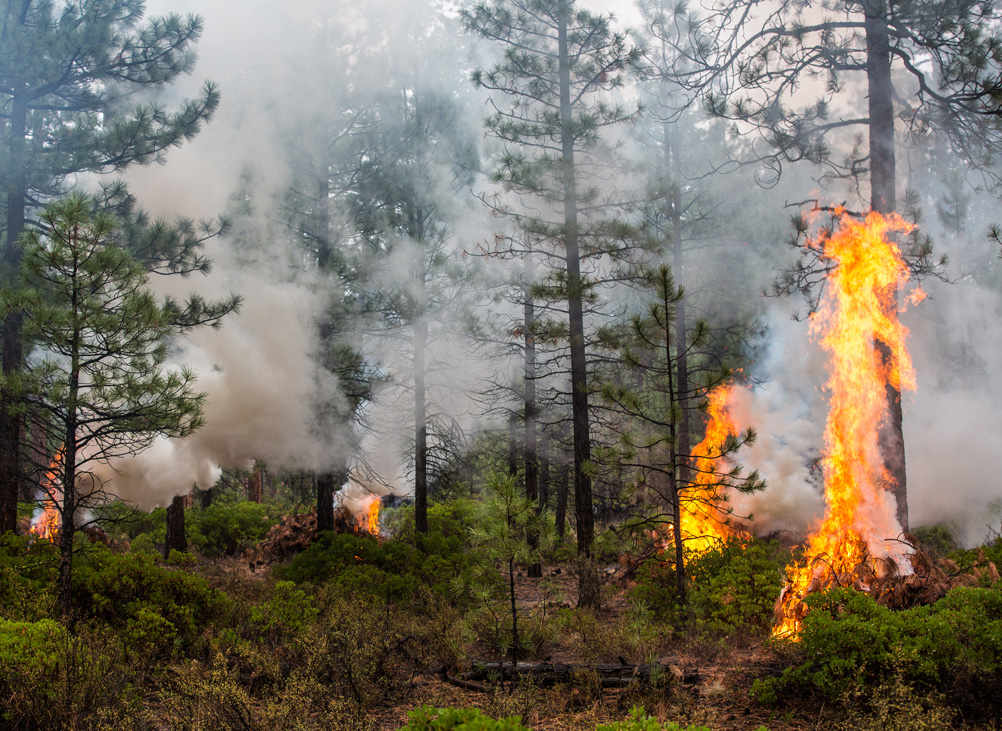 Forests and the Economy | May 2015
Environmentalists and the timber industry — once bitter adversaries — are working as allies on forest restoration. Collaborative forest thinning projects aim to fight megafires before they start — but money is scarce and tens of thousands of acres acres in Oregon now face an elevated risk of catastrophic fire. Ben DeJarnette reports for InvestigateWest.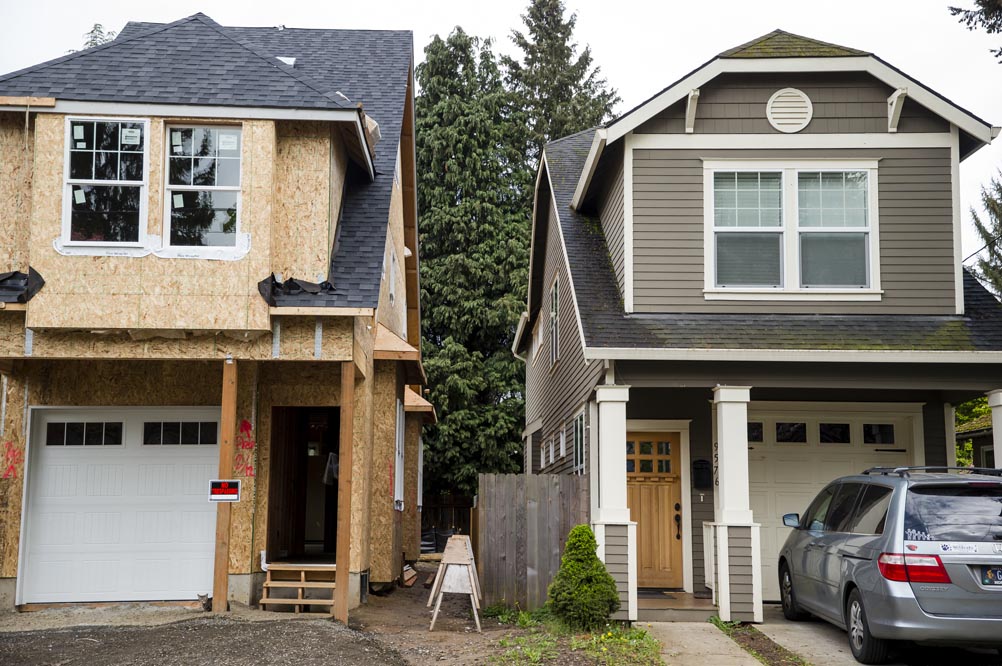 Equity | April 2015
Cash reigns in the Portland housing market. The city faces pressure from a new kind of speculation, as investors buy thousands of homes with cash and long-established protections for bank-financed homebuyers are ignored. Lee van der Voo and James Gordon report for InvestigateWest.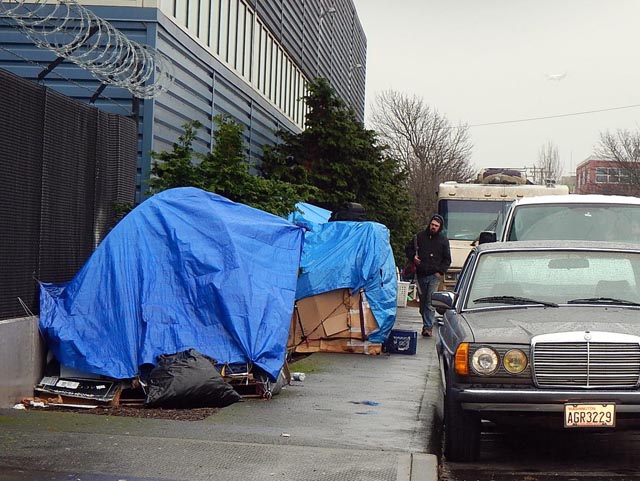 Wealth and Poverty | March 2015
March 2015 marks the anniversary of a bold promise: King County's 10-year plan to end homelessness. Now that the 10-year plan is ending and local homelessness is worse than ever, talk of ending homelessness is being replaced with less-lofty aspirations: making homelessness rare and brief when it does occur.
In collaboration with KUOW this week, we examine the roots of the plan, the challenges it faced, and where community and city leaders think we go from here.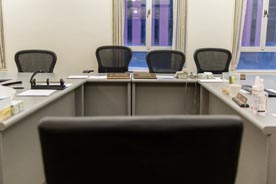 Equal Justice | December 2014
With grand jury reform elsewhere focused on eliminating racial bias and curbing police use of force, Oregon is an outlier: It is one of just 14 states that do not regularly record the citizen grand juries that charge people with felonies.
Almost five years after police killed an unarmed black man in Portland and the Multnomah Co. district attorney petitioned for that grand jury to be recorded, lawmakers in Salem are lining up behind a reform bill to mandate recording statewide, InvestigateWest has learned.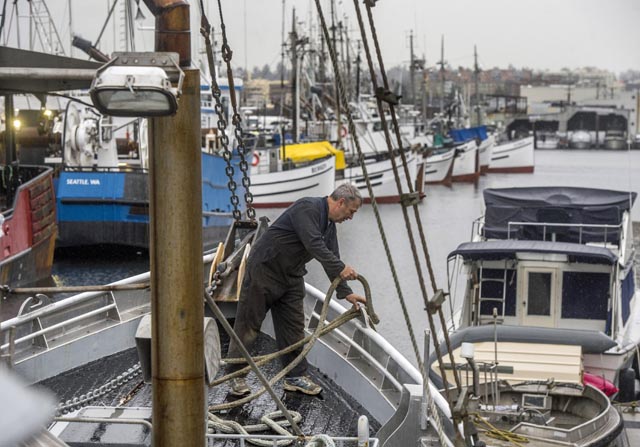 Seafood | December 2014
A struggle in Alaska over shrinking supplies of halibut is threatening the iconic centerpiece fish in favor of cheaper exports, fast-food fillets and fish sticks.
At risk is most of the frozen supply that sustains restaurants, food-service companies and retail stores nationwide, such as Costco and Whole Foods. Lee van der Voo investigates.
Photo: Peter Haley / The News Tribune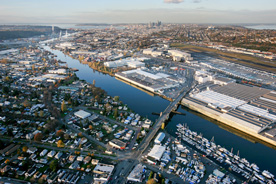 Environment | November 2014
It will take hundreds of millions of dollars to clean up the Duwamish River. But how clean is clean? And who decides?
Robert McClure looks at how lobbyists and community groups have squared off over the health of the waterway and its neighborhoods.
Photo: Paul Joseph Brown/ecosystemphoto.com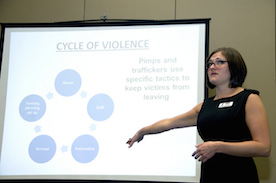 Trafficking | October 2014
Authorities say organized gangs increasingly are trafficking children for sex in the Northwest, and even cooperating with each other to stymie police.
Meanwhile in Portland, the U.S. Attorney's Office has become the third most prolific nationally in securing indictments for trafficking children and adults for sex.
Photo: Oregon DOT/Flickr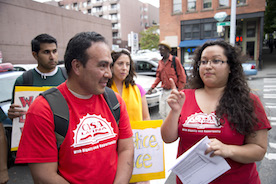 Minimum Wage | August 2014
"Everyone is aware that passing a $15 an hour minimum wage was historic," an advisor to Mayor Ed Murray and the Seattle City Council told InvestigateWest. "But if we cannot enforce that, we haven't accomplished much."
Based on a review of more than 20,000 wage theft complaints, hundreds of pages of reports and more than a dozen interviews, "Stolen Wages" shines a light on the dark world of pay violations in Seattle and across Washington.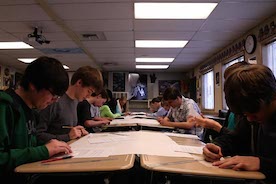 Infrastructure | May 2014
Portable, modular or relocatable classrooms — whatever you call them — are a necessity for cash-strapped schools.
But many portables become permanent fixtures, in place for decades at a time. Costly and insufficient, these aging structures burden the grid, frustrate teachers and administrators and compromise student health.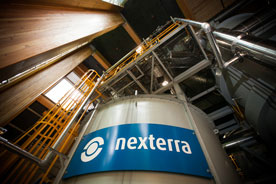 Environment | April 2014
Energizing our world with wood sounds so natural. And it has quickly become a multibillion-dollar industry as governments including British Columbia and the European Union turn to biomass to replace dirty old coal. Yet what we found when we dug into the coal-vs.-wood debate will surprise you.
Acknowledgements
In our work, we rely on the generosity of many others who make their services available for free or at a discount to nonprofits, including Tableau and the Texas A&M GeoServices Team.