In Oregon, Gangs Take Over as Sex Trafficking Goes Offline
Printer-friendly version
PORTLAND —This river city along Interstate 5 has long had a reputation as a hotspot for child sex trafficking, even after a 2010 report to Congress made it clear that Seattle and other American cities are just as bad and that sex with children is a burgeoning American pastime.
It's a sad truth many communities have yet to embrace. But consider the numbers:
Police say escort ads for young women are a good barometer of the size of a trafficking market in any town — women billed as young but legal who often turn out to be minors. The Portland metro area, population 2.3 million, saw 377 total listings for escorts in a recent week on the web site Backpage. Seattle, with a metro-area population of 3.5 million, had 523 — roughly the same rate per capita. In Atlanta, where the population is three times larger, there were more than 1,100 listings.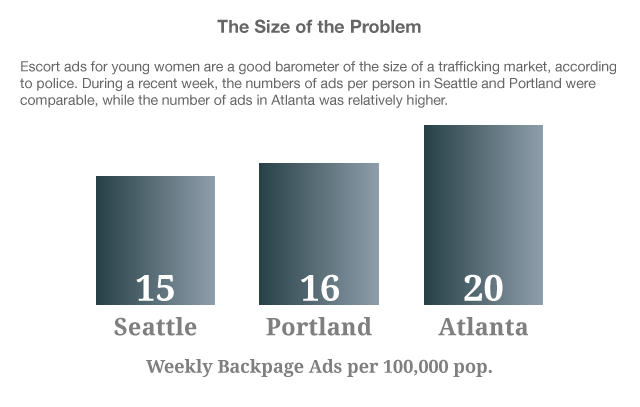 Lots is happening in Portland to combat the problem of children being forced into the sex trade – usually by pimps who first present themselves as boyfriends. In Portland, authorities have learned lessons that are important for Seattle and other cities along I-5 corridor, which enables sex trafficking to stretch to Southern California:
Trafficking of minors for sex increasingly is handled by gangs rather than individual pimps.
These gangs who previously squared off over riskier crimes like drug dealing are cooperating to help each other evade police as prostituting minors becomes a larger and safer staple of their income stream.
The gangs and others prostituting girls – 96 percent were female in a 2013 Portland study – are learning to promote their victims via word of mouth, phones, sex parties, and publications handed out on the street rather than the more-easily-traceable internet channels of, say, five years ago.
Much of this activity is occurring around concerts and major sporting events such as the Super Bowl – anywhere large congregations of men are expected.
As the deputy sheriff heading the Human Trafficking Task Force in Multnomah County, Ore., Keith Bickford is acutely aware of these trends. And he's grateful to have a special helper, a woman who works as an advance guard at concerts and sporting events. When she gets there, she snaps up magazines and brochures from the sex trade.
Among the latest was a tabloid-sized glossy, a barely dressed girl on the cover poised over a line of cocaine.
Inside, these publications typically feature photos of so-called "models." Police are particularly interested in the ones that show only the girls' bodies from the neck down – they are often underage. So investigators scour the booklets looking for tattoos and other telltale markings that might help them find kids trafficked for sex, many of whom may travel through the Portland area on their way to and from Seattle.
"A lot of the traffickers trade girls or send girls up there or back down here for business. Concerts, wherever they can make the money," Bickford said.
The newer marketing methods, and the practice of moving the children between cities from one event to the next to evade detection, which InvestigateWest reported in 2010, make it tougher for police to track offenders and the kids they lord over.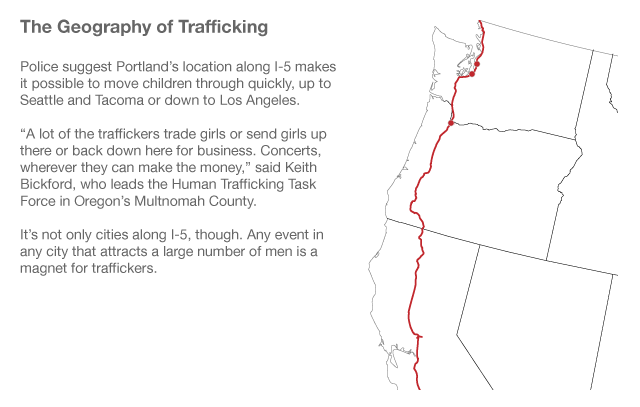 The number of children exploited commercially for sex is unknowable, according to a 2010 U.S. Department of Justice report. Lured at first by attention, gifts and professions of friendship and love, many are normal children smitten with what looks like courtship, the report said. Others already are endangered runaways badly in need of shelter and food.
Pimps' initial kindness and permissiveness make them infinitely likeable at first. Their youthful recruits don't have to mind bedtimes, keep curfews or worry about whether to go to school or do homework. But by the time the children in their charge are trafficked for sex, pimps' kindness has malevolently evolved into violence, intimidation and psychological manipulation. Drugs and alcohol are frequently employed to keep child sex workers compliant, converting healthy kids into addicts or worsening problems for youths already tripped up by the lure.
"If you're being a good parent, you're going to be saying no to things," Bickford said. "One thing a trafficker has that is an ace in a hole is that they can say yes to anything."
Portland has aggressively sought to combat the problem.
Here, a 2013 study commissioned by U.S. Attorney Amanda Marshall found 459 children had been identified as sex trafficking victims by the Oregon Department of Human Services and the nonprofit Sexual Assault Resource Center (SARC) over four years. The average age was 15 and a half. The youngest child was eight. Astonishingly, one in six already had given birth to her own child. African Americans were overrepresented. And about one-fifth came from families with a history of sexual exploitation.
But the statistic that most alarmed police was this one: nearly half had a connection to a gang.
"Just about every gang, especially the bigger gangs in the Portland area, have quite a business going. And it's kind of a scary situation, but a lot of them are actually working together," said Bickford. "When gangs start to work together and not worry about territory and things like that, it's quite a concern."
Pimps' best weapon is control. They determine when their charges eat and sleep, how they spend money, where they go and who they see. They teach children to lie about their age, equip them with fake IDs, and poison them against police. According to Sgt. Mike Geiger of the Portland Police Bureau, "this control factor is greatly increased with the advent of gangs" where crossing a pimp and crossing the gang are one in the same. "It raises the level of danger for these young people," he said, if they try to leave.
For officers fighting the trend, this presents a dilemma. Children who are rescued from the trade often are placed into foster homes, back with parents, or in treatment facilities designed to treat addiction or other problems. They are not certain they are safe from their former overlords in these places, and often they aren't. Rather than compel the children to testify against their pimps, authorities' inclination is to leave them be until they are ready to "disclose" – meaning testify. If that never happens, so be it. The child is rescued.
"Really what I want out of it at the end of the day is that she's no longer exploited," said Geiger. "If we take care of the person first, the reality is they get to a place of healing much more quickly."
To make that happen more, law enforcement offices in Portland, including the sheriff's office, police bureau, and the FBI, which operates one of 66 national task forces on child sexual exploitation out of Portland, are working in tandem with social service providers and the juvenile justice system to get children to safety before prosecuting pimps. They collaborate through a Multnomah County steering committee that allows them to trade information. A full-time specialist aids the collaboration effort, which includes a hotline where people can leave tips about kids in trouble.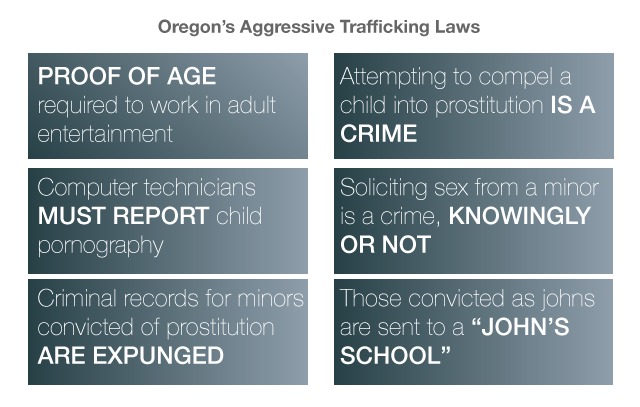 "A lot of the calls we go out on, we don't have a kid sitting in somebody's office saying, 'Hey I'm trafficked,'" said Kirby Crawford, a child welfare specialist who works on the hotline. "Some of the (referrals) we get are from people who are just seeing things that are just not adding up." A child found in a hotel room with a guy, drugs, money, and a ringing phone, for example. Or a girl on the run who returns with her hair and nails done and a cell phone her parents didn't know she had. Because the trafficked children tend to know one another, contact with one helps police and social service workers keep tabs on others. This way, "Multnomah County is doing a really good job taking a look at the issue… from a systemic point of view," said Crawford.
For those victims who do come forward, Marshall, the U.S. attorney, has aggressively prosecuted sex trafficking crimes, aiming for severe penalties. Under Marshall, the Portland U.S. Attorney's Office has become the third most prolific nationally in securing indictments for trafficking children and adults for sex.
Geiger says despite Portland's reputation, Seattle and other cities have some serious self-examination to do.
He resists efforts to define the scope of the problem in Portland versus other cities.
"When a community can label it as 'Portland's problem,' then we don't have to face ourselves," Geiger said. "What we should be saying instead is yes, that's right, Portland has a very difficult problem that they've been battling with and trying to deal with.
"Turns out, so do we."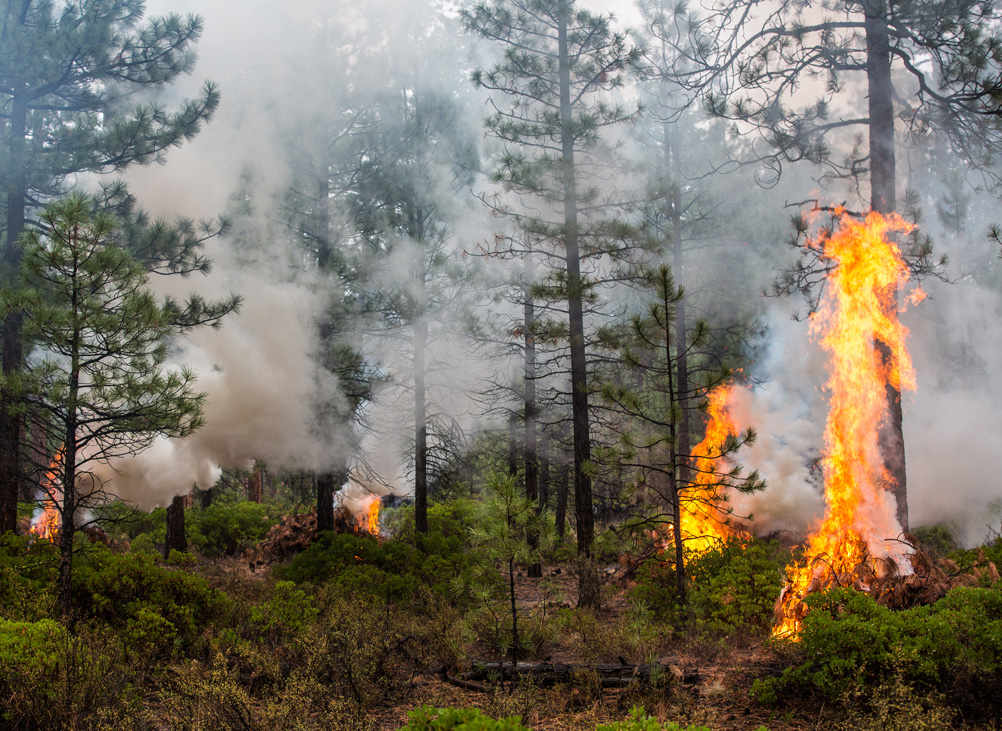 Forests and the Economy | May 2015
Environmentalists and the timber industry — once bitter adversaries — are working as allies on forest restoration. Collaborative forest thinning projects aim to fight megafires before they start — but money is scarce and tens of thousands of acres acres in Oregon now face an elevated risk of catastrophic fire. Ben DeJarnette reports for InvestigateWest.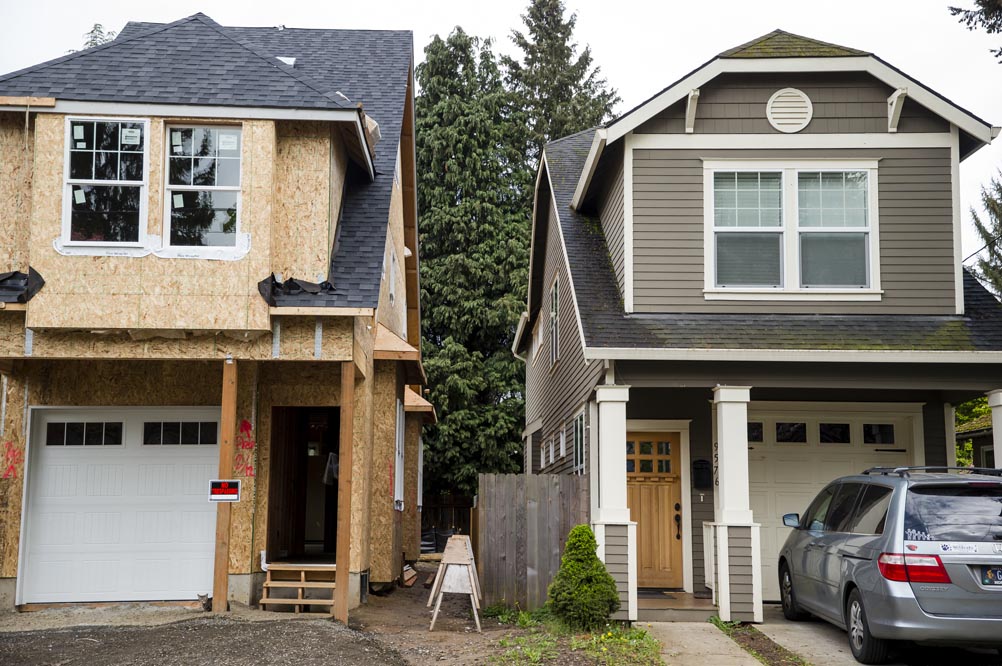 Equity | April 2015
Cash reigns in the Portland housing market. The city faces pressure from a new kind of speculation, as investors buy thousands of homes with cash and long-established protections for bank-financed homebuyers are ignored. Lee van der Voo and James Gordon report for InvestigateWest.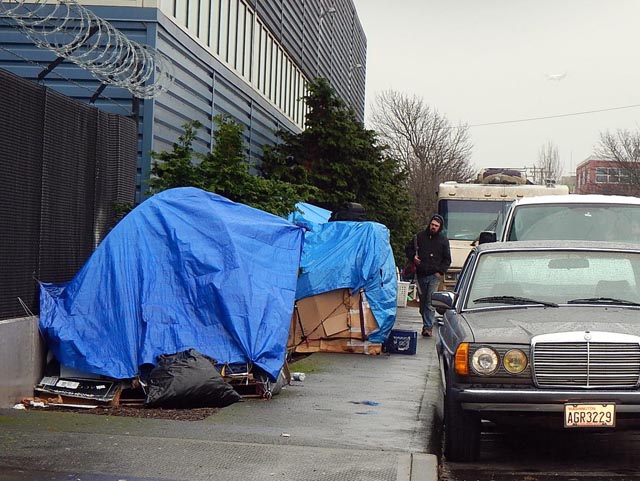 Wealth and Poverty | March 2015
March 2015 marks the anniversary of a bold promise: King County's 10-year plan to end homelessness. Now that the 10-year plan is ending and local homelessness is worse than ever, talk of ending homelessness is being replaced with less-lofty aspirations: making homelessness rare and brief when it does occur.
In collaboration with KUOW this week, we examine the roots of the plan, the challenges it faced, and where community and city leaders think we go from here.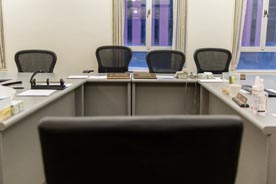 Equal Justice | December 2014
With grand jury reform elsewhere focused on eliminating racial bias and curbing police use of force, Oregon is an outlier: It is one of just 14 states that do not regularly record the citizen grand juries that charge people with felonies.
Almost five years after police killed an unarmed black man in Portland and the Multnomah Co. district attorney petitioned for that grand jury to be recorded, lawmakers in Salem are lining up behind a reform bill to mandate recording statewide, InvestigateWest has learned.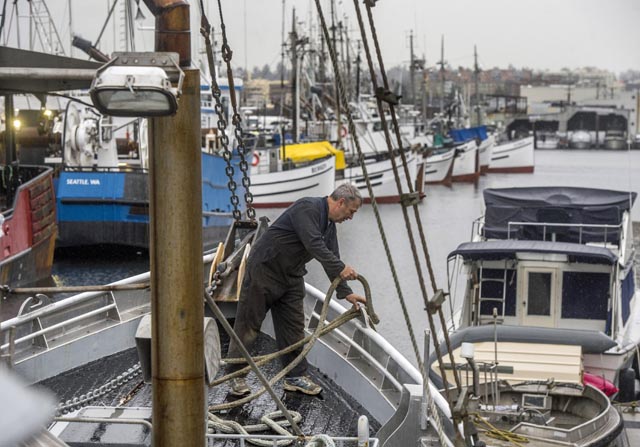 Seafood | December 2014
A struggle in Alaska over shrinking supplies of halibut is threatening the iconic centerpiece fish in favor of cheaper exports, fast-food fillets and fish sticks.
At risk is most of the frozen supply that sustains restaurants, food-service companies and retail stores nationwide, such as Costco and Whole Foods. Lee van der Voo investigates.
Photo: Peter Haley / The News Tribune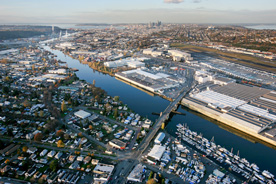 Environment | November 2014
It will take hundreds of millions of dollars to clean up the Duwamish River. But how clean is clean? And who decides?
Robert McClure looks at how lobbyists and community groups have squared off over the health of the waterway and its neighborhoods.
Photo: Paul Joseph Brown/ecosystemphoto.com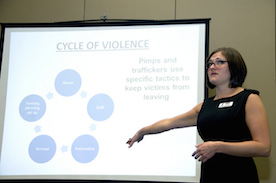 Trafficking | October 2014
Authorities say organized gangs increasingly are trafficking children for sex in the Northwest, and even cooperating with each other to stymie police.
Meanwhile in Portland, the U.S. Attorney's Office has become the third most prolific nationally in securing indictments for trafficking children and adults for sex.
Photo: Oregon DOT/Flickr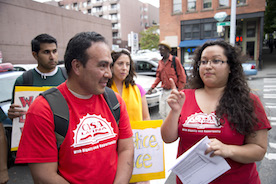 Minimum Wage | August 2014
"Everyone is aware that passing a $15 an hour minimum wage was historic," an advisor to Mayor Ed Murray and the Seattle City Council told InvestigateWest. "But if we cannot enforce that, we haven't accomplished much."
Based on a review of more than 20,000 wage theft complaints, hundreds of pages of reports and more than a dozen interviews, "Stolen Wages" shines a light on the dark world of pay violations in Seattle and across Washington.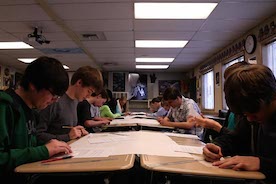 Infrastructure | May 2014
Portable, modular or relocatable classrooms — whatever you call them — are a necessity for cash-strapped schools.
But many portables become permanent fixtures, in place for decades at a time. Costly and insufficient, these aging structures burden the grid, frustrate teachers and administrators and compromise student health.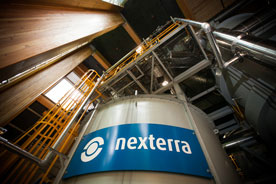 Environment | April 2014
Energizing our world with wood sounds so natural. And it has quickly become a multibillion-dollar industry as governments including British Columbia and the European Union turn to biomass to replace dirty old coal. Yet what we found when we dug into the coal-vs.-wood debate will surprise you.
Acknowledgements
In our work, we rely on the generosity of many others who make their services available for free or at a discount to nonprofits, including Tableau and the Texas A&M GeoServices Team.