Oklahoma park bought and paid for
Printer-friendly version
A birds-eye view of the campgrounds at Lake Texoma State Park in July 2009
Paul Joseph Brown/InvestigateWest
KINGSTON, Okla. – For decades, Lake Texoma State Park was one of Oklahoma's most popular and profitable state parks. It was a place of simple pleasures, with a lodge, cabins and campsites priced modestly enough that almost anyone could afford to relax for a few days beside a cool lake along the border of two of America's hottest states.
But facing mounting maintenance costs for the neglected park, the state government authorized its sale in 2005 and, after an appeal to Congress, closed a $14.6 million deal with a private development firm in 2008. The transfer was legal as long as Oklahoma agreed to create a new public park of equal value in return. Lake Texoma, which has received $1.6 million in federal grants, is one of thousands of public parks across the country improved with money from the federal Land and Water Conversation Fund. Parks that receive such funding by law must be open to the public in perpetuity unless replaced with land of equal fair market value and "reasonably equivalent" recreational use.
For the developer, Pointe Vista Development, L.L.C, it was a rich score. The company plans to build a $500-million-plus gated retreat of condos, hotels, fancy homes and golf courses. Restaurants, swimming pools, a gym and a spa are going in. The developers are getting tax incentives to do it, too.
Four years later the replacement park is still not built, even as the last state park cabins are slated for demolition.
The Lake Texoma case illustrates how states can disregard their legal obligations to federally protected parkland. As InvestigateWest has reported, the National Park Service, which is responsible for overseeing the conversion program, does not have adequate controls in place to ensure that parks that receive federal grants comply with the law.
Part of the problem is that the law does not impose a hard deadline for replacing parkland converted to other uses. Replacement land is supposed to be purchased immediately or, if that's not possible, within one year, according to Park Service regulations. The Park Service's rules also say a fully functioning park must be up and running within three years – but does not spell out penalties if that doesn't happen.
The National Park Service official in charge of overseeing park conversions in the Park Service's Midwest region acknowledged that the delay in replacing Lake Texoma's facilities should not have happened.
"It was supposed to be fast-tracked. … I should have known that wouldn't be the case," said Bob Anderson, chief of the Recreation Grants Division in the Park Service's Midwest region, who OK'd the deal. "The time frame from when I made that decision and now is not one I'm now comfortable with."
Retiree Dennis Haile inspects a fishing pole in Lake Texoma State Park in July 2009.
Paul Joseph Brown/InvestigateWest
Dennis Haile, a retiree, was one of those folks who long enjoyed the park. In fact, he was camping at the park just a day before a developer's work crew in 2009 changed the sign out front. Gone was "Lake Texoma Resort & Park" and its promise of swimming, fishing, and horseback riding, replaced by the words "Coming Soon!" and a URL, emblazoned across an artist's rendering of the new marina and lakeside resort.
The changeover makes Haile angry. "This ought to have been brought to a public vote," Haile said. "This belongs to the people. It doesn't belong to the state."
The once-public land where Haile sat is now owned by a development firm whose investors include two of Oklahoma's most successful oil-and-gas magnates: Aubrey McClendon of Chesapeake Energy and Mark Fischer of Chaparral Energy.
Today much of the former park sits unused as the developers seek investors for the still-unbuilt private resort. The campground continues to limp along, but overall the park looks like a ghost town. A smudge on the earth marks where the 106-room lodge once stood, and the 67 cabins await demolition.
Even supporters of the park privatization say it's not working out the way they envisioned. About one in five people in the area live below the poverty line, and the loss of the park's visitors has only deepened the Great Recession in Marshall County.
"I am concerned," said longtime resident Art Hackler, who is a fan of the conversion, but worried about the delay. "We lost the state park and the lodge – they closed it down, and so now we're trying to get something going out there that will bring the economy back in our county. It's going to be positive because it's going to create jobs."
Stephen Willis, an organizer of Friends of Lake Texoma State Park, a group fighting the conversion, had harsher words.
"At every turn in the process to privatize this park there have been promises made," he said. "It's like the ultimate ongoing con job and swindle of the taxpayers."
Before selling the acreage to developers, the state acknowledged that it was on the hook to replace the parkland. In an Oct. 15, 2004, letter to federal officials, Oklahoma Tourism & Recreation Department official Susan Henry wrote that conversion of the park to private use would be prohibited under the Land and Water Conservation Act, unless replacement parklands were provided: "If this transaction moves forward, it will be the responsibility of the project sponsor, the Oklahoma Tourism & Recreation Department, to assure that the conversion is reconciled prior to loss of the recreation estate."
That didn't happen, though. By the time a pair of InvestigateWest journalists visited the park in summer 2009, it was barely usable. Weeds choked the lodge and cabins, the campground's playground had been dismantled, and algae had left a bathtub-like ring around the partially filled pool in back of the lodge. And there were no new facilities built elsewhere that would have provided the kind of park experience intended by the original act.
State officials say they turned to private developers because Oklahoma faced a backlog of $90 million in maintenance costs for state parks, of which $20 million to $40 million was for Lake Texoma, and the Legislature wouldn't appropriate the money.
"Lake Texoma Lodge and cabins were showing significant wear and tear," wrote Leslie Blair, spokeswoman for the Oklahoma Department of Tourism and Recreation in a June 1 email.
She also said occupancy had slipped, and "needs at Lake Texoma State Park were becoming urgent."
As for the long-delayed replacement parkland, Blair noted that about 300 acres of the park are still open and added: "There will be replacement park land created as required by this (Land and Water Conservation Fund) Act and OTRD officials are actively working now to acquire that property." The state sold about 750 acres to Pointe Vista in 2008.
Repeated efforts to reach Oklahoma Tourism and Recreation Department Executive Director Deby Snodgrass were unsuccessful.
Before taking over the department, Snodgrass was senior director of public affairs for Chesapeake Energy, headed by Pointe Vista investor Aubrey McClendon, the energy magnate.
Was environmental study needed?
Critics of the Lake Texoma deal say it runs afoul of yet another federal law. The National Environmental Policy Act requires preparation of anenvironmental impact statement before taking an action that will "significantly affect the quality of the human environment."
Willis, of the Friends of Lake Texoma group, is particularly critical of an environmental assessment completed in 2005, a much-less-intense type of study, because it didn't look at the scope of the whole project. By transferring the land to the developers in three pieces, the state hoped to avoid a full-blown environmental impact statement that takes years and costs a lot more than the environmental assessment, Willis charged.
Federal officials eventually ordered that a larger and more intense environmental impact statement be prepared.
Even though that 2005 study by the U.S. Army Corps of Engineers determined there would be "no significant impact" on the environment, the federal agency in charge of managing wild animal populations disagreed.
In a comment letter in advance of the decision, Jerry Brabander of the U.S. Fish and Wildlife Service said: "Lands previously available for public uses such as camping, hiking, hunting and fishing frequently become unavailable to the general public. Often little or no mitigation is implemented. … The cumulative effect of these actions is that wildlife habitat is degraded, fragmented or eliminated."
Pointe Vista COO Scott Fischer (center) attends a 2009 hearing on tax increment financing for the development.
Paul Joseph Brown/InvestigateWest
Tax breaks for developers who are "Building Our Future!"
The development plans of Pointe Vista are predicated on the willingness of leaders of tiny Marshall County to cede tax breaks to the development firm. The "tax increment financing" sounds more complicated than it is, although even supporters acknowledge many residents don't understand it.
Here's the deal: Without tax-increment financing, a developer adds value to a property by building on it, and the increased valuation of the land translates into higher property taxes for the local government. With tax increment financing, the developer retains that extra measure of tax revenue generated by the development.
In Pointe Vista's case, the so-called "TIF money" is to be used to offset the costs of building roads, sewers and other necessary "infrastructure" to transform the spare and simple state park into a luxurious high-end resort. It means Marshall County and school districts near the park will give up more than $30 million over the course of 25 years, according to estimates released when the Marshall County Commission approved creation of a tax-increment financing district.
Representatives of Pointe Vista refused to comment for this story. Scott Fischer, Mark's son and the firm's chief operations officer, agreed at the hearing where the tax-increment financing deal was approved to conduct an interview the next day with InvestigateWest. But he phoned less than half an hour before the scheduled time to cancel the interview.
"My attorney asked me not to do the interview, but I'd like to answer your questions," Fischer said, suggesting an email exchange. "I'll be responsive to your questions."
However, Fischer did not respond to numerous emails and telephone calls in the ensuing years as InvestigateWest tracked developments in the controversy. His father Mark and his father's partner, Aubrey McClendon, also did not respond to requests for comment.
In promotional materials, Scott Fischer has defended the tax-increment financing.
"The TIF is a fascinating tool that only uses the benefit, or tax increment produced within the TIF district created by the county commissioners to provide the area with the public infrastructure that is needed to create a tourism destination that can compete with its surrounding markets," Fischer is quoted as saying in a four-page promotional document headlined "Getting to the Pointe – Building Our Future!"
Hackler, the longtime resident and Pointe Vista proponent, points out that even under the deal as proposed, what was previously state-owned land providing no revenue to local governments is now assessed as tax-paying private land – a boon for cash-strapped county and school officials
"It's going to bring in investment … We do not lose one penny of revenue to the TIF. All the money is put into the TIF by the developer," Hackler said in an interview in front of the Marshall County Courthouse. "The people who understand it all support it."
It remains unclear when the parkland will be replaced. Until recently, National Park Service officials had been waiting for the completion of an environmental impact statement before requiring the state to replace the parkland.
But the Park Service's Anderson said that after speaking with an InvestigateWest reporter in April, he told Oklahoma officials to move forward. He decided that "it's just going to take too long" to replace the parkland at the rate the environmental impact statement is being completed.
"I told them we need to get the Land and Water (Conservation Fund) debt paid back," Anderson said.
"They did sell some land and they've acknowledged all along that they owe us. We thought, probably naively … the process would be a lot faster. "
For Haile, the camper, the death of Lake Texoma State Park represents a profound loss for the people of Oklahoma."I don't want future generations to lose the ability to use this park. My grandkids won't be able to enjoy it," Haile said. "This lake is one of a kind…. Our leaders developed it with the intent of the state of Oklahoma and Texas using it, and we're about to lose this little corner of it because the state needs a little transfusion of cash flow, which is temporary.
"Money is temporary. Land is not."
Jason Alcorn contributed to this report, which was edited by Carol Smith. InvestigateWest is a donor-supported investigative newsroom in Seattle. Support its original, independent journalism for $5 a month or $60 a year.
by Robert McClure
by Jason Alcorn
by Robert McClure
by Robert McClure
by Robert McClure
photography by Paul Joseph Brown
Acknowledgements
InvestigateWest would like to thank msnbc.com, the Fund for Investigative Journalism, and readers like you, without whose support this story would not have been told.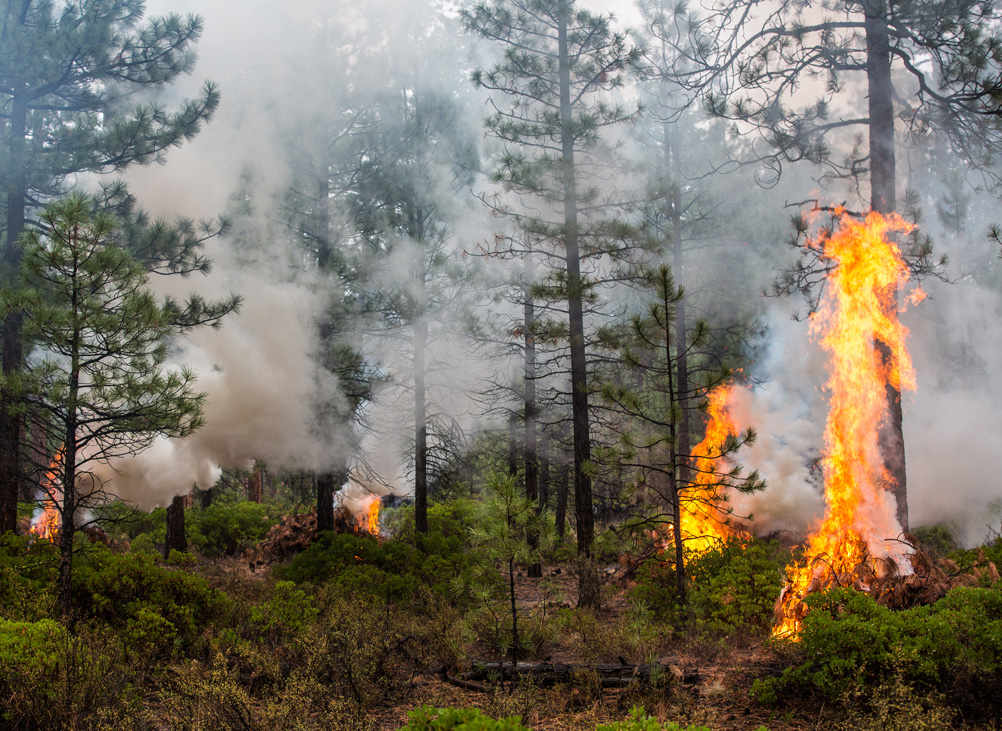 Forests and the Economy | May 2015
Environmentalists and the timber industry — once bitter adversaries — are working as allies on forest restoration. Collaborative forest thinning projects aim to fight megafires before they start — but money is scarce and tens of thousands of acres acres in Oregon now face an elevated risk of catastrophic fire. Ben DeJarnette reports for InvestigateWest.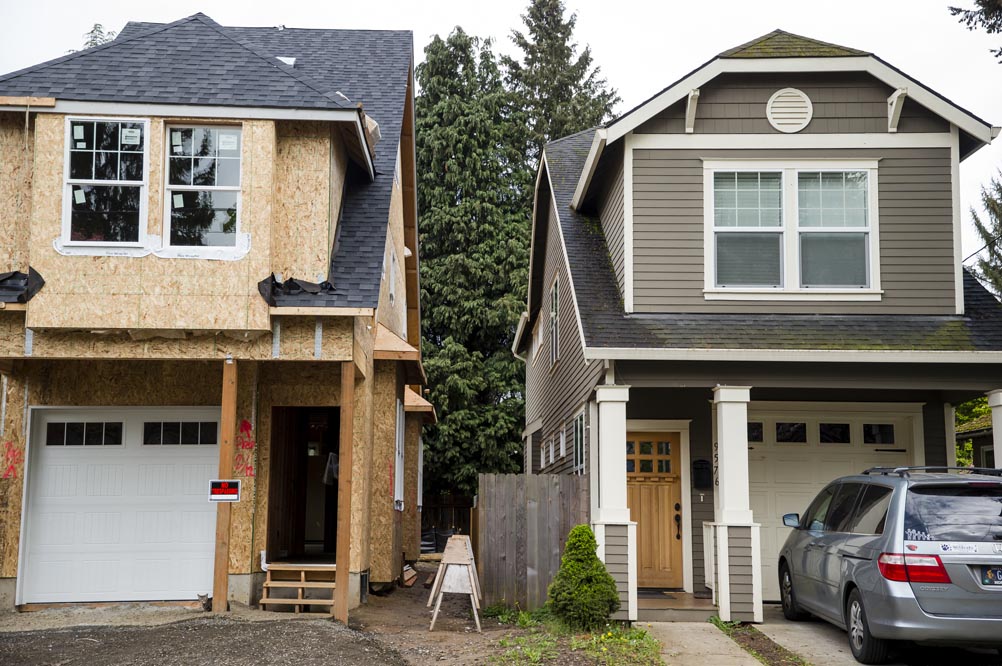 Equity | April 2015
Cash reigns in the Portland housing market. The city faces pressure from a new kind of speculation, as investors buy thousands of homes with cash and long-established protections for bank-financed homebuyers are ignored. Lee van der Voo and James Gordon report for InvestigateWest.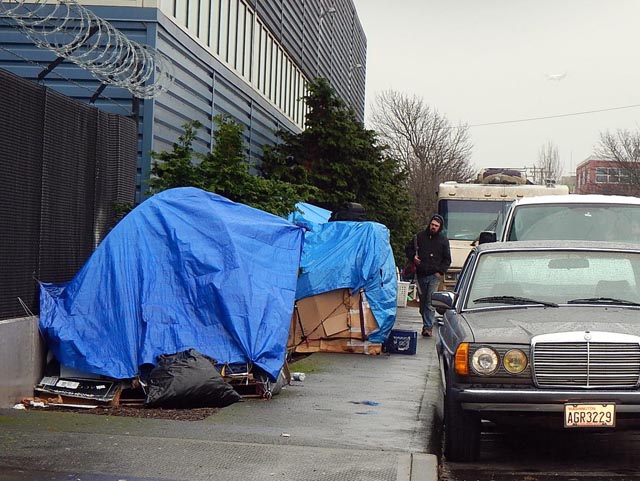 Wealth and Poverty | March 2015
March 2015 marks the anniversary of a bold promise: King County's 10-year plan to end homelessness. Now that the 10-year plan is ending and local homelessness is worse than ever, talk of ending homelessness is being replaced with less-lofty aspirations: making homelessness rare and brief when it does occur.
In collaboration with KUOW this week, we examine the roots of the plan, the challenges it faced, and where community and city leaders think we go from here.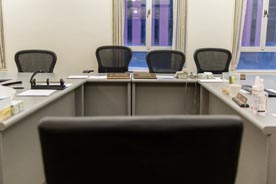 Equal Justice | December 2014
With grand jury reform elsewhere focused on eliminating racial bias and curbing police use of force, Oregon is an outlier: It is one of just 14 states that do not regularly record the citizen grand juries that charge people with felonies.
Almost five years after police killed an unarmed black man in Portland and the Multnomah Co. district attorney petitioned for that grand jury to be recorded, lawmakers in Salem are lining up behind a reform bill to mandate recording statewide, InvestigateWest has learned.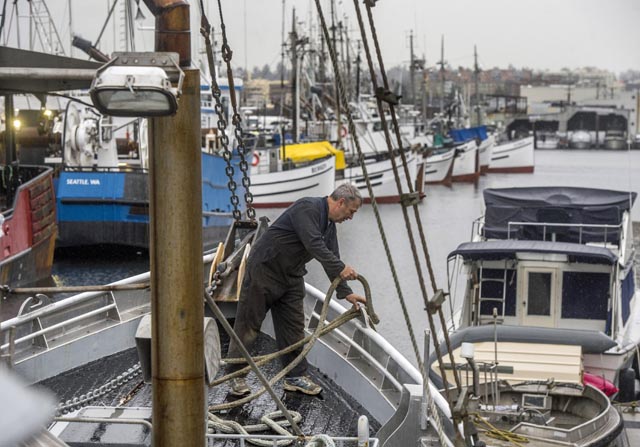 Seafood | December 2014
A struggle in Alaska over shrinking supplies of halibut is threatening the iconic centerpiece fish in favor of cheaper exports, fast-food fillets and fish sticks.
At risk is most of the frozen supply that sustains restaurants, food-service companies and retail stores nationwide, such as Costco and Whole Foods. Lee van der Voo investigates.
Photo: Peter Haley / The News Tribune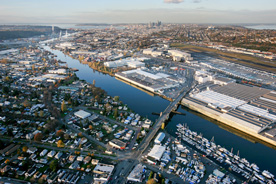 Environment | November 2014
It will take hundreds of millions of dollars to clean up the Duwamish River. But how clean is clean? And who decides?
Robert McClure looks at how lobbyists and community groups have squared off over the health of the waterway and its neighborhoods.
Photo: Paul Joseph Brown/ecosystemphoto.com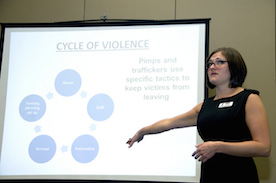 Trafficking | October 2014
Authorities say organized gangs increasingly are trafficking children for sex in the Northwest, and even cooperating with each other to stymie police.
Meanwhile in Portland, the U.S. Attorney's Office has become the third most prolific nationally in securing indictments for trafficking children and adults for sex.
Photo: Oregon DOT/Flickr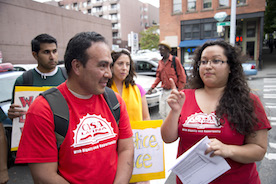 Minimum Wage | August 2014
"Everyone is aware that passing a $15 an hour minimum wage was historic," an advisor to Mayor Ed Murray and the Seattle City Council told InvestigateWest. "But if we cannot enforce that, we haven't accomplished much."
Based on a review of more than 20,000 wage theft complaints, hundreds of pages of reports and more than a dozen interviews, "Stolen Wages" shines a light on the dark world of pay violations in Seattle and across Washington.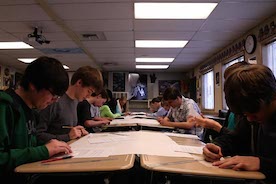 Infrastructure | May 2014
Portable, modular or relocatable classrooms — whatever you call them — are a necessity for cash-strapped schools.
But many portables become permanent fixtures, in place for decades at a time. Costly and insufficient, these aging structures burden the grid, frustrate teachers and administrators and compromise student health.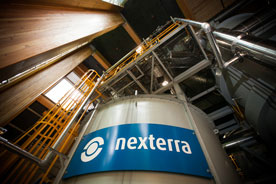 Environment | April 2014
Energizing our world with wood sounds so natural. And it has quickly become a multibillion-dollar industry as governments including British Columbia and the European Union turn to biomass to replace dirty old coal. Yet what we found when we dug into the coal-vs.-wood debate will surprise you.
Acknowledgements
In our work, we rely on the generosity of many others who make their services available for free or at a discount to nonprofits, including Tableau and the Texas A&M GeoServices Team.