Detention center houses few serious criminals
Printer-friendly version
Most illegal immigrants who end up behind the Northwest Detention Center's razor wire are, at worst, petty criminals. Their stays at the lockup are but brief stops on the way out of the country.
On a walk-through last year of the low-slung complex on Tacoma's Tideflats, federal immigration officials and a privately-employed warden explained how the hundreds of men and women dressed in color-coded uniforms wound up here.
About 1,000 of the roughly 1,300 adult detainees within its walls wear blue, they said, a classification that means they have little or no criminal history. Those in blue who do have rap sheets mostly committed minor offenses – traffic offenses and other misdemeanors that likely sent them to one of the hundreds of local jails in Washington, Oregon or Alaska where immigration officials later encountered them.
Another 200 immigrants, wearing orange, have committed more serious, "mid-level" crimes, such as drug-related offenses.
The rest of the population – a mostly unseen group of about 100 segregated detainees dressed in red – are criminals with serious convictions for sex offenses, assault, even homicide.
About 75 female detainees — all of whom don yellow uniforms, but wear colored wrist-bands that correspond with security classifications — are separately housed in living pods away from the men.
Detainees come from more than 70 nations, with Mexico by far the most common country of citizenship. Most wind up in Tacoma from three Northwest states served by the facility, but at least 165 detainees held at the Northwest Detention Center as of July were transferred from other "areas of responsibility." They included 100 detainees from the San Antonio area, 33 from three different areas in California, 30 from the Phoenix area and one each from the Salt Lake City and New Orleans areas.
The bulk of detainees were brought here under the Criminal Alien Program, a federal plan that puts Immigration and Customs Enforcement agents into local jails and state prisons to screen recently booked inmates, officials said. When illegal immigrants are identified, they are processed for deportation rather than released to the general public.
"We're responsible for public safety," said Lorie Dankers last year, then an ICE spokeswoman. "We can put an immigration detainer on someone when they're in criminal custody. As soon as they're done (with their jail sentence), we pick them up as soon as we can and transport them here."
In 2010, ICE announced new priorities to focus enforcement on unlawful immigrants who have criminal convictions, pose national security threats or are recent or repeated border-crossers.
The agency "is mandated by the Congress to enforce U.S. immigration law," ICE spokesman Andrew Munoz said in a recent email. "Detaining certain illegal aliens in civil detention centers is a necessary function of that mandate."
Recent changes to the detainee classification system at the Northwest Detention Center has created four security levels, Munoz added. Still, during a recent count in July, nearly 900 detainees — about 65 percent — were classified as low or medium-low security risks. Of those, 395 detainees had not committed a crime.
For many immigrant detainees — in Tacoma and nationwide — the most serious crimes that landed them into detention and facing deportation were traffic offenses, statistics show.
Detainees spend an average of about 36 days at the Tideflats center — about 10 days more than illegal immigrants stay on average in detention centers nationwide. Most detainees leave Tacoma with deportation orders, with the number of removals for the past four complete years ranging from a low of 56 percent in 2011 to a high of 73 percent in 2009.
As of last year, two removal flights departed each week from Boeing Field filled with detainees from the Tacoma center. The flights were typically bound for Harlingen, a small Texas city on the Gulf Coast about 40 minutes north of the U.S.-Mexico border.
Deportees were then bused to the crossing at Brownsville, Dankers said. From there, they unloaded and walked back to Mexico — through Matamoros, a violent border town largely controlled by Mexican drug cartels.
As of last month, ICE had reduced removal flights from the Northwest region to one per week, with its point of touch-down dependant upon "the final destination of deportees," Munoz said.
Last year's detention center tour passed by the law library, where detainees crowded around computers to research cases. Across a corridor, immigrants waited their turn to sit in barber chairs and get haircuts from a buzzing electric razor. A medical clinic run by the United States Public Health Administration offers health and dental care, screens detainees for illness, and isolates those with potentially contagious diseases from the general population.
"It's a state-of-the-art facility," said Lowell Clark, warden of the detention center and an employee for its private owner, The GEO Group.
For most of the day, the majority of the center's detainees are allowed to walk about freely, he added. "Of course, they're not free to go anywhere all the time," Clark said. "But it's not a prison."
by Lewis Kamb
by Carol Smith
by Carol Smith
by Lewis Kamb
by Lewis Kamb
by Carol Smith
by Carol Smith
by The News-Tribune Staff
by Lewis Kamb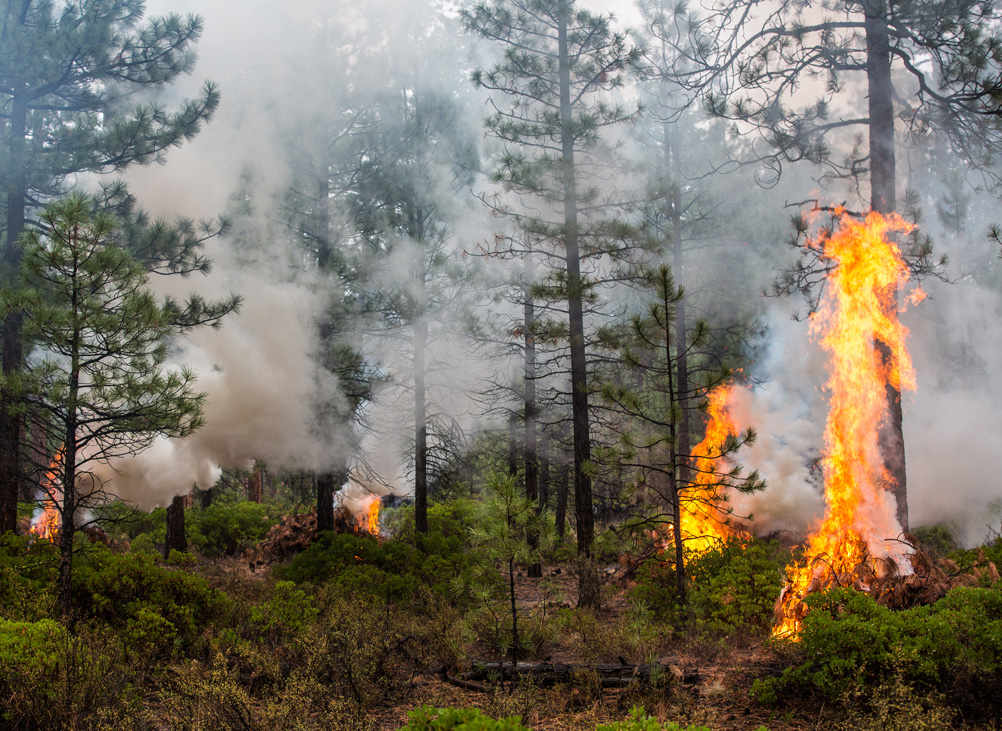 Forests and the Economy | May 2015
Environmentalists and the timber industry — once bitter adversaries — are working as allies on forest restoration. Collaborative forest thinning projects aim to fight megafires before they start — but money is scarce and tens of thousands of acres acres in Oregon now face an elevated risk of catastrophic fire. Ben DeJarnette reports for InvestigateWest.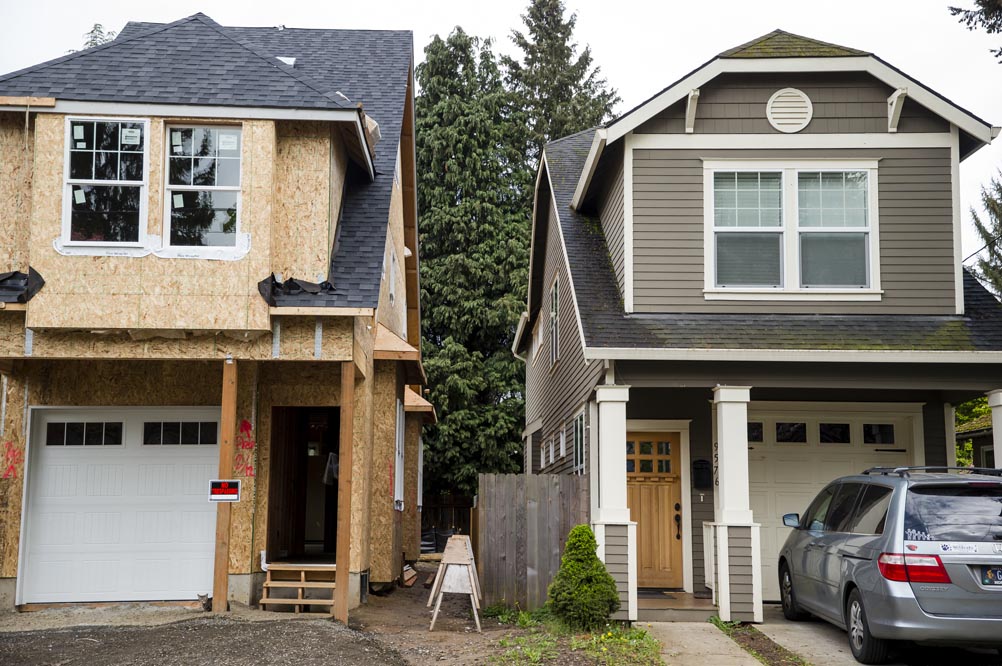 Equity | April 2015
Cash reigns in the Portland housing market. The city faces pressure from a new kind of speculation, as investors buy thousands of homes with cash and long-established protections for bank-financed homebuyers are ignored. Lee van der Voo and James Gordon report for InvestigateWest.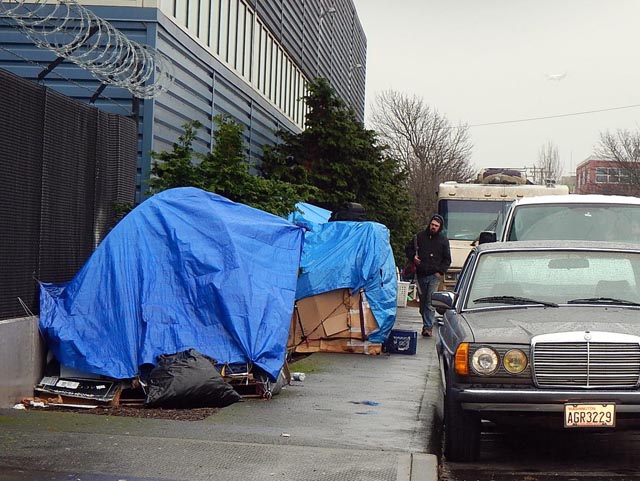 Wealth and Poverty | March 2015
March 2015 marks the anniversary of a bold promise: King County's 10-year plan to end homelessness. Now that the 10-year plan is ending and local homelessness is worse than ever, talk of ending homelessness is being replaced with less-lofty aspirations: making homelessness rare and brief when it does occur.
In collaboration with KUOW this week, we examine the roots of the plan, the challenges it faced, and where community and city leaders think we go from here.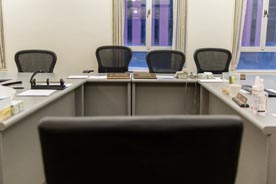 Equal Justice | December 2014
With grand jury reform elsewhere focused on eliminating racial bias and curbing police use of force, Oregon is an outlier: It is one of just 14 states that do not regularly record the citizen grand juries that charge people with felonies.
Almost five years after police killed an unarmed black man in Portland and the Multnomah Co. district attorney petitioned for that grand jury to be recorded, lawmakers in Salem are lining up behind a reform bill to mandate recording statewide, InvestigateWest has learned.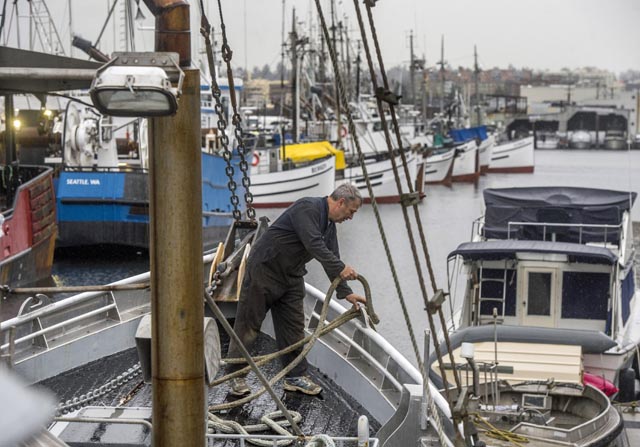 Seafood | December 2014
A struggle in Alaska over shrinking supplies of halibut is threatening the iconic centerpiece fish in favor of cheaper exports, fast-food fillets and fish sticks.
At risk is most of the frozen supply that sustains restaurants, food-service companies and retail stores nationwide, such as Costco and Whole Foods. Lee van der Voo investigates.
Photo: Peter Haley / The News Tribune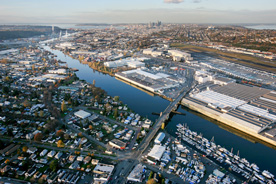 Environment | November 2014
It will take hundreds of millions of dollars to clean up the Duwamish River. But how clean is clean? And who decides?
Robert McClure looks at how lobbyists and community groups have squared off over the health of the waterway and its neighborhoods.
Photo: Paul Joseph Brown/ecosystemphoto.com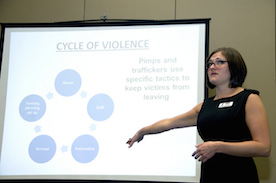 Trafficking | October 2014
Authorities say organized gangs increasingly are trafficking children for sex in the Northwest, and even cooperating with each other to stymie police.
Meanwhile in Portland, the U.S. Attorney's Office has become the third most prolific nationally in securing indictments for trafficking children and adults for sex.
Photo: Oregon DOT/Flickr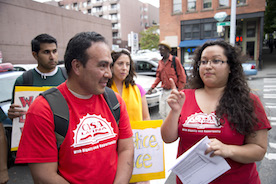 Minimum Wage | August 2014
"Everyone is aware that passing a $15 an hour minimum wage was historic," an advisor to Mayor Ed Murray and the Seattle City Council told InvestigateWest. "But if we cannot enforce that, we haven't accomplished much."
Based on a review of more than 20,000 wage theft complaints, hundreds of pages of reports and more than a dozen interviews, "Stolen Wages" shines a light on the dark world of pay violations in Seattle and across Washington.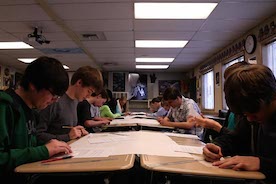 Infrastructure | May 2014
Portable, modular or relocatable classrooms — whatever you call them — are a necessity for cash-strapped schools.
But many portables become permanent fixtures, in place for decades at a time. Costly and insufficient, these aging structures burden the grid, frustrate teachers and administrators and compromise student health.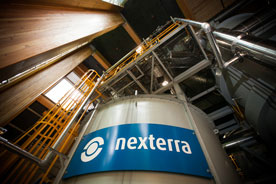 Environment | April 2014
Energizing our world with wood sounds so natural. And it has quickly become a multibillion-dollar industry as governments including British Columbia and the European Union turn to biomass to replace dirty old coal. Yet what we found when we dug into the coal-vs.-wood debate will surprise you.
Acknowledgements
In our work, we rely on the generosity of many others who make their services available for free or at a discount to nonprofits, including Tableau and the Texas A&M GeoServices Team.