Democrats Resurrect $1.2 Billion Version of Inslee Climate-Pollution Tax
Printer-friendly version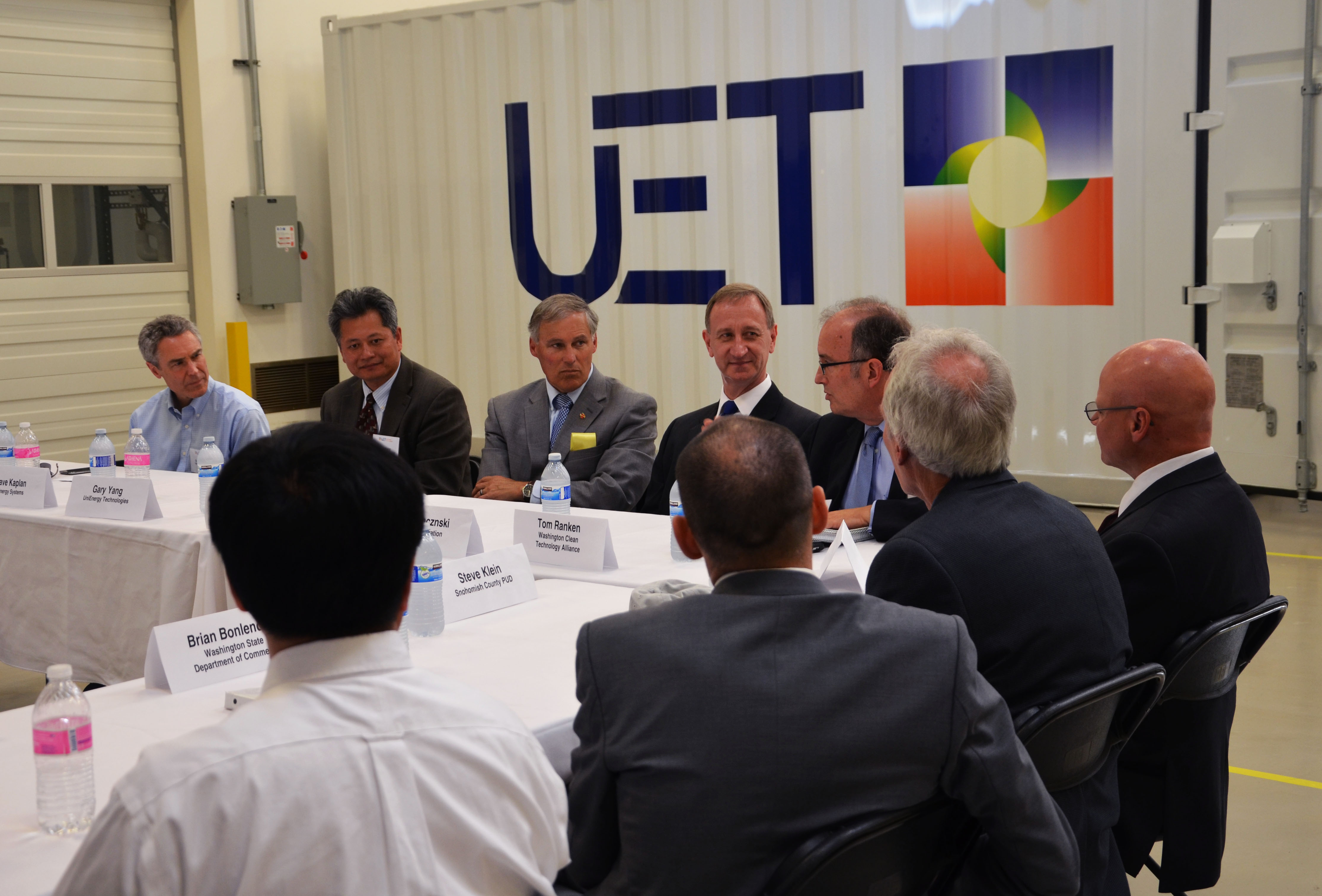 Gov. Jay Inslee heard from energy and utilities executives during a "Climate Tour" in 2014.
Photo: Flickr/Gov. Jay Inslee.
With Supreme Court sanctions and a possible shutdown of state government looming, Democrats in the Legislature have resurrected Gov. Jay Inslee's plan to reduce greenhouse gas pollution and added a tax rebate to appease critics in their own party and the GOP.
Taxing greenhouse-gas pollution could make a budget deal possible, Democratic leaders argue. But with a special legislative session ending Thursday and another almost certain, Republicans who control the Senate aren't budging. GOP leaders say they still are figuring out how to reduce emissions of climate-warming pollution with a "carrots not sticks" plan that is more industry-friendly.
Inslee's plan to cut carbon emissions and tax Washington's biggest polluters flopped early this session, with insufficient support even from his own party. With the Legislature under orders from the Supreme Court to boost education spending, and a new state budget needed by July 1 to keep the government operating, Democratic leaders in the House are trying again with House Bill 1314.
At issue is a plan to make utilities and others pay for the privilege of emitting carbon dioxide, the most prevalent greenhouse gas. Every factory and power plant would pay for tradeable credits to emit a certain amount. Each year, the allowable amount of emissions would be ratcheted down. The idea is that the market would drive those facilities that can most readily reduce pollution to do so and sell their excess pollution credits to facilities that cannot or will not reduce their own pollution.
Rep. Joe Fitzgibbon, a Burien Democrat and sponsor of Inslee's original cap-and-trade plan, has introduced a new version to reduce pollution and raise nearly $1.3 billion annually, most of which would go to education and other state services. Lawmakers need about $2 billion to balance the budget.
"We need to take action to address climate change and the state's budget problems," Fitzgibbon said. "We've addressed the core concerns raised by businesses. What we have now is a fair approach to reducing greenhouse gases."
The revised Democratic plan would raise a projected $500 million each year for K-12 education, $108 million in tax credits for low-income families and close to $90 million for forest restoration and fire suppression.
The plan also includes $193 million for forest landowners who sell timber to Washington mills and tax credits for transporters of agricultural products and lumber mills generating jobs. Sen. Jim Hargrove, D-Hoquiam, introduced a similar plan, Senate Bill 6121, in the Senate.
Although 37 Democrats signed on to Inslee's original bill, it fell short of the votes needed to pass, even though the party holds a 51-47 majority. Critics on both sides of the aisle said polluters wouldn't be the only ones to pay — consumers would pick up the cost through higher gas prices and utility bills.
That's what Fitzgibbon hopes the bill's biggest change will solve. It would devote more than one-quarter of the tax proceeds to corporate rebates, sending more than $330 million a year back to refineries and fuel suppliers. BP, Tesoro and other companies could take back 75 percent of money they pay in the new taxes — as long as they can prove savings were passed on to customers at the pump.
Environmental groups support the proposal, but some say it doesn't go far enough. Nancy Hirsh, executive director of the NW Energy Coalition, says while the organization supports any proposal to put a price on carbon, rebates don't send the strongest message to polluters. "It's still reducing pollution, the difference is who pays for it," she said. "If the oil industry gets rebates for carbon emissions, taxpayers will pay for it instead of shareholders. In order to send signals to polluters, they need to feel some pain."
But opponents question whether companies will be able to claim rebates through a legislative process they say is slow and without guarantees. Brandon Houskeeper, Association of Washington Business environmental lobbyist, says rebates mean more work for fuel suppliers and are subject to future political manipulation. "We'll still have to pay, then we'll have to work to get those rebates back," Houskeeper said. "In reality, it's just setting a date in the future by which someone is going to question these rebates. What's favored today may not necessarily be favored tomorrow."
Even if rebates are enough to win favor in the House, the legislation faces a long shot in the Senate. Sen. Doug Ericksen, the Ferndale Republican who chairs the Senate Energy, Environment and Telecommunications Committee, says the new provision doesn't sweeten the pot for Republicans, it actually weakens the proposal's viability: "It highlights how malleable the cap-and-trade bill is to political expediency. That's what makes poor energy code."
The 16-year lawmaker is still making changes to his own plan to cut carbon emissions. Republicans and two Democrats, including one who caucuses with the GOP, earlier this session rolled out a series of bills to reduce carbon emissions while sticking with the party's "no new taxes" philosophy.
At the center of the GOP's "carrots not sticks" plan is Senate Bill 5735, which would give utilities more ways to comply with Initiative 937, a voter-approved clean energy measure. Some utilities have long complained the 2006 initiative — which sets a deadline of 2020 for companies to increase energy from newrenewable resources like wind and solar by 15 percent — unnecessarily costs them millions annually.
Under Ericksen's proposal, those utilities would be able to count measures such as converting state ferries to liquefied natural gas and expanding electric vehicle infrastructure, including charging stations.
Ericksen says his plan is a smarter approach: "One proposal is basically a huge tax on energy while the other uses existing mechanisms for clean energy and carbon reductions."
Opponents of the Senate bill say it's a step backward. Clifford Traisman, lobbyist for Washington Environmental Council and Washington Conservation Voters, says reducing pollution isn't the only goal of I-937. "The whole purpose of the clean energy initiative was to diversity our energy sources to spur the green economy and promote renewable industry," he said. "The bill doesn't attempt to build off of Initiative 937. It's an attempt to decimate the law."
Environmental groups and others wonder whether the Republican-led Senate can make strides to reduce the effects of climate change when the party largely denies human involvement in rising temperatures across the planet.
"You may not know how humans impact climate change, but there are scientists who do," said Sen. Cyrus Habib. "They have their jobs and you have yours. If every legislator has to do a science experiment to get an answer, we'll be waiting too long."
The Kirkland Democrat, who sits on the Senate energy committee, introduced an amendment to Ericksen's bill to proclaim human activity as a "significant contributor" to climate change. Republicans voted down the amendment and instead settled on one to acknowledge the possibility.
Habib says that's a problem. "If you don't believe the problem is man-made, you're not going to believe the solution is man-made," he said. "If that's the case, I'm not sure there's anything you can do in law. Law just affects human behavior. If you don't believe that's a factor, you're better off staying home and praying."
Ericksen says the cause of climate change shouldn't be the focus of energy policy.
"What we're focusing on is new energy technologies," he said. "If you focus on looking for ways to produce less carbon with minimal impact on the economy, you can achieve some good things. The rest is like fighting with your little brother, hitting him on the head and trying to get him to say something."
The standoff over climate also torpedoed a major piece of transportation-funding legislation earlier this year.
When Senate Republicans introduced a 16-year, $15 billion transportation plan to fund six major projects, including finishing the North-South Freeway in Spokane and Interstate 90 at Snoqualmie Pass, lawmakers on both sides of the aisle agreed on the basics — even a gas tax increase of nearly 12 cents a gallon.
They stalled on the smaller matters, including a provision to direct money away from public transit, pedestrian and bike paths and into roads if Inslee installed a low-carbon fuel standard. Democrats called it a "poison pill." Republicans said it was consumer protection.
The transportation plan is still caught up in the legislative logjam as lawmakers near the end of the 30-day special session. If both sides fail to reach a budget deal by the deadline, Inslee said he will call lawmakers back for another special session as early as the next day.
For now, Ericksen says the Democrats' new version of the cap-and-trade plan won't get a hearing in his committee. Members discussed plans to bring the bill forward Wednesday, the day before a planned end of the special session on Thursday. But Ericksen said he doesn't want it to be cause for another special session. "The runway is getting pretty short here," he said.
Fitzgibbon says that with all the funding problems facing the Legislature under a major budget shortfall, nothing should be off the table. "We can walk and chew gum at the same time," he said. "This is an important enough issue, it doesn't make sense to look for excuses."
InvestigateWest is a nonprofit newsroom for the Northwest. This story is part of a crowdfunded series on environmental issues in Olympia. Follow the series at www.invw.org/olympia.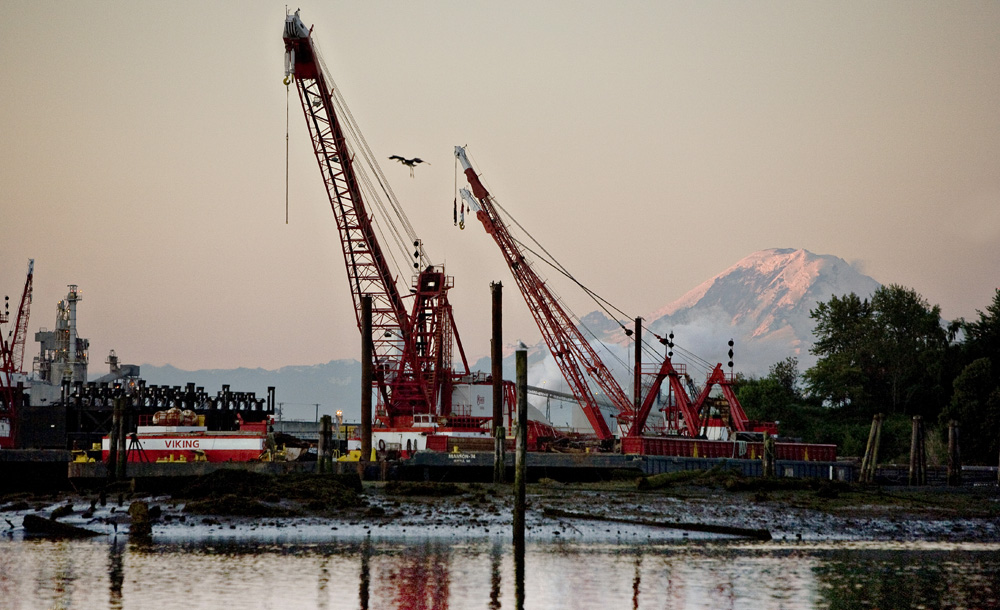 by Ashley Stewart
by Ashley Stewart
by Christopher Dunagan
by Christopher Dunagan
by Christopher Dunagan
by Christopher Dunagan
by Kim Drury
by Christopher Dunagan
by Christopher Dunagan
by Kim Drury
by Christopher Dunagan
by Christopher Dunagan
Support our Reporting
Got tips for our reporter?
If you have a story you'd like to see covered, please email Robert McClure at rmcclure@invw.org
In Partnership With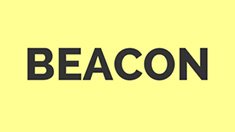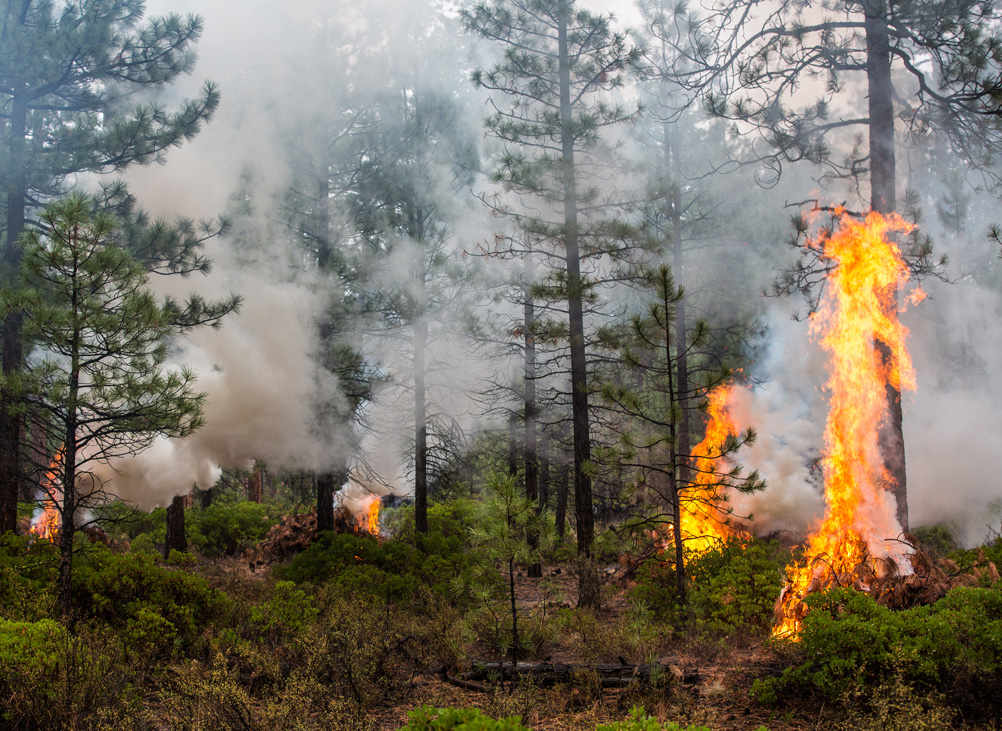 Forests and the Economy | May 2015
Environmentalists and the timber industry — once bitter adversaries — are working as allies on forest restoration. Collaborative forest thinning projects aim to fight megafires before they start — but money is scarce and tens of thousands of acres acres in Oregon now face an elevated risk of catastrophic fire. Ben DeJarnette reports for InvestigateWest.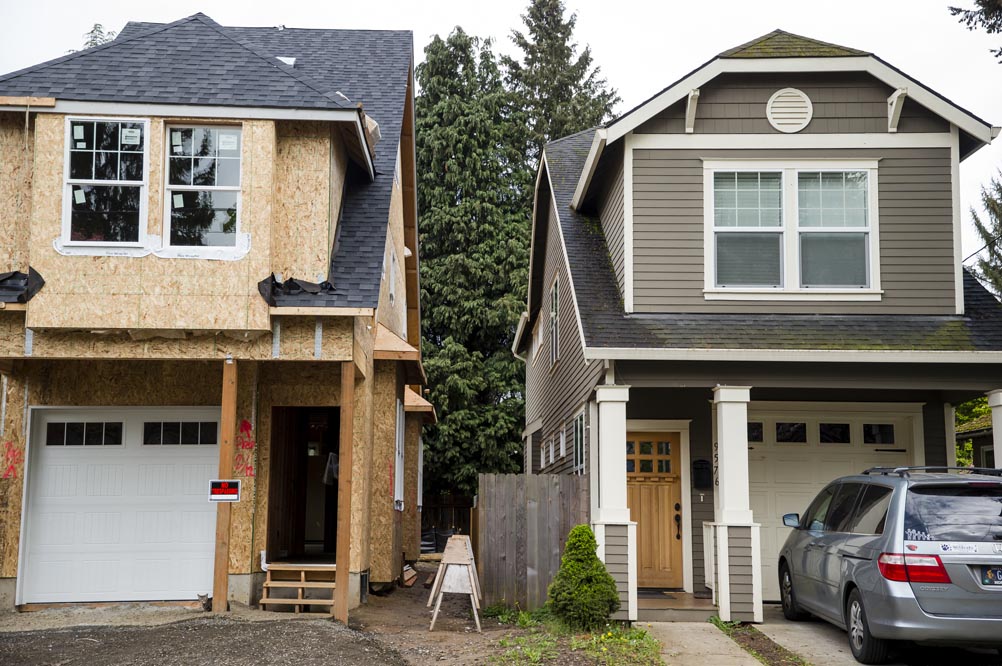 Equity | April 2015
Cash reigns in the Portland housing market. The city faces pressure from a new kind of speculation, as investors buy thousands of homes with cash and long-established protections for bank-financed homebuyers are ignored. Lee van der Voo and James Gordon report for InvestigateWest.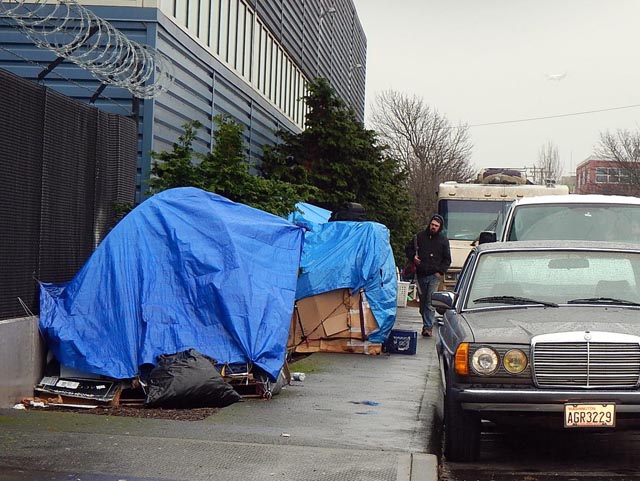 Wealth and Poverty | March 2015
March 2015 marks the anniversary of a bold promise: King County's 10-year plan to end homelessness. Now that the 10-year plan is ending and local homelessness is worse than ever, talk of ending homelessness is being replaced with less-lofty aspirations: making homelessness rare and brief when it does occur.
In collaboration with KUOW this week, we examine the roots of the plan, the challenges it faced, and where community and city leaders think we go from here.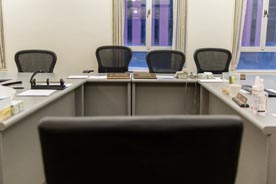 Equal Justice | December 2014
With grand jury reform elsewhere focused on eliminating racial bias and curbing police use of force, Oregon is an outlier: It is one of just 14 states that do not regularly record the citizen grand juries that charge people with felonies.
Almost five years after police killed an unarmed black man in Portland and the Multnomah Co. district attorney petitioned for that grand jury to be recorded, lawmakers in Salem are lining up behind a reform bill to mandate recording statewide, InvestigateWest has learned.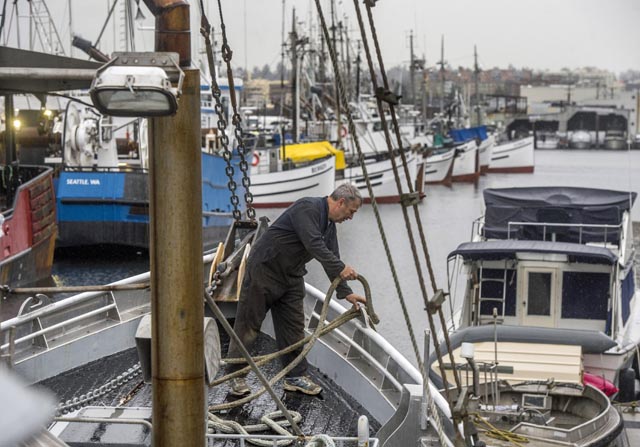 Seafood | December 2014
A struggle in Alaska over shrinking supplies of halibut is threatening the iconic centerpiece fish in favor of cheaper exports, fast-food fillets and fish sticks.
At risk is most of the frozen supply that sustains restaurants, food-service companies and retail stores nationwide, such as Costco and Whole Foods. Lee van der Voo investigates.
Photo: Peter Haley / The News Tribune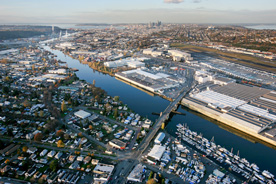 Environment | November 2014
It will take hundreds of millions of dollars to clean up the Duwamish River. But how clean is clean? And who decides?
Robert McClure looks at how lobbyists and community groups have squared off over the health of the waterway and its neighborhoods.
Photo: Paul Joseph Brown/ecosystemphoto.com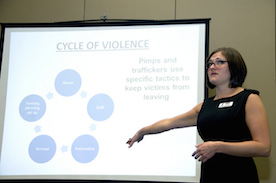 Trafficking | October 2014
Authorities say organized gangs increasingly are trafficking children for sex in the Northwest, and even cooperating with each other to stymie police.
Meanwhile in Portland, the U.S. Attorney's Office has become the third most prolific nationally in securing indictments for trafficking children and adults for sex.
Photo: Oregon DOT/Flickr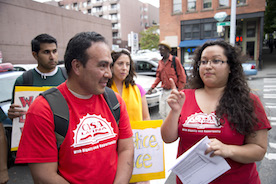 Minimum Wage | August 2014
"Everyone is aware that passing a $15 an hour minimum wage was historic," an advisor to Mayor Ed Murray and the Seattle City Council told InvestigateWest. "But if we cannot enforce that, we haven't accomplished much."
Based on a review of more than 20,000 wage theft complaints, hundreds of pages of reports and more than a dozen interviews, "Stolen Wages" shines a light on the dark world of pay violations in Seattle and across Washington.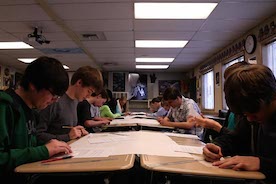 Infrastructure | May 2014
Portable, modular or relocatable classrooms — whatever you call them — are a necessity for cash-strapped schools.
But many portables become permanent fixtures, in place for decades at a time. Costly and insufficient, these aging structures burden the grid, frustrate teachers and administrators and compromise student health.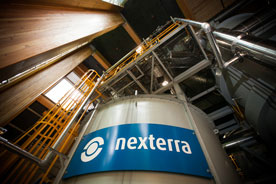 Environment | April 2014
Energizing our world with wood sounds so natural. And it has quickly become a multibillion-dollar industry as governments including British Columbia and the European Union turn to biomass to replace dirty old coal. Yet what we found when we dug into the coal-vs.-wood debate will surprise you.
Acknowledgements
In our work, we rely on the generosity of many others who make their services available for free or at a discount to nonprofits, including Tableau and the Texas A&M GeoServices Team.