Brought to you in partnership with FairWarning, a nonprofit newsroom like InvestigateWest. FairWarning focuses on public health and safety. More at FairWarning.org.
With Wary Eye on Big Trucks, Bike Riders Seek Safe Space on City Streets
Printer-friendly version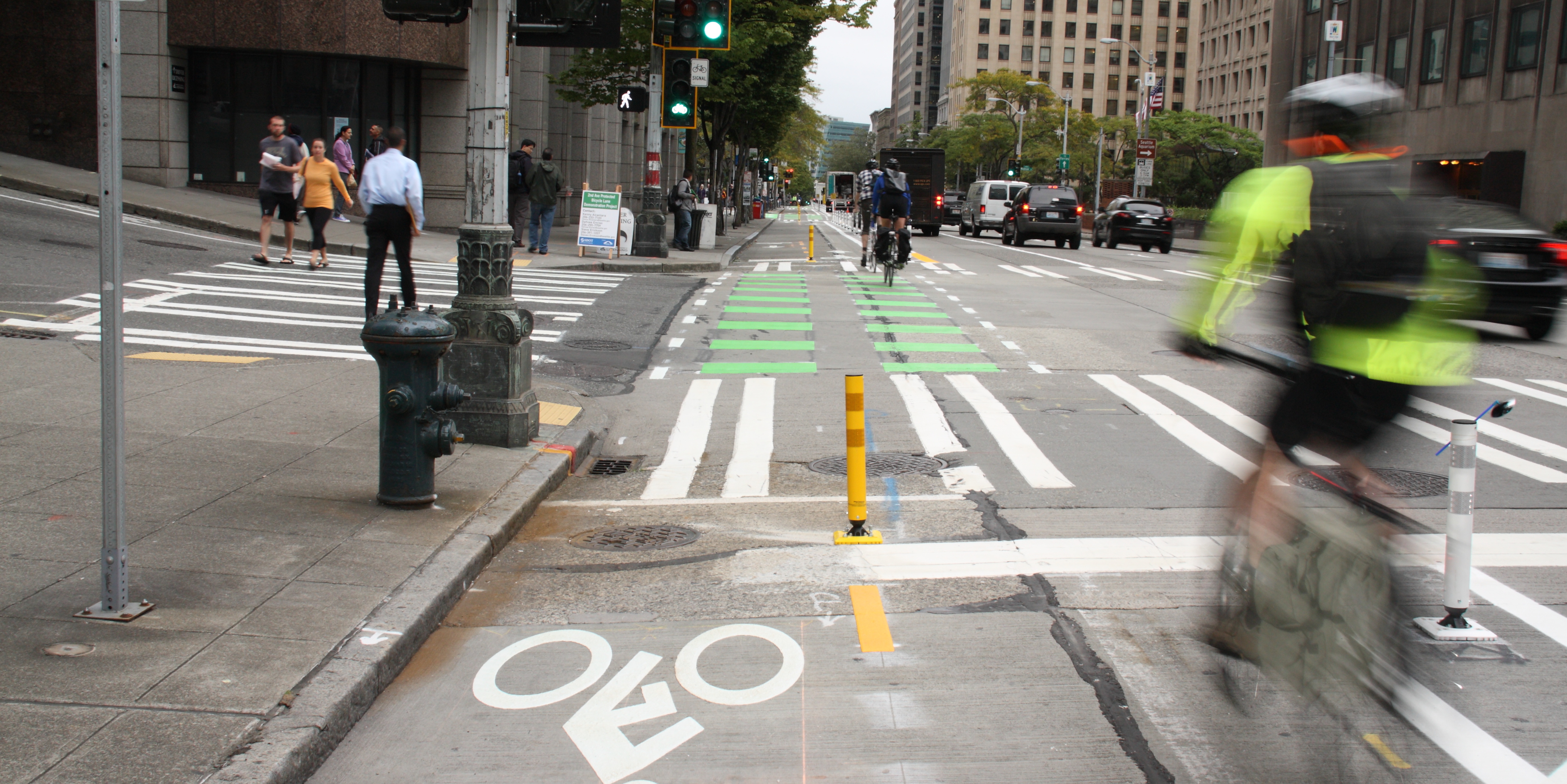 On a July afternoon in New Orleans last year, Philip Geeck was riding his bicycle in a marked bike lane on a busy street. Approaching an intersection, he came up alongside a tractor-trailer truck hauling a tank of chemicals. Geeck, 52, was at the 18-wheeler's midpoint when suddenly, without signaling, the truck began to turn right, witnesses say.
Victor Pizarro was driving nearby and watched in horror as the scene unfolded. He saw a look of confusion on Geeck's face as the trailer came toward him. Geeck, an experienced cyclist known to his friends as "Geric," tried to get away from the truck but couldn't make it. First his wheel went beneath the semi's enormous rolling tires, then his foot, then his entire body was dragged under. "It just kind of sucked him in," Pizarro said in an interview.
Geeck's head was crushed and part of his leg was severed from his body. "He was just a mound of flesh on the ground with blood oozing out," Pizarro said. Geeck died at the scene; the truck driver was not cited by police.
Heavy trucks like 18-wheelers and box trucks, along with garbage and dump trucks, make up a fraction of the vehicles on the road, but they are involved in a disproportionate share of accidents that kill bicyclists and pedestrians, according to federal data. The problem is worst in cities, where most bike and pedestrian fatalities occur.
In New York City, for example, trucks account for 3.6 percent of vehicles, but were involved in 32 percent of crashes that killed bicyclists from 1996 to 2003 and 12.3 percent of pedestrian fatalities from 2002 through 2006, city statistics show. Eight of the nine bicyclists killed in Boston 2012 through 2014 died in crashes involving large trucks, according to the city.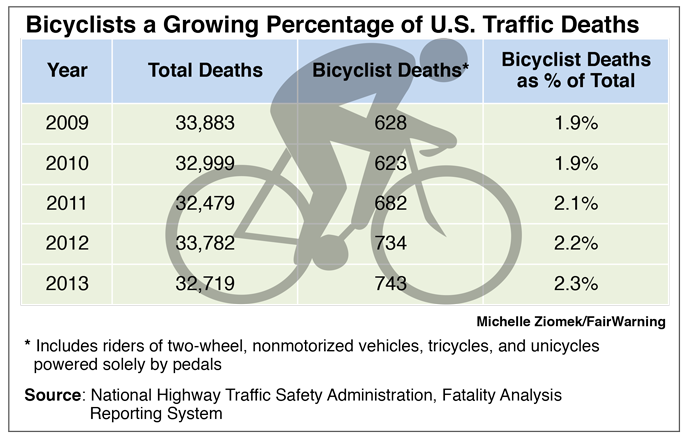 Some safety advocates say the problem could get worse: The rise of e-commerce is bringing more trucks into urban neighborhoods at the same time that cities are encouraging cycling and walking, through bicycle sharing programs, bike lanes and other infrastructure improvements. "It could be a collision course," said Alex Epstein an engineer at the John A. Volpe National Transportation Systems Center, a federal research institution in Cambridge, Mass. "You have more trucks in cities, more urban freight, at the same time that you have more bicycling and walking."
Safety advocates would like to see a range of reforms: Better training for drivers, restrictions on the size of trucks allowed on busy thoroughfares, better-designed streets, more federal funds for bike and pedestrian safety and tougher penalties for drivers who kill bicyclists and pedestrians. Meawhile, there's also a small but growing movement in U.S. cities to adopt a simple truck retrofit -- one already in use in much of the world -- that could immediately save lives.
In about half of the fatal bike and truck accidents and a quarter of those involving pedestrians and trucks, the person who is killed first makes impact with the side of the vehicle, according to the Volpe center, typically because the vehicle is turning or something like a car door sends a cyclist into the side of the truck. In those cases, a person's body can fall under the truck, and into the path of the truck's rear wheels, with catastrophic consequences.
But truck side guards -- a panel or set of metal bars running between the two sets of wheels -- can keep people from falling under the wheels. Instead, they bounce off the side of the truck. Side guards are a line of last defense for a cyclist or pedestrian, one some advocates liken to a seatbelt. "The intention is to take something that would be a fatality and turn it into an injury," said Kris Carter, the director of programming in the Mayor's Office of New Urban Mechanics in Boston, where an ordinance requiring side guards on many large city-owned and city-contracted trucks took effect in May.
Side guards could have played a role in accidents like these:
While federal regulators do not require the use of truck side guards, local efforts are gaining traction. In addition to Boston's law -- passed in response to a spate of bicyclist deaths, including McGrory's -- Cambridge just passed similar legislation and New York City has equipped about 200 city trucks with the guard and passed a law last week that will require them on most large city trucks and privately owned garbage trucks operating in the city by 2024. The guards are also required on many city-owned trucks in Washington, D.C., and Portland, Ore. The University of Washington in May announced plans to equip its own truck fleet with the guards.
The American Trucking Associations, the industry's national trade group, has no official position on truck side guards but is "always concerned about truck safety," said Ted Scott, the group's director of engineering.
Most of the research on side guards' safety benefits has come from Europe, Scott said, where bicycling is much more common. He said more data needs to be collected in the U.S. to see how effective the guards are. "Maybe it mitigates the damage. Maybe it just kills you differently," he said. "We don't know."
But Epstein says the time to act is now.
"To me, it seems like a very efficient engineering solution that we can take almost immediately," said Epstein, who has worked with the cities of Boston and New York on the issue. "If you talk about low-hanging fruit, this is it."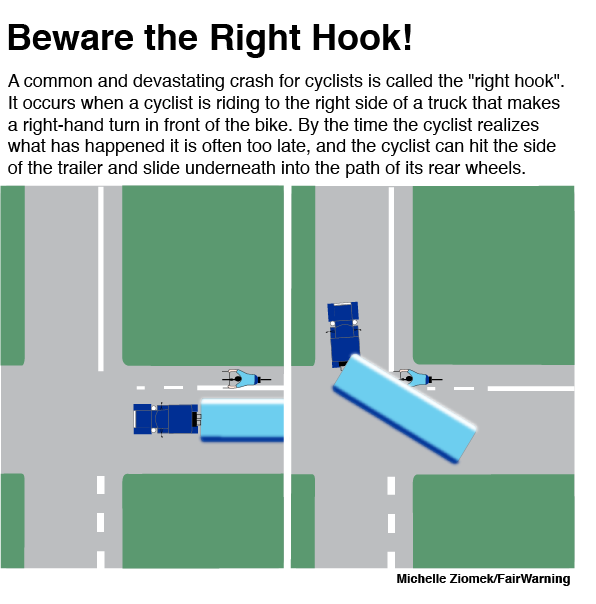 Side guards save lives
From the bike lanes of Oklahoma City, to Los Angeles' expanding transit system, to New York City's High Line walking trail and hordes of bright blue Citi Bikes, American cities are becoming less car-centric. Cities and towns are instituting policies that aim to encourage biking and walking, which have been promoted as a way to combat obesity and global warming.
The result: Americans are driving less. The number of miles driven per capita has been falling for about a decade, according one analysis of data from the Federal Highway Administration. At the same time, the number of Americans walking for transportation has inched up, according to the Centers for Disease Control and Prevention, and bike commuting has become much more popular. The number of Americans who commute by bike rose 62 percent between 2000 and 2013, according to an analysis of Census data by the League of American Bicyclists.
The available fatality figures give an incomplete picture because safety agencies don't collect data on how many accidents occur per mile walkedor biked. Yet what's clear is that while fewer motorists are dying, the death tolls for pedestrians and bicyclistshave held relatively steady over the last decade, so they now account for a bigger share of overall traffic deaths. "We need to do something to improve our performance there," said Rob Molloy, acting director of the office of highway safety at the National Transportation Safety Board, or NTSB.
From 2004 through 2013, cyclist deaths hovered between 623 and 786, according to the National Highway Traffic Safety Administration, or NHTSA. The figures for pedestrian deaths ranged from 4,109 to 4,892.
Even in cities with strong biking cultures like Copenhagen, crashes between trucks and bicyclists are a stubborn problem, said Andy Clarke, president of the League of American Bicyclists.
"I don't believe for a second that truck drivers are out to get me," he said. "The laws of physics and the challenges of driving a truck compared to the joys of riding a bike are not always compatible. That's just a fact of life."
Scott said he didn't know of any training for truck drivers that specifically focuses on pedestrian and bicyclist safety. However, he said, drivers of large trucks have to earn commercial drivers' licenses, which require learning how make turns safely.
He also said the onus isn't only on truckers: "The other part of this question is what sort of training is being given to the bicyclist or the pedestrian."
Statistics from the United Kingdom suggest putting side guards on trucks could reduce bicyclist and pedestrian fatalities. In the 1980s, the U.K. adopted a national policy requiring side guards on all large trucks. Fatal side-impact collisions between bicyclists and trucks dropped 61 percent and those between pedestrians and trucks fell 20 percent. The side guards are mandatory in the European Union, Brazil, Japan and China, according to the Volpe center.
The side guards used in Boston cost about $1,200 to $1,800 each, according to city figures, though the U.S. Department of Transportation estimates they can be put into place for less than $1,000, depending on the design. And, there's a even a positive side effect: If properly designed, side guards can increase fuel efficiency because they reduce air drag. Indeed, some long-haul trucks are now using side skirts to this end.
In July, Boston's side guards were put to a test when a city-contracted garbage truck turned in front of a bicyclist, who hit its side. But the man did not slip under the truck and into the unforgiving path of the truck tires, likely because the truck was equipped with the guards as a part of a pilot project that led to the city's ordinance. The accident was still serious -- the cyclist's leg was stuck under the truck and had to be freed using special equipment. But the cyclist survived, and city councilors approved Boston's side guard ordinance unanimously three months later.
A call for federal action
While safety advocates are glad to see cities adopting side guards, the approach is piecemeal. Even the most far-reaching law -- Boston's -- will reach only about 230 trucks, at most, in its first year, according to the mayor's office. And even when New York City's law is fully in place, eight years from now, most privately owned trucks will be exempt.
Some bicycle advocates call for a federal mandate,, though that may a long time coming. In 2013 and 2014, the NTSB, which investigates accidents and makes safety recommendations but has no regulatory power, recommended that side guards be required on large trucks. The aim was to keep passenger vehicles from sliding under trucks, but it also would protect bicyclists and pedestrians, albeit with devices that would likely be stronger and much more costly than what is now being used in Boston and other cities. To protect cyclists and pedestrians specifically, NTSB recommended crash-avoidance measures like improved mirrors and pedestrian detection systems.
To date, though, federal regulators have taken no action on the NTSB's recommendations.
Even without a federal mandate, trucking companies should step up, said Valerie Yarashus, a Boston lawyer who is part of a truck safety task force at the American Association for Justice, a trial lawyers group. Yarashus currently has three cases involving fatal bike and truck crashes, including McGrory's.
Scott, of the trucking industry trade group, says if convincing data emerges from the cities experimenting with side guards, the technology will likely be adopted. "If those things do make a difference, you will see individuals putting them on their vehicles. They don't want to kill anybody either."
And, as the evidence mounts that these guards save lives, Yarashus says it's increasingly difficult to believe that trucking companies don't know about their benefits.
"They have an opportunity now to see what's going on in the rest of the world and start taking action in the U.S. to save lives before somebody mandates that they need to," she said.
For now, however, the vast majority of trucks on the road are like the garbage truck that turned in front of McGrory in Boston inApril 2014. McGrory, a newlywed, died at the scene. The truck's driver, Ricky Prezioso, will not face criminal charges, but McGrory's family has filed a wrongful death lawsuit against him.
Yarashus said a side guard could have saved McGrory's life. In a statement made through Yarashus, McGrory's brother, Phillip said, his brother was a "happy soul" who was quick to help others. "His generous spirit and infectious laughter still make us smile when we think about him, but now it is bittersweet," he said. "We all miss Owen every single day."
This story reported by FairWarning, a nonprofit news organization based in Los Angeles that focuses on public health, safety and environmental issues.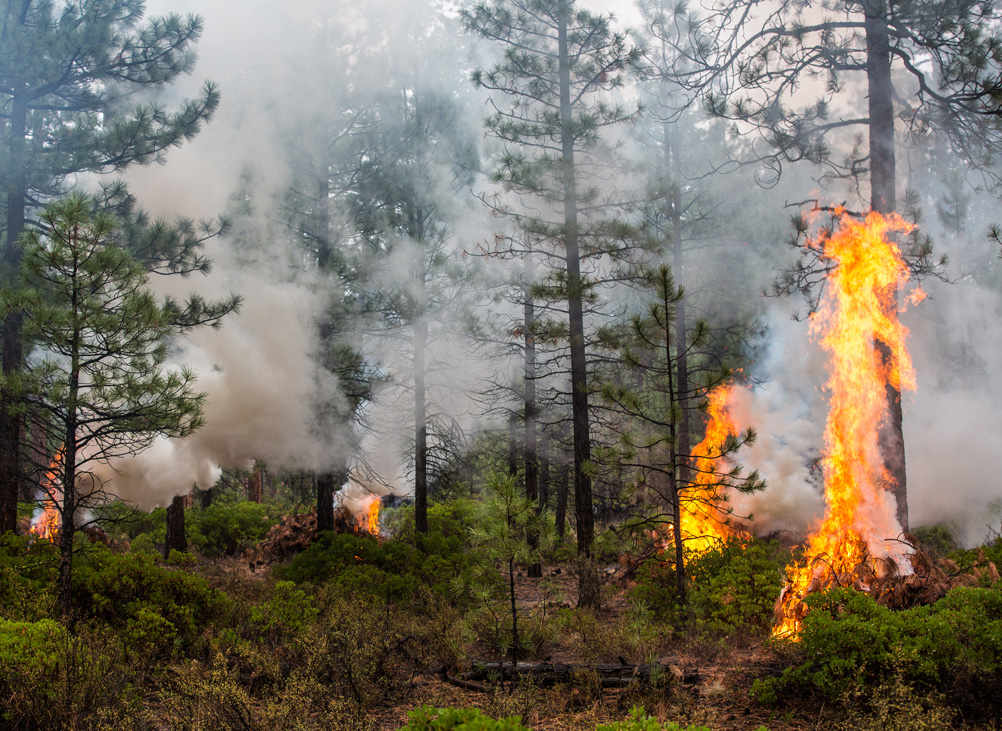 Forests and the Economy | May 2015
Environmentalists and the timber industry — once bitter adversaries — are working as allies on forest restoration. Collaborative forest thinning projects aim to fight megafires before they start — but money is scarce and tens of thousands of acres acres in Oregon now face an elevated risk of catastrophic fire. Ben DeJarnette reports for InvestigateWest.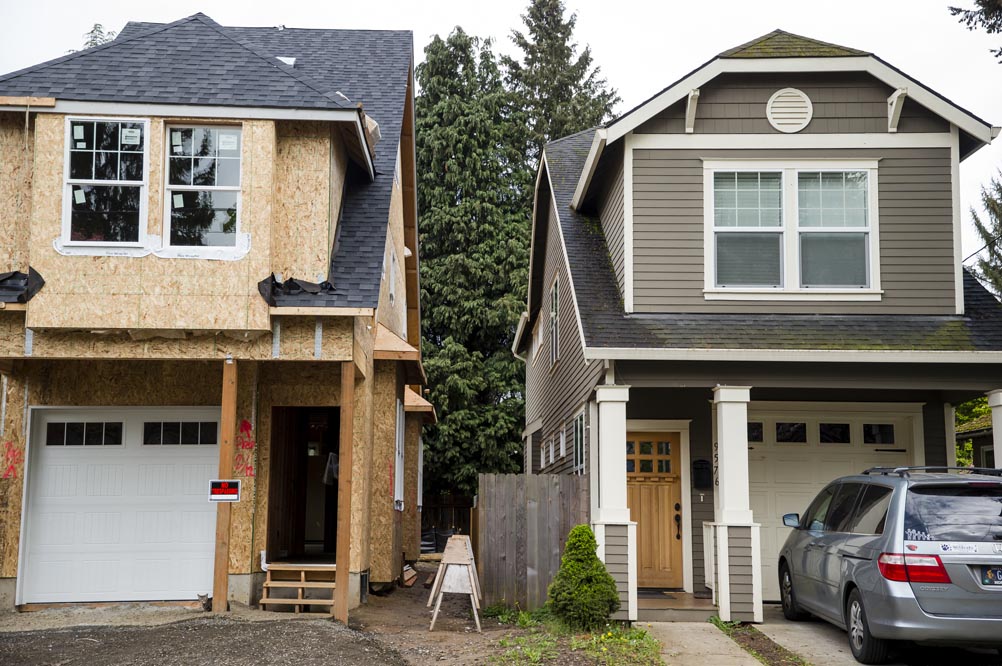 Equity | April 2015
Cash reigns in the Portland housing market. The city faces pressure from a new kind of speculation, as investors buy thousands of homes with cash and long-established protections for bank-financed homebuyers are ignored. Lee van der Voo and James Gordon report for InvestigateWest.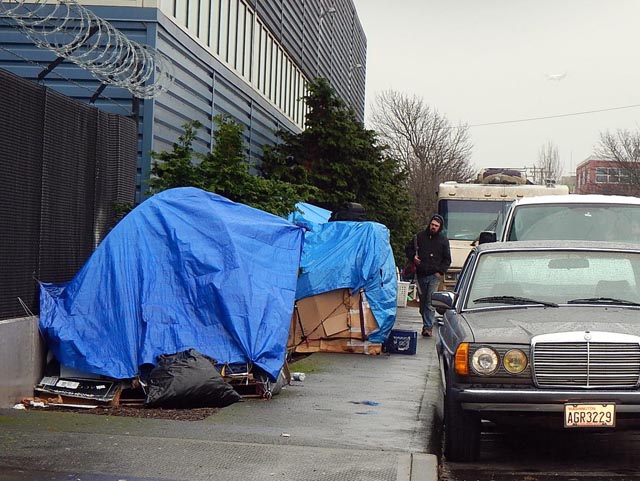 Wealth and Poverty | March 2015
March 2015 marks the anniversary of a bold promise: King County's 10-year plan to end homelessness. Now that the 10-year plan is ending and local homelessness is worse than ever, talk of ending homelessness is being replaced with less-lofty aspirations: making homelessness rare and brief when it does occur.
In collaboration with KUOW this week, we examine the roots of the plan, the challenges it faced, and where community and city leaders think we go from here.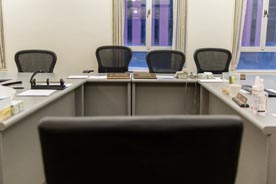 Equal Justice | December 2014
With grand jury reform elsewhere focused on eliminating racial bias and curbing police use of force, Oregon is an outlier: It is one of just 14 states that do not regularly record the citizen grand juries that charge people with felonies.
Almost five years after police killed an unarmed black man in Portland and the Multnomah Co. district attorney petitioned for that grand jury to be recorded, lawmakers in Salem are lining up behind a reform bill to mandate recording statewide, InvestigateWest has learned.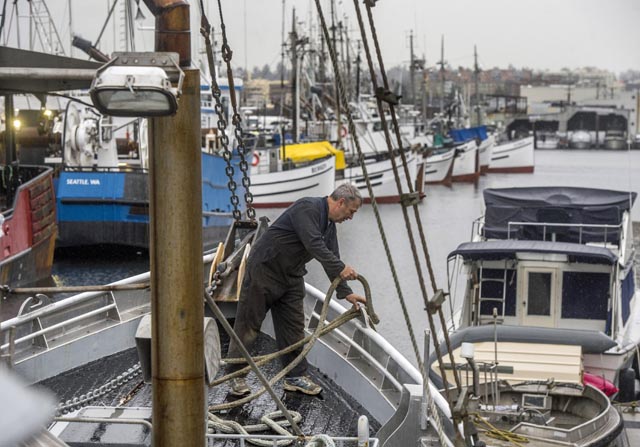 Seafood | December 2014
A struggle in Alaska over shrinking supplies of halibut is threatening the iconic centerpiece fish in favor of cheaper exports, fast-food fillets and fish sticks.
At risk is most of the frozen supply that sustains restaurants, food-service companies and retail stores nationwide, such as Costco and Whole Foods. Lee van der Voo investigates.
Photo: Peter Haley / The News Tribune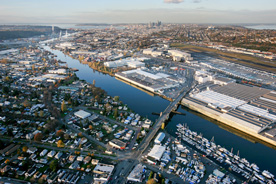 Environment | November 2014
It will take hundreds of millions of dollars to clean up the Duwamish River. But how clean is clean? And who decides?
Robert McClure looks at how lobbyists and community groups have squared off over the health of the waterway and its neighborhoods.
Photo: Paul Joseph Brown/ecosystemphoto.com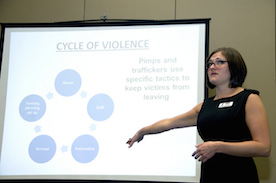 Trafficking | October 2014
Authorities say organized gangs increasingly are trafficking children for sex in the Northwest, and even cooperating with each other to stymie police.
Meanwhile in Portland, the U.S. Attorney's Office has become the third most prolific nationally in securing indictments for trafficking children and adults for sex.
Photo: Oregon DOT/Flickr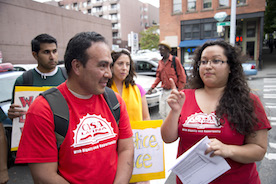 Minimum Wage | August 2014
"Everyone is aware that passing a $15 an hour minimum wage was historic," an advisor to Mayor Ed Murray and the Seattle City Council told InvestigateWest. "But if we cannot enforce that, we haven't accomplished much."
Based on a review of more than 20,000 wage theft complaints, hundreds of pages of reports and more than a dozen interviews, "Stolen Wages" shines a light on the dark world of pay violations in Seattle and across Washington.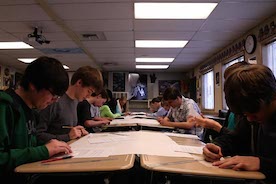 Infrastructure | May 2014
Portable, modular or relocatable classrooms — whatever you call them — are a necessity for cash-strapped schools.
But many portables become permanent fixtures, in place for decades at a time. Costly and insufficient, these aging structures burden the grid, frustrate teachers and administrators and compromise student health.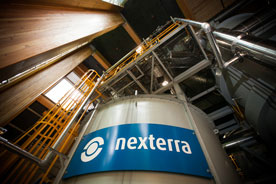 Environment | April 2014
Energizing our world with wood sounds so natural. And it has quickly become a multibillion-dollar industry as governments including British Columbia and the European Union turn to biomass to replace dirty old coal. Yet what we found when we dug into the coal-vs.-wood debate will surprise you.
Acknowledgements
In our work, we rely on the generosity of many others who make their services available for free or at a discount to nonprofits, including Tableau and the Texas A&M GeoServices Team.