InvestigateWest Copenhagen climate-treaty coverage points up need for independent journalism
Printer-friendly version
Whew! Fifty-one posts -- all but three in just the last two weeks. Dateline Earth readers got to hear from an Arctic tribal elder, an Indian-turned-American nature photographer, Ethiopian political activists, native-rights campaigners from the Amazon and the grassy plains of Ecuador – as well as the European and American officials who dominate this country's news diet.

We stretched. The InvestigateWest team's coverage of the global climate treaty negotiations that just wrapped up in Copenhagen was a mammoth undertaking for our small start-up news agency – but one that amply demonstrated the need for independent journalism. It was an effort worth every bleary-eyed late-night hour, every marathon Skype session, every up-before-December's-dawn morning.
It's unlikely InvestigateWest will be dashing off to a lot of international meetings. We were fortunate in this case to have the assistance of four able young journalists who raised the funds to get themselves to Denmark. Then they went on to deliver journalism that wasn't available from many – and in a few cases, any – of the thousands of other journalists who covered the talks.
They did this despite being denied access to the conference center where international delegates were meeting until the last day of the two-week conference.  
[caption id="attachment_7653" align="alignleft" width="300" caption="InvestigateWest photographer Christopher Crow is arrested for the second time. He was held for 10 hours. InvestigateWest photo by Mark Malijan."]
[/caption]
They did this despite one team member being arrested and detained by Danish police – twice – simply for doing his job and covering civil unrest the talks spawned in Copenhagen's streets.
They persevered. Alexander Kelly, his brother Blair Kelly, Christopher Crow and Mark Malijan – all in their 20s – slogged through two weeks that tired out even me, a veteran who's covered plenty of environmental conferences and several riots, and who was sitting in the editor's chair here in Seattle. I know: They worked their tails off.
I'm particularly proud that we were on top of the street protests, ours being a journalism studio based in Seattle, where the protest tactics on display in Copenhagen first hit the world stage with the World Trade Organization riots ten years ago this month.
We also brought home stories that seemingly went uncovered by others. I tried to keep up on Google News, which is not a surefire method, but I saw no other stories on native-rights activists' charges that an often-praised timber deal smacks of colonialism; or on how the lead negotiator for the African Union, Ethiopian Prime Minister Meles Zenawi, stands accused of genocide. (Matter of fact, I was floored by the allegations against this supposed American ally in the war on terror. I tend to read the newspaper pretty thoroughly; why haven't we heard more about this in the past?)
Being based in Seattle, we also made it a point to snag interviews with people from the Pacific Northwest. They included Washington Gov. Christine Gregoire and Seattle Mayor Greg Nickels, both of whom have made their mark on this all-important push to rein in global warming.
And I helped a little by covering the release of a battery of scientific studies outlining the potential for sudden and cataclysmic climate change -- plus ideas on how to avoid it. The PR person for the scientists involved told me no one else had covered the studies.
Dateline Earth, one of three InvestigateWest blogs, will continue to place a heavy emphasis on covering climate change. Look for a post tomorrow advertising what we'll have coming early in the new year.
Folks, if you're read this far, it's plain that you can see the value of our work. Remember that it's the time of year that non-profits come to you with their palms outstretched. InvestigateWest is no different. We're a struggling start-up non-profit dedicated to preserving and modernizing investigative and other in-depth journalism on the environment, public health and social-justice issues in western North America. We're putting particular emphasis on the Pacific Northwest Cascadia, where those issues resonate strongly.
Please support our work – financially, yes, for sure. You can donate here. Then, after you're done with that, please tune in here on a regular basis. We want your ideas, your creativity, your energy. And we're working on ways to involve citizen journalists in our work. So get in touch, particularly if you live in the West and would like to help. E-mail me at rmcclure (at) invw.org or Executive Director Rita Hibbard at rhibbard (at) invw.org.
 We are looking to build a community around these issues and this special region. Please become a part of the InvestigateWest community.
 Happy holidays.
 -- Robert McClure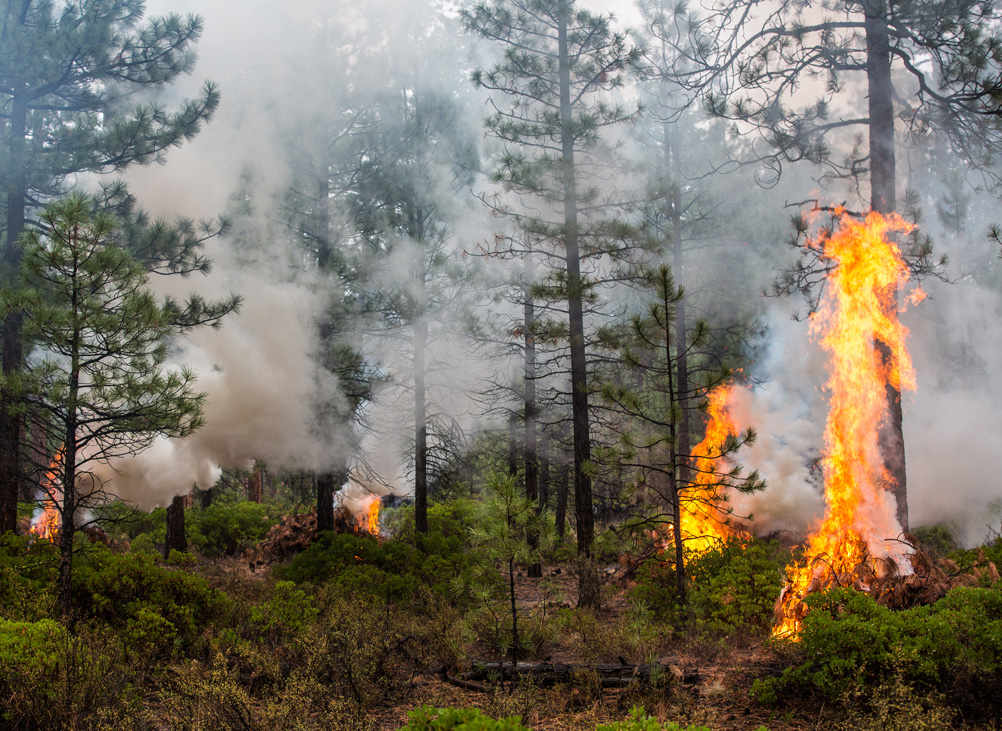 Forests and the Economy | May 2015
Environmentalists and the timber industry — once bitter adversaries — are working as allies on forest restoration. Collaborative forest thinning projects aim to fight megafires before they start — but money is scarce and tens of thousands of acres acres in Oregon now face an elevated risk of catastrophic fire. Ben DeJarnette reports for InvestigateWest.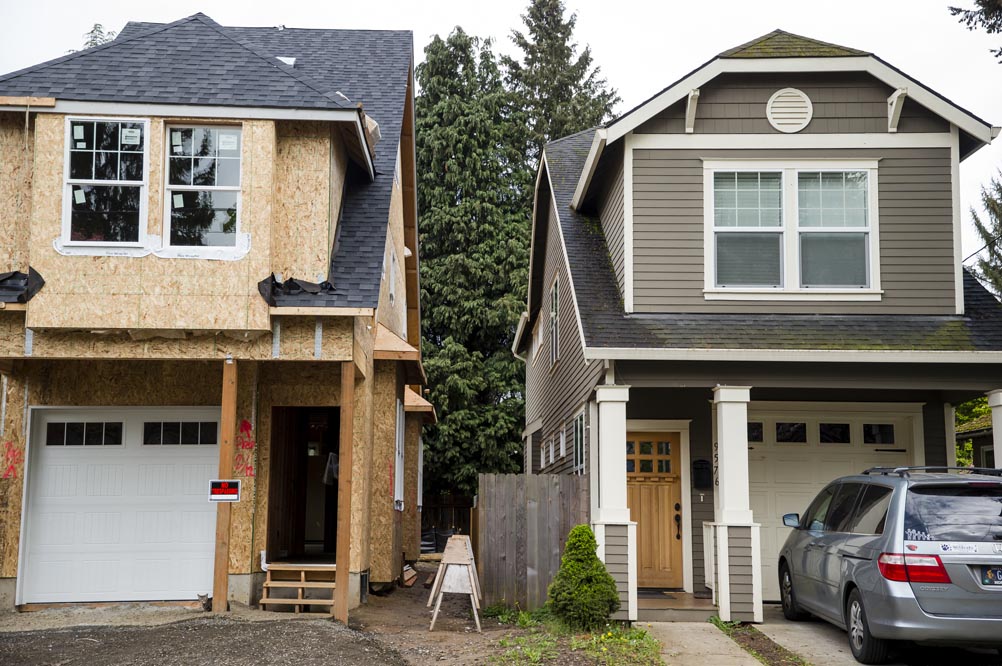 Equity | April 2015
Cash reigns in the Portland housing market. The city faces pressure from a new kind of speculation, as investors buy thousands of homes with cash and long-established protections for bank-financed homebuyers are ignored. Lee van der Voo and James Gordon report for InvestigateWest.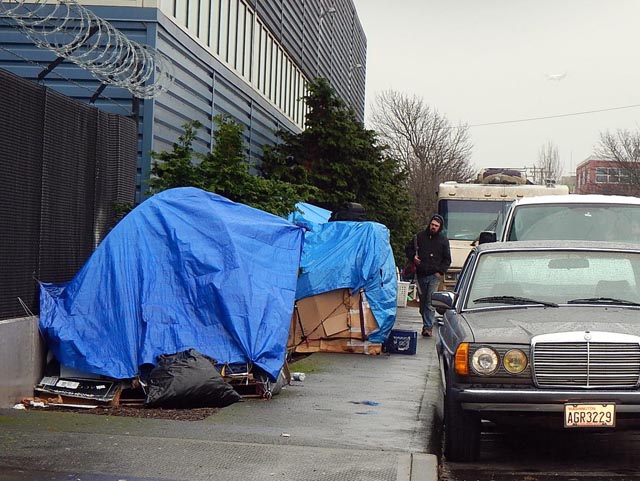 Wealth and Poverty | March 2015
March 2015 marks the anniversary of a bold promise: King County's 10-year plan to end homelessness. Now that the 10-year plan is ending and local homelessness is worse than ever, talk of ending homelessness is being replaced with less-lofty aspirations: making homelessness rare and brief when it does occur.
In collaboration with KUOW this week, we examine the roots of the plan, the challenges it faced, and where community and city leaders think we go from here.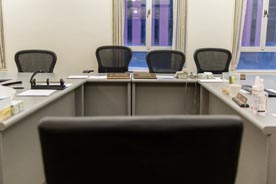 Equal Justice | December 2014
With grand jury reform elsewhere focused on eliminating racial bias and curbing police use of force, Oregon is an outlier: It is one of just 14 states that do not regularly record the citizen grand juries that charge people with felonies.
Almost five years after police killed an unarmed black man in Portland and the Multnomah Co. district attorney petitioned for that grand jury to be recorded, lawmakers in Salem are lining up behind a reform bill to mandate recording statewide, InvestigateWest has learned.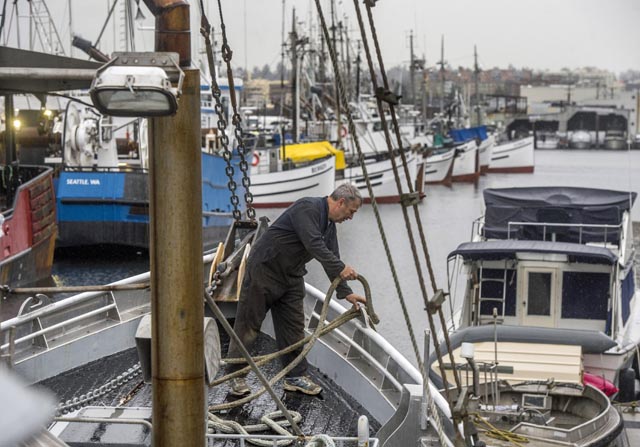 Seafood | December 2014
A struggle in Alaska over shrinking supplies of halibut is threatening the iconic centerpiece fish in favor of cheaper exports, fast-food fillets and fish sticks.
At risk is most of the frozen supply that sustains restaurants, food-service companies and retail stores nationwide, such as Costco and Whole Foods. Lee van der Voo investigates.
Photo: Peter Haley / The News Tribune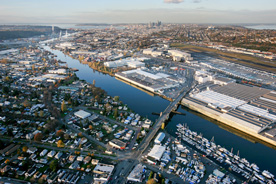 Environment | November 2014
It will take hundreds of millions of dollars to clean up the Duwamish River. But how clean is clean? And who decides?
Robert McClure looks at how lobbyists and community groups have squared off over the health of the waterway and its neighborhoods.
Photo: Paul Joseph Brown/ecosystemphoto.com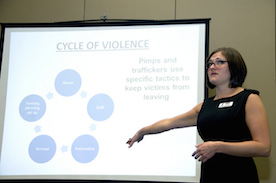 Trafficking | October 2014
Authorities say organized gangs increasingly are trafficking children for sex in the Northwest, and even cooperating with each other to stymie police.
Meanwhile in Portland, the U.S. Attorney's Office has become the third most prolific nationally in securing indictments for trafficking children and adults for sex.
Photo: Oregon DOT/Flickr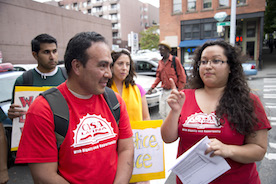 Minimum Wage | August 2014
"Everyone is aware that passing a $15 an hour minimum wage was historic," an advisor to Mayor Ed Murray and the Seattle City Council told InvestigateWest. "But if we cannot enforce that, we haven't accomplished much."
Based on a review of more than 20,000 wage theft complaints, hundreds of pages of reports and more than a dozen interviews, "Stolen Wages" shines a light on the dark world of pay violations in Seattle and across Washington.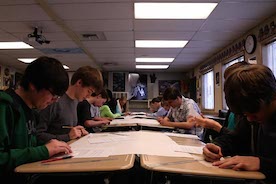 Infrastructure | May 2014
Portable, modular or relocatable classrooms — whatever you call them — are a necessity for cash-strapped schools.
But many portables become permanent fixtures, in place for decades at a time. Costly and insufficient, these aging structures burden the grid, frustrate teachers and administrators and compromise student health.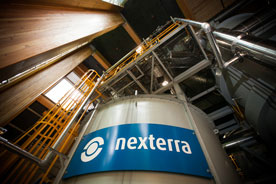 Environment | April 2014
Energizing our world with wood sounds so natural. And it has quickly become a multibillion-dollar industry as governments including British Columbia and the European Union turn to biomass to replace dirty old coal. Yet what we found when we dug into the coal-vs.-wood debate will surprise you.
Acknowledgements
In our work, we rely on the generosity of many others who make their services available for free or at a discount to nonprofits, including Tableau and the Texas A&M GeoServices Team.